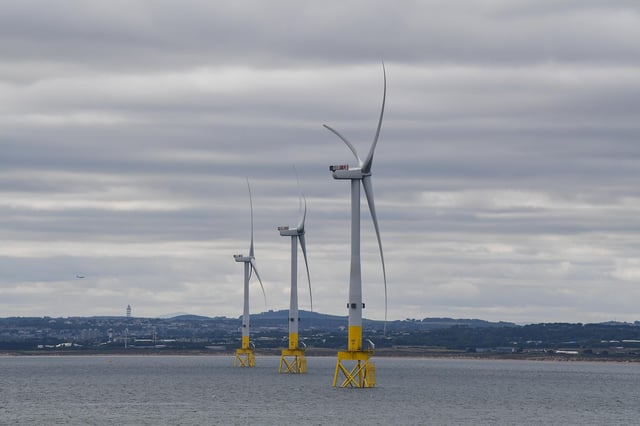 Britain's energy supply is undergoing significant and rapid change, says Mr Lewy. Picture: Jeff J Mitchell/Getty Images.
However, change can create opportunity, particularly for those looking to make direct investments in electricity-generating assets or other infrastructure. Compared with the traditional energy industry around the North Sea, upon which Scotland has built its reputation, such opportunities present new challenges, more revenue uncertainty, and greater competition for capital from projects in a number of promising green energy technologies.
Whilst net zero by 2050 developments are hungry for funds, the country is experiencing enormous financial pressure as a result of the pandemic. New projects need to be robust against changes to outside support, as some green technologies gain support and others fall out of favour.
Given this backdrop for the rest of the 2020s, and perhaps beyond, what trends can already be seen that might help the prudent investor to make choices in the energy marketplace?
Matt Lewy is a partner at law firm Womble Bond Dickinson, specialising in energy and natural resources. Picture: contributed.
The government's energy white paper, released at the end of 2020, underscored what had been obvious for some time: that particularly as transport and domestic heating are electrified, there needs to be a huge increase in the investment in electrical power generation.
A majority of this new generation must and will inevitably come from renewable and associated low-carbon technologies. But the government has to strike a delicate balance: between catalysing the development of further renewable power sources, and making sure the electricity demands of consumers are met by supply on a minute-by-minute basis.
There are three notable trends in this context. The first two trends look at the UK government's contract for difference (CfD) auction rounds, the fourth cycle of which is planned for late 2021. Renewable energy generators bid for a government subsidy, provided through a minimum revenue per unit of electricity supplied to the grid. If electricity prices drop below this minimum, the government pays the difference.
Firstly, the CfD scheme has been dominated by offshore wind in the last two auction rounds. Offshore wind energy is displacing more traditional sources such as nuclear, hydro, natural gas and coal. But wind energy, like solar, is intermittent. These technologies need the wind to blow or the sun to shine in order to generate.
In the short to medium term, the reality is a requirement for more conventional energy sources to fill in the gaps left by the lack of wind or sunshine, often at short notice. A failure to balance supply and demand could ultimately mean the lights go off.
David Robottom is a director of Roott, a consultancy that serves the upstream and midstream energy chains and the emerging renewable power sector and advises on mergers and acquisitions, contract negotiation and crafting plus project and portfolio analytics.
He says that until significant amounts of grid scale energy storage are constructed, we can expect more volatility in both gas and electricity prices in the wholesale market. He adds that it will make it harder for generators and for owners of conventional North Sea assets to estimate their future revenues and gauge the risk of new projects.
Secondly, the CfD strike price – i.e. the guaranteed minimum price the government will pay for energy – for offshore wind has been dropping dramatically over the auction rounds. In round three it was around £40 per megawatt hour (MWh) compared to more than £100 per MWh for earlier rounds. This in part reflects the lower unit costs of bigger wind farms using bigger turbines, but also the lower cost of obtaining debt finance.
Major capital projects such as offshore wind farms are currently funding their developments with about 70 to 75 per cent debt. Lenders are becoming more confident of the performance of bigger projects and their blue-chip sponsors, so the cost of debt for these projects is falling. That may seem like good news, as lower strike prices mean smaller government subsidies and a smaller hit to the taxpayer.
Dependent
But, conversely, the major items of expenditure required for offshore wind farms (the turbines and their installation) still depend heavily on European and other overseas suppliers. Lower CfD strike prices mean potentially narrower margins for the developers, leaving the project sponsors and lenders more exposed to the effects of supplier delays and foreign exchange fluctuations.
It remains to be seen whether developers and lenders are confident enough to continue the downwards trajectory in strike prices, potentially even to a subsidy-free regime for offshore wind.
The third trend concerns better data. As more information on past performance becomes available for all types of renewable energy projects, there is more opportunity for potential investors to compare the aspirational returns of the developers/sellers with the reality of past years' delivery.
For example, estimates of the average (or levelised) cost of a power plant generating electricity over its lifetime can be derived from publicly available accounts. Accounting records suffer from their own limitations, but such methods are a useful addition to investors' due diligence toolkit.
Conventional and renewable energy developments will require more thorough due diligence before any transaction, using a number of different methods where possible.
The increasing interdependency of traditional fuel projects, renewable generation and the electricity grid system required to deliver the UK's energy needs means that investments have to be considered in the context of the risks and benefits of the whole system – well beyond the immediate project boundaries. Ideally, legal, commercial and technical due diligence needs to be joined up to have the greatest impact.
Matt Lewy is a partner at law firm Womble Bond Dickinson (WBD), specialising in energy and natural resources. WBD provides comprehensive legal services from eight cities across the UK and 19 offices in the US, including energy hotspot Houston – and it has been immersed in the energy sector for decades.
WBD and The Scotsman are hosting the Kick-starting Scotland's Green Economic Recovery event on May 13. Taking place online, it is free to attend and is aimed at those looking to join Scotland's clean energy revolution. For more information see www.scotsmanconferences.com.
A message from the Editor:
Thank you for reading this article. We're more reliant on your support than ever as the shift in consumer habits brought about by coronavirus impacts our advertisers.
If you haven't already, please consider supporting our trusted, fact-checked journalism by taking out a digital subscription.