Analysis: will Port of Aberdeen's newly unveiled multi-million-pound investment see it reel in net-zero pioneer status?
"It's a big commitment that we're making," says Port of Aberdeen chief executive Bob Sanguinetti, on its announcement today that it plans to invest tens of millions of pounds to help become the UK's first net-zero port by 2040.
The organisation has unveiled its intention to invest £55 million over the next decade to fulfil its carbon-neutral goals, outlining how the "ambitious target is at the core of [our] net-zero strategy, which focuses on collaborating with stakeholders across the private and public sectors to reduce emissions in the port, facilitate future low-carbon fuels, and support the energy transition". It comes ahead of Scotland and the UK's respective net-zero targets of 2045 and 2050.
Mr Sanguinetti said: "Our vision is to become Scotland's premier net-zero port, offering world-class facilities and services, at the heart of the nation's energy transition. We must be bold and ambitious to achieve this."
He told The Scotsman he believes Port of Aberdeen is in a prime position to aspire to be the first net-zero port in the UK. "And the reason for that is we've been supporting the energy industry over the last 50 years, we have a very good relationship with the energy companies and other operators in the port, and, as such, I think we're very well placed to support the energy transition from fossil fuels to renewables."
The hub says its newly unveiled net-zero strategy means "being an exemplar" and targeting net-zero emissions from its own operations as well as from vessels visiting the port. It notes eco-friendly measures it is undertaking such as the roll-out of electric vehicles and installation of LED lighting on quaysides, and shore power at scale, starting with first power at three berths in 2024, and the trial of hydrotreated vegetable oil for port-owned vessels and equipment.
Mr Sanguinetti added that the news of the £55m boost "comes on the back of over half a billion pounds that we've invested [in infrastructure] over the last few years"; this includes the "transformational" South Harbour expansion that Port of Aberdeen says will unlock growth opportunities in the energy transition, including offshore wind, hydrogen, and decommissioning.
Trailblazer
It also lays out a pioneering role for Port of Aberdeen, which says it is the oldest existing business in Britain, having been established in 1136, and in 1909 seeing magician and escapologist Harry Houdini performing a daring escape after diving into its chilly waters whilst chained and handcuffed. Last year it rebranded from Aberdeen Harbour and reported an operating profit of £17.4 million for 2021, up from £16.9m in the prior year.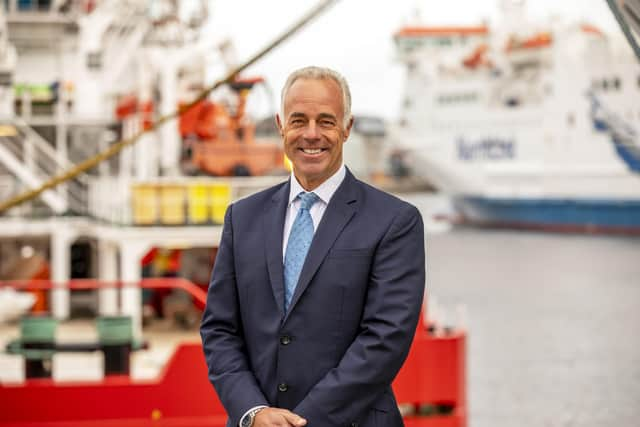 He has now said: "[The subject] is something that I talked about when I was invited to speak to a group of stakeholders in Aberdeen in 2019, because I saw in my previous [post] when I was at the UK Chamber of Shipping the key role that Port of Aberdeen could play and should play in decarbonising shipping as an industry.
"I think we're ideally placed geographically, we're ideally placed in terms of the strong partnerships that we have with industry, we have a very good relationship with… both the Scottish [and] UK governments."
Màiri McAllan, Scotland's Secretary for Net Zero and Just Transition, gives her endorsement, stating: "I very much welcome Port of Aberdeen's net-zero strategy and congratulate them on making this important investment in their future. An efficient and effective offshore energy sector is crucial for a robust economy."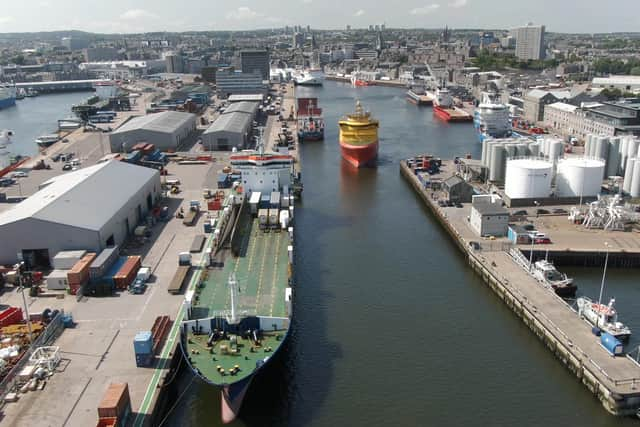 Mr Sanguinetti stressed that watertight partnerships and investment across the private as well as public sector are key "to deliver this transformational change which will deliver significant benefits for the environment, local communities, and wider maritime [industry]".
He also said: "This is not something that we can do on our own… We will be working very closely with our partners, with the energy companies, with the ship-owners and operators, and other partners who work with us in Port of Aberdeen, so very exciting times".
Backdrop
But what hurdles does he see from the choppy economic waters in which some local firms find themselves, for example Harbour Energy, the UK's largest oil and gas producer, recently announced hundreds of job cuts in Aberdeen that it attributed to the UK Government's windfall tax.
"It will be a challenge, because the road to net zero is not a clearly defined one," the Port of Aberdeen boss said. "But I'm confident in saying that the enthusiasm, the commitment to achieve it is there. And we certainly feel as [one of 100 Trust Ports in the UK], that we have a key role to play. We have to balance the demands of the current situation regarding energy security, and continuing to supply energy to the nation with our commitment to reduce emissions going forward.
"It's all part of the energy transition, it will be a phased process, it'll take a number of years, it will have challenges. But I think the opportunities in terms of developing new technologies and innovation, not just in the energy sector but more widely, are clear for all to see."
The news of the £55m investment comes after it was announced in January that the North East Scotland Green Freeport bid had been unsuccessful, with the consortium led by Port of Aberdeen and other key local players expressing how it was "bitterly disappointed" but would "seek alternative approaches to deliver the region's net-zero targets".
However, Mr Sanguinetti stresses the need to now look ahead, stating that the North-east of Scotland is "ideally placed" to lead the charge on a greener future, having been "at the heart of" the energy sector for the last 50 years, and I think it's got a fantastic opportunity to continue doing so for the next 50 years".
Comments
 0 comments
Want to join the conversation? Please or to comment on this article.