The group, which still commands a near-30 per cent slice of the supermarket sector, is to extend changes to store management roles, shut remaining counters and hot delis and close a number of in-store pharmacies as part of its latest shake-up. Tesco is to reduce the number of lead and team managers in large stores as part of the changes to its management structure, which will impact some 1,750 workers. It said the move will also introduce around 1,800 new shift leader roles in stores, leading operational duties on the shop floor.
Amid its wide-ranging overhaul, the group also confirmed that it will close its remaining counters and hot delis at stores from February 26, having previously removed counters from the majority of outlets. Bosses claim they have seen a "significant decrease in demand" for counter service over the last few years, with customers no longer seeing them as a significant reason to shop with Tesco. The retailer also revealed 350 workers will be impacted by a series of localised changes, such as the closure of eight pharmacies and reduced hours at some in-store post offices.
Tesco UK and ROI chief executive Jason Tarry said: "These are difficult decisions to make, but they are necessary to ensure we remain focused on delivering value for our customers wherever we can, as well as ensuring our store offer reflects what our customers value the most. Our priority is to support those colleagues impacted and help find alternative roles within our business from the vacancies and newly created roles we have available."
Understandably, the reforms have sparked concern among trade union officials, with Daniel Adams, national officer of Usdaw, stating: "There is no good time to receive news like this, but it is especially difficult in the midst of a cost-of-living crisis and will be devastating for those who may be affected. Usdaw will be entering into collective consultation with Tesco immediately to interrogate these proposals."
Tesco's trading has been robust in the face of consumer belt-tightening and fierce competition from rapidly expanding discounters Aldi and Lidl, as well as the likes of B&M, Poundland and Home Bargains as more of us shop around for the best deals on non-food items. Tesco recently revealed that group like-for-like sales, excluding fuel, grew by 7.9 per cent over the six weeks to January 7, compared with the same period a year earlier. It said this came after 5.7 per cent growth over the quarter to November 26. The group also highlighted a 7.4 per cent increase in sales volume of its low everyday prices range after launching a "price lock" commitment on these products in October.
The numbers look pretty solid and were generally well received in the City but mask the extent of the challenges facing the retail behemoth. News of the Tesco overhaul coincided with Kantar revealing that grocery price inflation had hit a record 16.7 per cent to add a potential £788 to annual shopping bills. The 2.3 percentage point jump in the four weeks to January 22 exceeded the previous high recorded by the industry analyst in October and is the highest figure since its records began in 2008.
Intense competition among grocers striving to retain customers saw them boosting their own-label ranges, with sales of these growing by 9.3 per cent in January - well ahead of branded alternatives, which were up by just 1 per cent.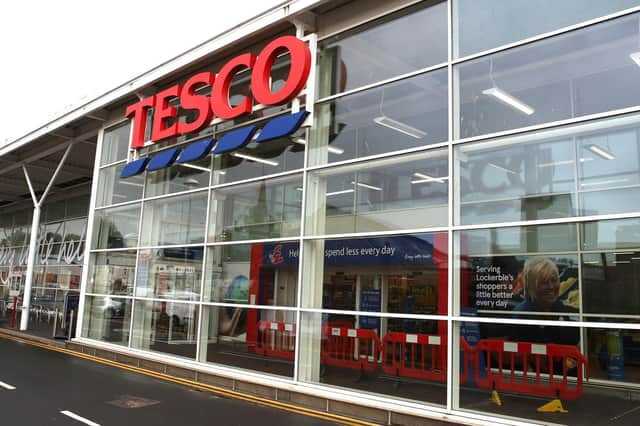 Meanwhile, the latest Kantar data showed that Aldi was the fastest-growing grocer for the fourth month in a row, with sales up 26.9 per cent year on year and now holding 9.2 per cent of the market. Lidl's sales jumped by 24.1 per cent to give it a 7.1 per cent market share. Among the three largest grocers, Sainsbury's sales increased by 6.1 per cent, just 0.1 percentage points higher than Asda and Tesco, to give it 15.4 per cent of the market. Tesco remains the biggest player with a 27.5 per cent market share while Asda holds 14.2 per cent.
It's that meteoric growth of the German owned discount chains Aldi and Lidi, from nowhere three decades ago to gaining critical mass with hundreds of stores, and wide-spread public acceptance, that remains the biggest threat to Tesco's dominance. As if to rub salt in the wounds of its larger rival, Aldi said it is looking to recruit more than 500 apprentices across the UK this year. It marks the group's biggest ever apprenticeship intake, with opportunities in stores, logistics and buying, as well as for HGV drivers.
Richard Hunter, head of markets at investment platform Interactive Investor, notes: "Tesco's market share of 27.5 per cent leaves it comfortably ahead of rivals. However, such a dominant position is hard-earned and the group has little intention of easing up the pressure on its competitors. If there was ever a guarantee in the supermarket sector, it is that competition will remain fierce, especially in the most obvious differentiator of price. The ongoing pressure of general cost inflation allied to a consumer with a keen eye on value means that investments to mitigate cost increases will remain of vital importance."
Tesco may have been forced to cut its cloth, and further restructuring seems likely, but it will remain the dominant supermarket player for some time yet.