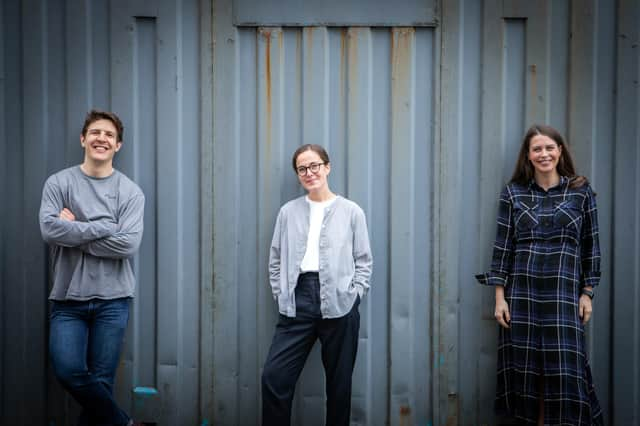 Story Shop co-founders Gregor and Scarlett Hollerin (far right) with the firm's first hire, Lara-Louisa Winnington-Ingram (centre). Picture: contributed.
Small businesses' resilience "has not wavered" as 2021 gets under way – after a challenging 12 months and amid a third national lockdown, according to Hitachi Capital Business Finance.
Hitachi Capital Business Finance found that plans on how to achieve growth have changed. It highlighted the top new year priorities for Scottish small businesses, with the following increasing from January 2020:
Welsh & Taylor Wealth launched in January 2020 and aims to further implement technology in 2021 and beyond. Picture: aberdeenphoto.com.
Increasing new business income/sales – 47 per cent versus 40 per cent a year ago
Diversifying the business, offering new service lines/products – 41 per cent, up from 31 per cent
Building up financial reserves – 37 per cent, up from 29 per cent
Having more contingency plans in the event of prolonged market uncertainty – 35 per cent up from 12 per cent
Reducing fixed costs – 34 per cent up from 16 per cent
Investing more time/money to improve the digital capabilities of the business – 15 per cent up from 12 per cent.
One firm focusing on its digital firepower is Welsh & Taylor Wealth, which plans to further implement technology to "lead the way in financial planning for clients".
The Aberdeen-based financial advisory firm launched in January 2020 to deliver a "practical, jargon-free" service. Managing director and co-founder Kieran Taylor said: "It goes without saying that the world changed colossally last year – but the need for great financial advice certainly didn't."
The company took on 90 new clients and serviced its existing 250 customers. Director and co-founder Martin Welsh added: "Technology was a huge factor in the success of our business last year. We were able to reach clients remotely during lockdown and the advance of the technological revolution allowed us the opportunity to give our clients an even better service."
Another firm to have focused on tech is Glasgow-based Safe2Go, a contact tracing app for venues that welcome visitors. Founder Louise Hamill said: "It's fair to say that this time last year, contact tracing wasn't on anyone's radar. Now, every business is taking it extremely seriously."
This year is therefore "critical" for the firm, she added. "That's why we will invest in our digital platform to ensure it continues to meet the needs of the large public-sector organisations, such as the Scottish Courts and Tribunals Service, which is increasingly using our service to safely welcome visitors during this time.
"We will also work to develop additional features to best serve users in a range of different sectors – from GP surgeries to construction sites to offices to sports stadiums."
However, Scottish firms have overall seen some business strategies fall in popularity over the last year, as Hitachi Capital Business Finance has also highlighted. These are as follows:
Planning ahead with business budgeting – 14 per cent versus 19 per cent in January 2020
Advertising online to increase awareness or sales – 14 per cent down from 18 per cent
Invest more money in marketing the business to raise awareness of its brand and services – 14 per cent down from 19 per cent
Spending time investing in the people that already work at the company – 13 per cent down from 17 per cent
A business that is nurturing its existing workforce is Story Shop, a Glasgow-based marketing agency. Co-founder Gregor Hollerin said: "After launching last year, we hired our first staff member in June and another in October. They've helped to build our culture and added so much to our business.
"They're both capable of great things, so it's a big focus for us to build a business that gives them the opportunity to grow within Story Shop. We also want to help develop their already-impressive skillsets, and make sure they have all the tools they need to continue to do a great job for our clients."
Joanna Morris, head of marketing and insight at Hitachi Capital Business Finance, said: "After a challenging 2020, which proved to be one of the most unprecedented years in living memory, it is positive that so many UK small businesses have started 2021 with new resolutions to protect and grow their enterprises for the year ahead.
"Cashflow and cost control are an immediate focus area for many, and given the uncertainty of another national lockdown, this is a sensible foundation on which to maximise financial strength."
She also pointed out that Hitachi Capital Business Finance has various finance offerings to help businesses grow "and we are committed to helping small businesses to fulfil their potential and get through the challenges we all face together in the coming months".
Meanwhile, a separate survey has found that 78 per cent of UK firms are "somewhat to very" confident about their growth prospects for the first half of 2021.
The new C-suite research from specialist recruiter Robert Half UK, collected across six key international markets, found that the general economic climate (36 per cent) and expanding business opportunities (34 per cent) were cited amongst the top influences on 2021 growth prospects.
Robert Half MD Matt Weston said: "Early indications are that 2021 is going to be a year of recovery and rebuilding for both companies and individual workers alike. As such, business agility, adaptability, risk management and forward-planning propensities continue to be top priorities for many companies. These same attributes are also likely to be hallmarks of the evolving future of work in the longer term."
A message from the Editor:
Thank you for reading this article. We're more reliant on your support than ever as the shift in consumer habits brought about by Coronavirus impacts our advertisers.
If you haven't already, please consider supporting our trusted, fact-checked journalism by taking out a digital subscription.