Analysis: Scottish retail sector cheers best Christmas in years but trouble could lie in store
Scottish retailers were today toasting sparkling Christmas sales as 2022 "finished with a flourish", though the latest industry figures disguise a host of challenges as many stores battle for survival.
Publishing its latest sales monitor, the Scottish Retail Consortium (SRC) said total sales in Scotland increased by 11.3 per cent last month compared with December 2021. That result is above the three-month average increase but shy of the 12-month average growth rate of 16 per cent.
The latest figure was skewed by record high inflation, currently running at an annual rate of almost 11 per cent, though that is expected to come off the boil over the coming months. A sizeable portion of the sales growth will be a reflection of rising prices rather than increased volumes. The SRC said that once adjusted for inflation, the year-on-year rise in sales was a more muted 3.9 per cent - though that still marks the best outcome in three years.
It follows a rollercoaster year for the retail sector as it attempts to get back on its feet in the wake of the pandemic and its associated lockdowns and trading restrictions. However, store owners have had to contend with a cost-of-living consumer spending squeeze, triggered by soaring energy bills, while tackling rising costs of their own.
David Lonsdale, director of the SRC, said December's sales had been bolstered by store promotional activity, purchases of energy saving goods and celebrations with friends and family at home over a festive period "unencumbered by Covid restrictions". Sales of air fryers, slow cookers and heated clothes airers performed well as did blankets and bedding. The cold snap led to an improvement in sales of winter coats and boots, while the seasonal festivities and home entertaining lifted purchases of tableware, food and drink, according to the latest data.
"After two miserable years Scotland's retailers were finally able to toast sparkling Christmas sales as 2022 finished with a flourish," noted Lonsdale. "December's retail sales shone compared to recent months and the comparable month the year before as shoppers returned to spending and took advantage of the first Christmas in three years without pandemic-era curbs or instructions to shun socialising.
"Retail sales grew by almost 4 per cent in real terms, the highest in three years, and at a much faster rate than during the second half of 2022. In gross terms, taking into account inflation and excluding Covid-era distortions, this was the best monthly performance in 20 years. The pick up was seen across most categories but especially in non-food."
However, Lonsdale cautioned: "Retail is far from being out of the woods yet. It's an industry in transition with retailers navigating their own cost crunch, cash-conscious consumers, and the twin challenges of the economic legacy of Covid and inflationary pressures. With the spotlight turning to the year ahead the fact is many of these headwinds remain, requiring policymakers to show dexterity towards keeping a tight lid on the regulatory costs under their control."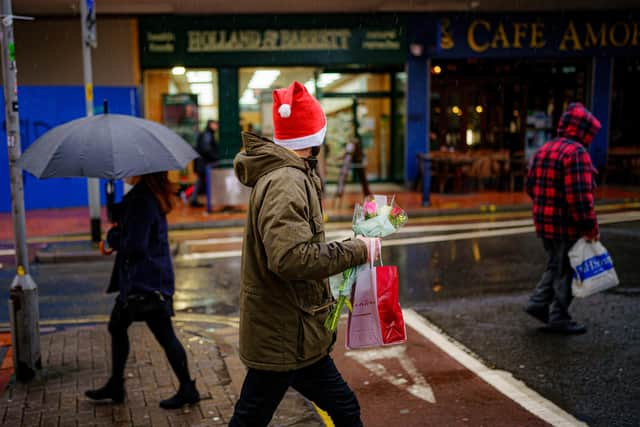 A breakdown of the SRC data reveals that total food sales jumped 11.5 per cent versus December 2021, though much of that is likely to have been driven by inflation. Nonetheless, a string of festive trading updates from major food and drink retailers in recent days has suggested that consumer spending is holding up better than expected.
Last week, Tesco - the UK's biggest supermarket chain - revealed that group like-for-like sales, excluding fuel, grew by 7.9 per cent over the six weeks to January 7, compared with the same period a year earlier. Lidl saw its sales jump by almost a quarter over the key festive trading period as it was buoyed by cash-strapped shoppers switching from rivals. Sainsbury's, meanwhile, said its profits were on track to hit the top end of previous guidance following a bumper Christmas performance. It revealed that total sales, excluding fuel, grew by 5.2 per cent over the 16 weeks to January 7, compared with the same period a year earlier. Growth was buoyed by "inflation and relatively resilient volume trends".
Last week, Marks & Spencer, often cited as a retail bellwether whose fortunes have yo-yoed over the years, cheered strong festive trading as it enjoyed record food sales and its highest clothing and home market share for seven years.
Reflecting on the SRC figures, Paul Martin, a partner at KPMG and the accountancy giant's UK head of retail, said: "As expected, food sales were strong, growing nearly 12 per cent year on year as families gathered at home to make the most of an unrestricted Christmas. Despite the bad weather, and with postal strikes ongoing, shoppers opted to head for the high street to browse for Christmas presents, with online sales growth continuing to slide across a number of categories.
"With Christmas behind us, retailers are facing a challenging few months as consumers manage rising interest rates and energy prices by reducing their non-essential spending, and industrial action across a number of sectors could also impact sales. The strong demand across certain categories that has protected some retailers will undoubtedly fall away so we can expect high street casualties as we head into the spring."
He predicted that the first half of the year would be tough for retail and a case of "survival of the fittest", before a recovery in demand later in 2023 amid an improving inflation backdrop and a hopeful resolution of industrial action that, in the case of rail strikes, has impacted high street footfall.
Comments
 0 comments
Want to join the conversation? Please or to comment on this article.