The Irish low-cost carrier was flying high after reporting a hike in fares and profits amid strong demand for travel. Average fares between October and December were 14 per cent above 2019, pre-pandemic levels. It recorded a profit of €211 million (£185m) for its latest quarter, which compares with a €96m (£84m) loss a year earlier, and is more than double its €88m profit for the same three months in 2019.
Crucially, Ryanair said there had been "strong pent-up travel demand" during the October half-term break and the Christmas and New Year period, amid fears that cost-of-living pressures could see people cancel holiday plans, city breaks and non-essential travel. The airline's outspoken boss, Michael O'Leary, has pointed to "robust demand" for Easter and summer 2023 flights driven by the return of Asian tourists and Americans being encouraged to visit Europe due to the strength of the dollar. Predictably, he is recommending that people wanting the lowest fares should book as soon as possible as "we expect these will sell out early".
The continued success of the Dublin-headquartered carrier, which last year said it planned to create extra maintenance jobs at Prestwick and potentially expand at Glasgow, comes in stark contrast to the fortunes of Flybe. It has ceased trading and all scheduled flights have been cancelled, following a turbulent few years for the UK regional carrier.
Flybe had previously been pushed into administration in March 2020 with the loss of 2,400 jobs as the pandemic destroyed large parts of the travel market, but returned to the skies in April. Its plan was to operate up to 530 flights per week across 23 routes, serving airports such as Belfast City, Birmingham, East Midlands, Glasgow, Heathrow and Leeds Bradford, and it flew the most UK domestic routes between airports outside London. Its business and assets were purchased in April 2021 by Thyme Opco, which is linked to US hedge fund Cyrus Capital, and Thyme Opco was renamed Flybe Limited and based at Birmingham Airport.
The government said its priority is to support anyone trying to get home and those who have lost their jobs, but Unite national officer for civil aviation Oliver Richardson said ministers had not learned the lessons from the original collapse of Flybe. "It has failed to introduce the Airline Insolvency Bill, which would have allowed Flybe to continue to operate, avoided passengers being stranded and staff losing their jobs in the middle of the night," he said. "In recent years the UK has seen the collapse of Monarch, Thomas Cook and Flybe twice. How many more airlines will be allowed to plunge into administration before the government introduces the measures needed to protect the UK's aviation industry and its passengers?"
In contrast to the woes at Flybe, Ryanair has announced 230 new routes for the 12 months to the end of March 2024 and is expanding in Italy, Poland, Ireland and Spain. The airline took delivery of 11 Boeing 737 Gamechanger aircraft in the last quarter, bringing its fleet of the more fuel-efficient aircraft to 84. O'Leary said an investment of more than $200m (£161m) will save 1.5 per cent of fuel by retrofitting existing aircraft with scimitar winglets. He added that more than 95 per cent of crews have had pandemic-related pay cuts restored by agreement.
Walid Koudmani, chief market analyst at online investment platform XTB.com, said: "After a couple of years of severe difficulties for the airline industry brought on by the Covid-19 pandemic, this news is likely to reassure investors as they look forward to the prospects of a continuation of this demand trend into the rest of the year and particularly towards the summer. While concerns about central bank policies and rising energy costs leading to a widespread recession persist, Ryanair's optimism could see the company's shares extend the impressive upward move which has led them to gain around 30 per cent since the start of 2023 and reach the highest levels since April 2022."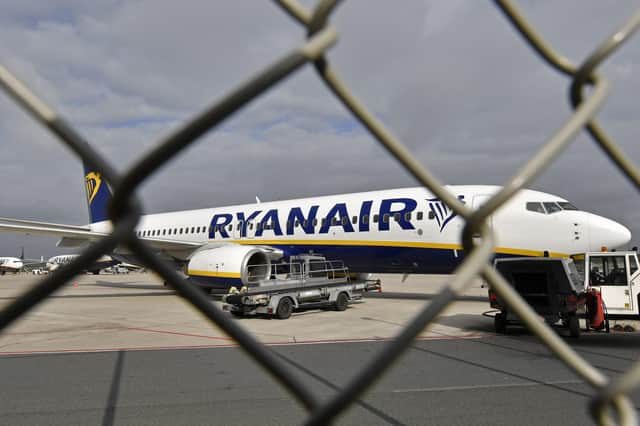 Susannah Streeter, senior investment and markets analyst at investment platform Hargreaves Lansdown, noted: "The fight for talent has been made a little bit easier for Ryanair and EasyJet who are both on standby to scoop up staff from Flybe which collapsed over the weekend. Ryanair is flying high on pent-up demand for travel as people still wanted to satisfy their wanderlust over the last three months of 2022, despite the cost-of-living crisis raging. It pushed up profits to a record for the third quarter and there are no signs of sales slowing down.
"Spring and summer bookings surged to record levels in the cold dark days of mid-January as people under blankets on the sofa dreamed of a spot on the sun lounger, and snapped up seats. Already tourists from Asia have started to return, fuelling demand and there are hopes that the growing optimism as infection rates slow, will see more high-spending travellers from China taking their seats, and buying the lucrative add-ons."
Adam Vettese, analyst at social investing network eToro, said Ryanair has been a major beneficiary of a surge in demand for short-haul travel within Europe in the wake of the pandemic, adding: "Ryanair's business model of providing a cheap, no-frills service is perfect for the current environment, when household budgets are coming under pressure from the rising cost of living."