Analysis: How Sir Tom Hunter's new initiative aims to create a 'pipeline of scaling firms'
Scottish-born industrialist and large-scale philanthropist Andrew Carnegie wrote in an essay originally published in 1889 that "the best means of benefiting the community is to place within its reach the ladders upon which the aspiring can rise".
More than 130 years later, renowned Scottish businessman – and holder of a Carnegie Medal of Philanthropy – Sir Tom Hunter can be described as demonstrating such an approach with his latest initiative launched today, aiming to help foster firms with the potential to reach the stars, providing a pipeline of scaling firms.
The Pre-Scaler programme is bringing in a roster of high-profile entrepreneurs able to share their valuable, first-hand advice, and will see participants go through a combination of online and in-person development events aimed at accelerating their growth and ability to then move to scale. It is also described as complementing THF's ScaleupScotland core and 2.0 programmes.
It is open to any entrepreneur running a business that has "real ambition and drive to go to scale", and will be hosted at THF's headquarters at Blair Estate & Castle, which it acquired in the spring of 2022 with a view to housing all of its leadership programmes and charitable investment board meetings.
Explaining more about the new initiative's origins, Sir Tom says: "Scaling businesses move the economic dial, and we need to do more to support those with that ambition to accelerate their growth in a managed way. We have seen through our support for Scottish EDGE that those with real ambition frankly need a lot more support than is on offer or available – hence Pre-Scaler."
Opportunities
He also stresses what he sees as a key point that the programme will be delivered "by entrepreneurs for entrepreneurs – people who know the pain, pitfalls and opportunities building a scalable business brings". His own CV includes starting his first business selling trainers from the back of a van, and going on to build Sports Division, which is said to have became Europe's largest independent sports retailer, and which he sold in 1998 for £290 million. Now, West Coast Capital is the investment arm of his family, with minimum investment levels of about £5m and having backed Scottish success stories such as data analytics company TVSquared, which was acquired last year by a US firm.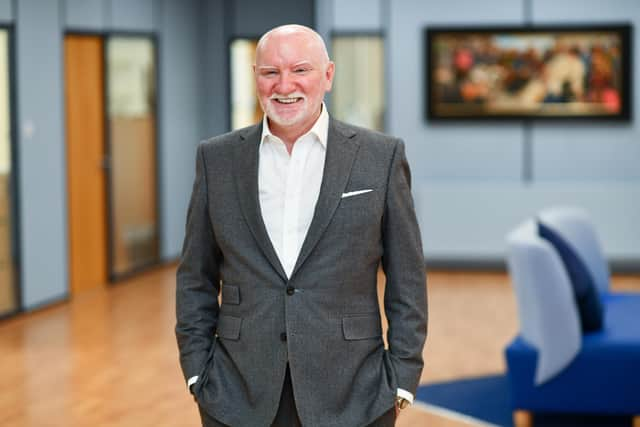 As for how the Pre-Scaler programme will work, the development events will kick off with a core module on fundraising, valuation and cost of capital, then complemented with modules on people planning, leadership, sales and marketing. Board and governance training will be delivered by established ScaleUp programme partners including former Scotland international rugby star David Sole's School for CEOs.
Up to 20 pre-scaling businesses will be selected for the first cohort by four judges: Chris van der Kuyl, a veteran of Scotland's video game sector and now principal of investment vehicle Chroma Ventures; Ana Stewart, entrepreneur and partner at fellow investment firm Eos Advisory that backs science, engineering and technology innovation with a positive impact; Evelyn McDonald, chief executive of Scottish EDGE; and Ewan Hunter, who holds the same title at THF.
Scottish EDGE-backed businesses will be encouraged to apply, although the programme is open to any ambitious entrepreneur based in Scotland, and Ms McDonald said: "Scottish EDGE is delighted to be partnering with the Hunter Foundation to deliver this programme aimed at growing businesses. We know from experience that our businesses need more than just cash in their journey to scale, and this series of workshops aims to help them with their development."
Pathways
Ms Stewart, who recently revealed her findings regarding the gender gap in Scottish entrepreneurship, told The Scotsman: "It's vital that we create clearer pathways for our entrepreneurs, and this programme helps to join the dots for early-stage businesses with high-growth potential. The programme will nurture and help entrepreneurs to navigate through the early stages of the scale-up journey – many of whom may not have much experience of [this]. I strongly encourage Scotland's diverse entrepreneurial talent to apply."
And in the wake of Ms Stewart's report, and International Women's Day earlier this week, to what extent does Sir Tom hope that the new programme will support those under-represented in business – such as women? "The programme is open to all entrepreneurs – we are sectorally agnostic, would welcome under-represented groups, and absolutely want to support women entrepreneurs," he told The Scotsman in response. The latest initiative comes after the ScaleupScotland2.0 programme launched in August, a tie-up between THF and the Scottish National Investment Bank, was criticised for there only being one woman on the list of entrepreneurs signed up as mentors.
Applications open now and close March 24, and those chosen to participate can expect to commit up to five days in total to the programme starting in May this year and concluding September where they will have the option to pitch to a panel of potential investors. As for Sir Tom's best-case scenario for what the programme could achieve in terms of fostering a new generation of entrepreneurs, and in turn boosting the Scottish economy, he states: "Even one scaling business can deliver hundreds of jobs, and that in and of itself would be a result. We hope, however, to do a lot more than that – and if this programme is successful then we will support many more successful scale-ups – driving growth in the economy."
Comments
 0 comments
Want to join the conversation? Please or to comment on this article.