Analysis: global talent's key role in Scots tech scene
The pages of Scotland's history books feature technological innovation dating back centuries.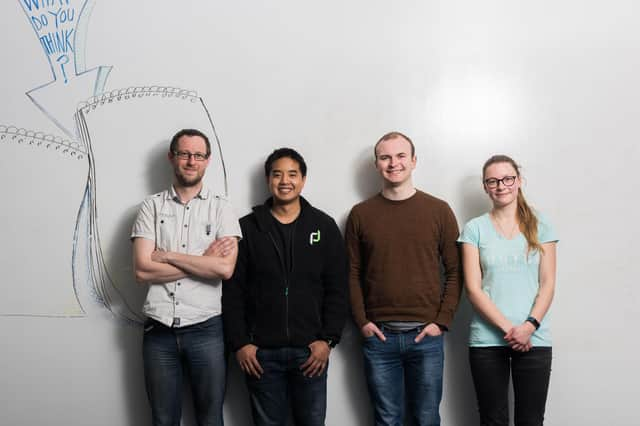 Roy Hotrabhvanon, second left, is the Thai-born CEO of wearable tech firm PlayerData. Picture: contributed.
The nation is upholding this tradition to this day, with a tech sector that Scotland Development International has said boosts the economy by about £5 billion. But what has changed is that the pool of talent helping foster the industry now comes from across the globe.
Indeed, a new report from Tech Nation – "the growth platform for tech companies and leaders" – has shone a spotlight on the international talent landscape. It comes in the wake of the organisation finding that digital tech was one the biggest employers in Edinburgh and Glasgow.
Demand for its Tech Nation Global Talent Visa – which it says "enables the brightest and best tech talent from around the world to come and work in the UK's digital technology sector" – has grown by 45 per cent and 48 per cent in the past two consecutive years.
Forrit boss Peter Proud says he has helped three start-ups with founders born outside the UK. Picture: Peter Devlin.
In 2020, the visa enabled 421 founders to set up businesses in the UK, up from 400 in 2019. Nearly a third of people endorsed for the visa based in Scotland are a tech founder, compared to the national average of 28 per cent,. Demand for artificial intelligence skills north of the Border has increased by 112 per cent over the past three years, while demand for cyber skills is up 79 per cent, and for finance skills in tech roles it is down by nearly a tenth.
Herman Komashko, senior software engineer at business payments specialist Modulr, who is based in Edinburgh and from Uzbekistan, said the UK is "a dream come true" for any entrepreneur and especially those in tech. "The ecosystem here has been nurtured by some of the greatest business minds of the past few generations to create an opportunity for everybody willing to go above and beyond. The location and economical capabilities of this relatively small country are ground-breaking and we don't have enough gratitude for all the blessings that we have here.
"I will never take for granted what the UK has given me and hopefully will give to my children. While the business ecosystem is very appealing, feeling safe and respected was the number one thing that made me come to the UK."
Peter Proud, chief executive of Edinburgh-based software firm Forrit – formerly Cortex Worldwide – sees Scotland as a "clean, safe place" to start a business, providing access to smart talent. He also said he has helped three start-ups here with founders born out of the UK: Two Big Ears, Nullmighty (now known as Graphy), and PlayerData.
All three were students of the School of Informatics at the University of Edinburgh, were all born outside the UK "and we had to help them with visa applications". He believes they started in Scotland as they had a "great educational experience, they met fellow students to work with to start the company, and Edinburgh was the common point for everyone".
Indeed, Roy Hotrabhvanon, the Thai-born chief executive of wearable tech firm PlayerData, said Scotland has a "fantastic" pool of homegrown tech talent resulting from investments into its ecosystem, with a strong support network that "nurtures companies from seed to growth".
Tech Nation also found that between April and September of this year, there was a 100 per cent increase in users internationally searching online for terms explicitly related to UK tech visas in countries like the US and India.
As for how Scotland can benefit from talent across the globe, Mr Hotrabhvanon said that for tech companies in 2020 it's "not reasonable" to expect that the world's top relevant talent all live within a 20-mile radius of your office. "As tech products become more global, so do the teams".
Inspiration
And Mr Proud highlights the benefits of bringing in differing approaches. "I think Scots by our nature are more conservative and risk-averse, which flies in the face of doing a start-up. With there being a pool of foreign students doing start-ups out [of] university and showing both how to do it and that it can be done, I am hoping that this inspires Scottish students to want to take the chance and do it for themselves as well."
Tech Nation also said demand for its visas is expected to rise in 2021, as, from January, it will be opening up applications to exceptional tech talent from the EU.
Looking at the amount of tech talent expected to arrive in Scotland from outside the UK in 2021, Mr Proud is hopeful that there will be more, "as we have benefited greatly from hiring foreign employees". That said, he is concerned that due to Covid-19, students are learning online from their home countries –and not integrating themselves into Scottish culture, "therefore not integrating into the local economy and we lose this talent pool".
Mr Hotrabhvanon believes that due to uncertainty related to Covid-19, "we are unlikely to see more tech talent arrive from overseas in 2021 – what is likely is Scottish companies hiring globally and to work remotely first with a view to relocating talent at a later date if needed".
Also commenting on the Tech Nation report was its chair Stephen Kelly, the former boss of software firm Sage. He called the UK a "global talent magnet" for tech founders. "The UK provides rich opportunities for entrepreneurs to set up, flourish and scale a business.
"Tech Nation's Visa Report shows that, despite the pandemic, international interest to work in the UK tech sector has never been higher. Attracting tomorrow's tech leaders to the UK is crucial to the continued growth of the sector, the UK's place in the world, and driving the nation through recovery to growth in the digital age."
A message from the Editor:
Thank you for reading this article. We're more reliant on your support than ever as the shift in consumer habits brought about by Coronavirus impacts our advertisers.
If you haven't already, please consider supporting our trusted, fact-checked journalism by taking out a digital subscription.
Want to join the conversation? Please or to comment on this article.