Analysis: Airdrie and Shotts' major role in fostering ambitious small businesses
Turning the clock back to 1931, David Bell converted the family washhouse in Shotts in North Lanarkshire into a small bakery as he feared his son Donald would be out of work after completing an apprenticeship at a local firm of this type.
Donald started selling scones and pancakes door to door, and as the venture grew his four brothers and two sisters joined the ranks. Nearly a century later it is known as Bells Food Group, recently retained its fourth place ranking as Scotland's most chosen Scottish brand, and has grown to about 220 staff. Every year it turns over more than £28 million and bakes around 16 million Scotch pies, operating two bakeries and a distribution centre in Shotts where it all started.
And its home turf – the constituency of Airdrie and Shotts – has been found to be one of the top fastest-growing areas for small businesses in the UK. Airdrie and Shotts' score grew 29.53 per cent in the past year, the largest growth in Scotland and among the top three in the UK. Gordon in the Scottish Borders (+25.49 per cent), Glasgow South West (+14.71 per cent), and Coatbridge, Chryston and Bellshill (+14.1 per cent) were also in the top 25 constituencies for "microbusiness density" growth across the UK.
| | | |
| --- | --- | --- |
| Constituency | Scottish national ranking for microbusiness density growth | Year-on-year growth |
| Airdrie and Shotts | 1st | +29.53% |
| Gordon | 2nd | +25.49% |
| Glasgow South West | 3rd | +14.71% |
| Coatbridge, Chryston and Bellshill | 4th | +14.1% |
| Glasgow East | 5th | +12.7% |
| Moray | 6th | +10.51% |
| Angus | 7th | +10.34% |
| Cumbernauld, Kilsyth and Kirkintilloch East | 8th | +9.33% |
| Na h-Eileanan an Iar | 9th | +9.26% |
| Motherwell and Wishaw | 10th | +8.86% |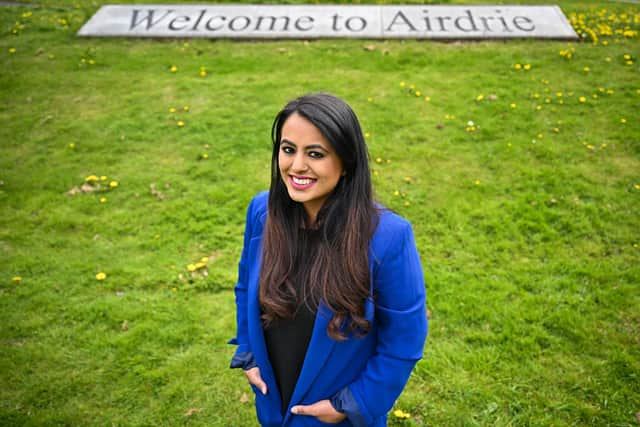 Data comes from website-creator GoDaddy's multi-year research initiative known as Venture Forward that analyses data from more than 2.3 million microbusinesses (those typically with ten or fewer employees) in the UK.
One firm in Airdrie with nine staff and hailing the benefits of its location is Autonomous iOt, which is focused on making eco-friendly renewable energy products powered by the sun and wind.
Director Laura Kane said it is "no surprise" that Airdrie and Shotts has been revealed as one of the fastest-growing small business hubs in the UK. She said the firm has received support from North Lanarkshire Council including a grant to install a more economical heating system and renew the roof in its manufacturing facility, helping keep costs down.
She added: "Airdrie has excellent motorway and public transport links, making it a great business location. Autonomous iOt also helps support the local community by promoting the expansion of our economy, always trying to employ locally, and working closely with schools, colleges, and universities in supporting the next generation of engineers. I was born and raised in Airdrie, and I'm proud of our community and what we can achieve when we work together effectively."
Anum Qaisar, SNP MP for Airdrie and Shotts, also commented, praising the area's success as a breeding ground for firms – and she encouraged more to join the fold. "We sit between two major Scottish cities and are well-placed to encourage sustainable growth, through our road and rail connections to wider Scotland and the UK," she said. "I believe that [the latest Venture Forward report] reflects the area's transition towards innovation, creativity and entrepreneurship – as Scotland trailblazes its way to a vibrant, growing economy.
"These figures also reinforce the SNP Scottish Government's commitment to small businesses, as my colleagues in Holyrood continue to utilise the limited powers of devolution to deliver effective support for sustainable growth. This is seen through commitments such as the Small Business Bonus scheme, which has ensured that 100,000 business properties pay no business rates.
"With a population of over 70,000 consumers, strong connectivity, and generous Scottish Government support, I would encourage many more small businesses to consider Airdrie and Shotts as the place to unleash their full potential."
And Neil Gray, MSP for Airdrie and Shotts, praised his constituency "performing so well on new business growth" and he also highlighted its advantages. He added: "The area is well placed to operate a business with easy access to the motorway network, rail network, and a skilled workforce. There is also due to be substantial new investment coming to the two town centres, including high-street housing which will help with additional footfall. I will keep working with the local council, our local agencies and small business owners to keep this momentum for the local area."
The Venture Forward study also found that Glasgow Central (1.98 microbusinesses per 100 people), Edinburgh North and Leith (1.83), and Glasgow North (1.10) came out as Scotland's top three entrepreneurial centres overall. However, 77 per cent of microbusiness owners north of the Border said the cost-of-living crisis ranks as the greatest business challenge they have faced.
Andrew Gradon, head of GoDaddy UK & Ireland, said: "Venture Forward demonstrates Scotland's role as a small business hub for the UK. The country's microbusinesses add billions to the economy, while providing jobs and opportunities in their local communities.
"Amid a challenging economic backdrop, these everyday entrepreneurs are launching, running, and growing successful businesses, which GoDaddy is determined to support, although the data also highlights that we should not take them for granted because the cost-of-living crisis is taking its toll. There are very few studies that focus specifically on companies with under ten employees. They are under-researched, misunderstood and often under-served. It's a shame, because they are the engine of the British economy... when they thrive, we all do."
And from microbusiness acorns megabusiness oak trees can grow – and bring increasing prosperity to the local area. Bells Food Company's finance director and "third generation Bell" Samantha Murray, said: "We're incredibly proud of our roots and that as Bells has grown over the years we've stayed true to the values of previous generations and to our base in Shotts. Community has, and always will be, important.
"The reality is that our family extends well beyond those with the name Bell but to our valued team, many whom have been here for years and who have family and friends in the business. It's that rich pool of dedicated people and easy access to the main transport networks to supply our products around Scotland that makes the area an ideal location for our business."
Comments
Want to join the conversation? Please or to comment on this article.