Accelerated ambition in Aberdeen
There is a moment in every episode of Channel 4's Grand Designs when the enormity of their construction project hits the self-builders. For Lorna Duguid, life sciences development director at Opportunity North East (ONE), a similar moment has just happened.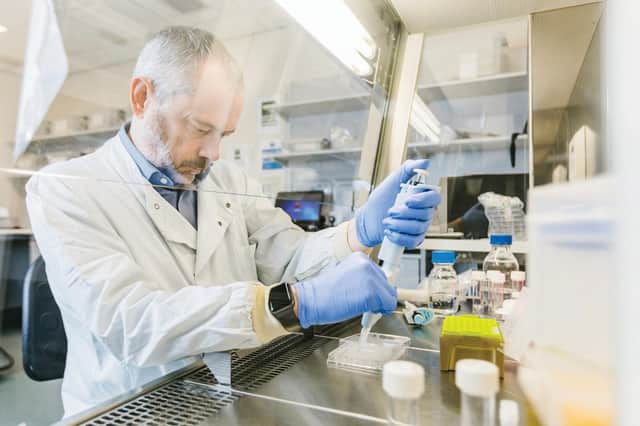 "It's so exciting because we had our first board meeting at the BioHub construction site," she says. "It's one thing seeing the plans, but it's another to be there and see the scale of the building."
Construction work is already well under way at the ONE-led £40 million BioHub on the Foresterhill health campus in Aberdeen. The facility will provide purpose-built laboratories and office space for life sciences companies, incubation space for start-ups and spin-outs, and a home for the growing life sciences business in the region and support provided by ONE.
The project is on course for completion next summer, with the first companies due to move in next autumn. BioHub secured £20m co-funded by the Scottish and UK governments through the Aberdeen City Region Deal. The deal partners are Aberdeen City and Aberdeenshire councils, and ONE, a private sector-led economic development catalyst set up in 2016 with £62m of funding over ten years from business leader and philanthropist Sir Ian Wood's foundation.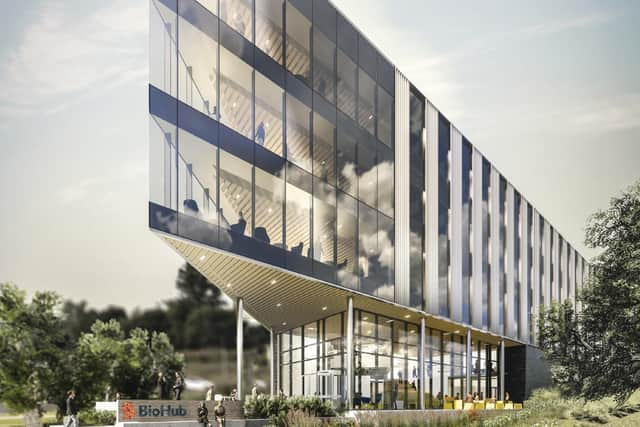 ONE has committed up to £5.6m to realise BioHub's objectives. Up to 400 people will be able to work at the facility – the industry's ambition is to double the number of life sciences companies operating in the region by 2027, from around 25 currently to 50. The hub brings together ONE with its partners, building on the region's strong links between academia, clinicians, and industry. ONE, NHS Grampian, Robert Gordon University, and the University of Aberdeen meet frequently to discuss life sciences innovation and how to solve common healthcare challenges.
"The phrase 'triple helix' is well used and accurately describes what we'll have on the Foresterhill campus," says Duguid. "BioHub will be surrounded by NHS Grampian, the University of Aberdeen's Institute of Medical Sciences and Rowett Institute on one of Europe's largest combined teaching, research and commercial life sciences and healthcare campuses.
"In the past, life sciences companies have moved from the north-east post-start-up because they have no purpose-built facilities. BioHub will be the first of its kind life sciences hub in Aberdeen and a focal point for the industry.
"BioHub will be home to the growth support that we've been developing for life sciences companies for the past five years, helping to take them from pre-start, through their start-up phase, and on into their growth phase, including making introductions to investors."
While the life sciences industry touches almost every part of Scotland, the cluster in the north-east has its own distinct identity. That is due partly to its specialisms in digital health, imaging, and "biologics" – drugs and ingredients developed from biological sources, like humans, animals, or micro-organisms.
With biologics being at the forefront of the life sciences industry, around three-quarters of Scotland's late-stage drug development companies are based in Aberdeen, while more than 2,500 people work in life sciences across Aberdeen city and Aberdeenshire.
Those specialisms have come to the fore during efforts to tackle the coronavirus pandemic. Two Aberdeen-based businesses, Elasmogen and Vertebrate Antibodies, secured £1m of funding from the Scottish Government to work with the University of Aberdeen to develop diagnostic tests for Covid-19.
NovaBiotics, another local biotech firm, is testing one of its drug candidates against Covid-related infections and secured £1m of funding from Innovate UK, to carry out clinical trials.
Other companies in the area have continued to press ahead with research and development during the pandemic, looking for ways to tackle pressing global health problems ranging from cancer and diabetes through to Alzheimer's disease and infections resistant to antibiotics.
The pandemic has also shone a spotlight on the north-east's strength in digital healthcare. The Grampian Data Safe Haven was set up in 2012 by NHS Grampian and the University of Aberdeen to allow patients' electronic health records to be used safely and securely to carry out medical research.
"The data safe haven has been really busy during the pandemic," Duguid says. "It's been involved in research into both Covid-19 and its effects, including long Covid."
Data also plays a major role in work being undertaken in the north-east to develop artificial intelligence (AI) systems that can look at images to help diagnose medical conditions.
Academics, clinicians and industry have collaborated in Aberdeen to apply artificial intelligence to fracture diagnosis in hospitals in a project led by ONE and NHS Grampian and co-funded with the Scottish Government.
Tech companies working within an IT platform hosted by Canon Medical Research Europe and accessing data provided by the Grampian Data Safe Haven, developed AI solutions to detect wrist and ankle fractures to free up radiologists to concentrate on more complex cases and improve patient outcomes.
One of the reasons companies choose to locate in the north-east is the pool of scientific and commercial talent available in the area. Life sciences businesses have started to tap into the project management and leadership skills available from workers in the oil and gas industry.
Local digital technology businesses are also waking up to the opportunities available in life sciences. Having previously designed systems for the energy industry, many technology companies now realise they can apply those same skills to service the healthcare sector, including drug developers and digital healthcare firms.
As work by main contractor Robertson Construction continues at the BioHub site, Duguid is looking forward to the day the facility opens, and the support it will offer to the next wave of life sciences companies in the Aberdeen area.
"It's exciting to think that we will be supporting the next TauRx or NovaBiotics or Elasmogen to grow and bring innovative solutions to market," she says.
The technology being developed by University of Aberdeen spin-out Elasmogen was inspired by proteins found in sharks' immune systems. The proteins, called "soloMERs", can get deeper inside cancer tumours thanks to their small size and unique shape. They could also be used to treat inflammatory diseases, such as arthritis. Elasmogen's team includes Andy Porter, the university's professor of medical biotechnology and founder of previous spin-out Haptogen, and Caroline Barelle, who worked on the technology at Haptogen before its sale to Wyeth.
Deborah O'Neil founded NovaBiotics in 2004 as a spin-out from the University of Aberdeen's Rowett Institute. The treatments being developed by the company mimic some of the human body's defences against microbes, and aim to fight fungal diseases, especially in patients with weak immune systems. Its NM001 candidate could become a treatment for cystic fibrosis and is expected to enter phase-one development next year. [2022]
Lucidity, TauRx's phase-three clinical trials, is currently being carried out in Europe and North America to test its treatment for Alzheimer's disease. The trial began in 2018, with early results expected next year [2022]. Its latest tests include a broader range of patients compared with its previous phase-three clinical trials.
TauRx was launched in 2002, based on research carried out by co-founder and chief executive Claude Wischik, professor of mental health at the University of Aberdeen.