The firm saw a 16 per cent year-on-year increase in operating profit to £4.4m for the 12 months ending June 30, 2022, while turnover jumped by 21 per cent to £40m, and housebuild completions increased to 165 units from 142, according to Companies House figures.
Joint MD Graham Reid praised the results "considering the challenges that we faced with labour and material availability shortages and high levels of cost inflation during the period". He added: "We saw increased sales volumes across all of our sites and with house price inflation continuing to outstrip material price increases, our gross margins were further improved to... 24 per cent. The benefit of our geographic diversification strategy was very apparent as our sites in Angus and the Highlands delivered strong sales performances, whilst Aberdeen City and Shire showed a more steady recovery from the price falls seen over the previous five years."
He also welcomed the business being recognised as the first housebuilder in the UK to receive the Gold Award from the NextGeneration initiative – which recognises sustainability in the industry – for its development site in Brechin.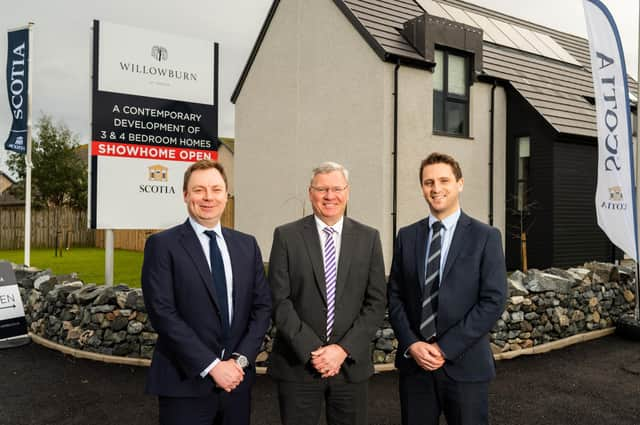 The housebuilder's chairman Gary Gerrard flagged "continued substantial investment" in its landbank and work-in-progress that increased to £44.2m at year-end, up from £30m 12 months previously. "Scotia's consolidated balance sheet is strong, with net assets increasing to £25.2m and net bank debt of £13m. The group has substantial headroom in its revolving credit facility with Bank of Scotland... and we continue to benefit from strong shareholder support in growing the business."
He also said Scotia is monitoring the changing economic landscape, noting that the operating environment across the housebuilding sector has "undoubtedly become more challenging since the year end", with the firm seeing "depressed" enquiry rates. "The group has a strong level of forward sales and we remain confident that demand for our high quality homes in desirable locations will be sustained, notwithstanding the difficult macro-economic situation."
Mr Gerrard also pointed out that the company completed its acquisition of timber kit maker Caledonia Homes (Scotland) post year end, and "we continue to invest in the business".