The Aberdeen-headquartered group said the acquisition of Ensignbus would provide a "number of synergies" and growth opportunities in the business-to-business (B2B) and bus vehicle dealership markets. Ensignbus' commercial bus operations comprise two B2B segments that include rail replacement and private hire contract operations and a local bus route network complementary to First Bus' operations in Essex.
Bosses noted that the business has a modern vehicle fleet of 55 buses that will require "limited" capital expenditure for several years. The Ensignbus specialist heritage fleet is excluded from the takeover.
In addition to its commercial operations, Ensignbus has a vehicle refurbishment and resale business that buys used vehicles and refurbishes them to "modern standards" before re-selling. This is expected to benefit First Bus and the wider UK bus industry as the oldest, most polluting diesel buses are taken out of service, the group added.
If the acquisition completes before FirstGroup's year end, it anticipates a year-end adjusted net cash position of £70 million to £80m, reflecting the ongoing buyback programme and the timing of net capital expenditure and working capital flows.
Chief executive Graham Sutherland said: "The acquisition of Ensignbus, a long-established, high-performing business, will allow us not only to grow our B2B offering but to also enhance our operational footprint in Essex, and we look forward to welcoming Ensignbus employees to the group. This is a strategically and financially accretive growth opportunity for us, and one that is fully aligned to our balanced capital allocation policy."
Peter Newman, Ensignbus chairman, added: "I want to thank all of our employees at Ensignbus for their ongoing hard work to deliver great service for our passengers across all of our communities in Essex, and we will be supporting them fully as they move to their new employer. We're pleased that First Bus, with their reputation for customer service, innovation and sustainability, will take the Ensignbus business forward as a going concern and we wish them a successful future. We will continue to serve our communities and operate our network as usual until the completion date."
First Bus is the second largest regional bus operator in the UK, serving two-thirds of the UK's 15 largest conurbations with a fleet of around 4,900 vehicles. In November, FirstGroup said it was delivering a "resilient" performance in the face of a challenging political, economic and industrial relations environment.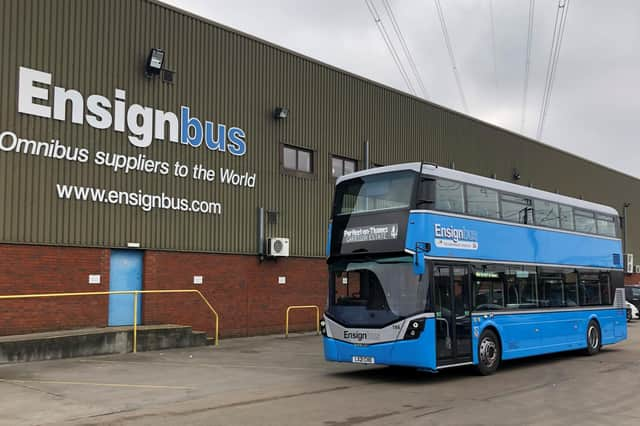 Reporting half-year results, the group said the financial performance at its First Rail business was led by strong growth in open access operations, which include the Lumo east coast rail service connecting Edinburgh and London. The firm said it was continuing to strengthen its First Bus operations for when current funding arrangements end, "while managing industry-wide driver shortages and cost inflation in the near term".
In June last year, FirstGroup rejected a £1.2 billion takeover proposal from an American serial suitor for being too low.