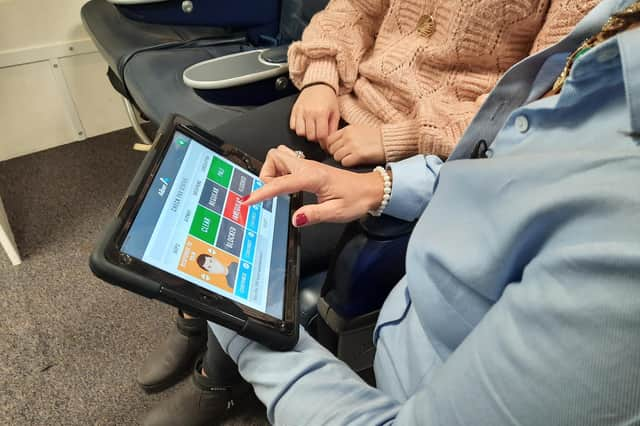 Allowing more informed decisions, the new system from MIME Technologies is applicable for a range of medical events. Picture: Contributed
MIME Technologies believes that its system can prevent unnecessary diversions, saving the airline industry millions each year.
In a single year, flight diversions for medical reasons can reach 60 flights for just one major airline, costing tens or even hundreds of thousands of pounds per diverted flight.
Now, a multi-disciplinary team of physiologists, technologists and aviation medicine specialists have created a wireless technology, branded Aiber, that provides fast and accurate support to cabin crew, pilots and clinicians on the ground.
Allowing more informed decisions, it is applicable for a range of medical events, including burns, allergic reactions and potential heart attacks in the skies.
Anne Roberts, co-founder and chief executive of MIME Technologies, said: "An in-flight medical event, even of a minor nature, can be hugely stressful for cabin crew.
"Our affordable technology guides them through their first aid training but, crucially, it live streams medical event updates to the ground.
"This is hugely significant as it allows a more informed decision about how stable a passenger is and whether the flight should divert or continue. It allows cabin crew to stay by the passenger's side throughout and, using artificial intelligence, it automatically stores and transmits essential information that can often be missed or only recorded after the event."
She added: "For the first time, clinicians on the ground will be able to follow, in real-time, the deterioration or improvement of a passenger in the air using wireless technology and the tech provides a seamless handover to emergency services meeting the aircraft.
"We believe the technology will help avoid unnecessary diversions but, more significantly, it will help save lives by providing 'eyes in the sky' on flights globally."
MIME Technologies is located on the Inverness innovation campus. Supported by Highlands & Islands Enterprise, the company was a Scottish Edge winner in 2017.
Alan Cowan-Moore, curriculum head, travel and tourism at City of Glasgow College, was a member of cabin crew before going into education. He said: "During my time as cabin crew, I helped resuscitate a passenger who suffered a cardiac arrest. I was anxious about the care I was providing, wondering if my efforts were effective. Fortunately, I had the help of an off-duty doctor, but many don't."
"Aiber offers a technological solution to support cabin crew in such situations. The potential to reduce the need for diversions, through effective identification of medical conditions, is of enormous benefit for both customers and airlines.
"As an educator, I encourage our students to take a step back and see the bigger picture. Access to this type of expert help has the potential to reduce stressful situations but also result in lifesaving outcomes."
MIME recently completed field trials with a global aviation company, with multiple commercial and business jet customers in the pipeline.