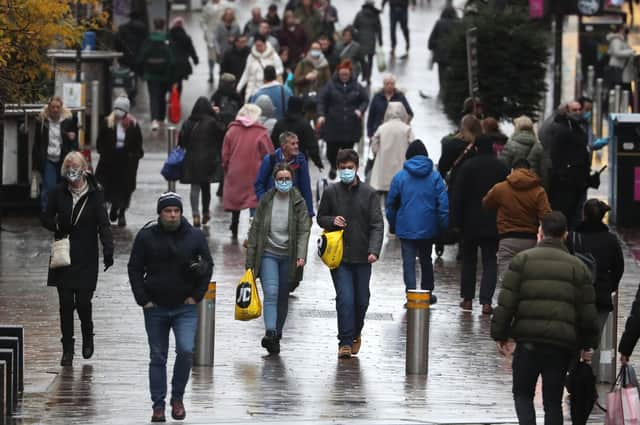 Rarely has the path a government decides to take been so important for local and independent businesses' short-term survival and long-term prospects.
The measures unveiled in the days before the announcements at the dispatch box suggested that the Chancellor was prepared to extend vital help. While the support on offer is far from perfect, and Mr Sunak hinted at the heavy overall cost, the outlined package will do much to help the wider economy get through what is hopefully the last leg of this crisis.
For example, the decision to extend furlough was a cogent move that gives 300,000 people in Scotland a secured income in the short-term, and a better chance of retaining their job. However costly, by making this change the UK Government has avoided the nightmare scenario where employment support was withdrawn before society was re-opened.
Similarly, additional payments to the self-employed will hopefully see many of those that work for themselves through until the economy is back on its feet. Unfortunately, not everyone qualifies for these payments and the Chancellor missed this opportunity to right this wrong and help those directors of small companies who have had no help throughout.
Further, although they'll only apply in England, the grants and rates changes outlined will give Scottish Ministers a chance to reflect on how they will deploy the consequential funds north of the border.
FSB would argue that more help for suppliers to the hardest hit sectors, and others indirectly impacted by the current round of lockdown, would address a need that is becoming more pressing by the day.
By optimising the package of rate reliefs and grants, we're certain policymakers in Edinburgh can help more local firms in need, and avoid cash being hoovered up by the biggest businesses who need it least.
Overall, the Chancellor succeeded in throwing another lifeline for many smaller firms, but has he detailed how he is going to turn the tide? The public finances may have taken a battering, so has much of our independent business community and we shouldn't assume that they'll be back to full strength the moment restrictions are lifted.
Specifically, with Scotland's business community lumbered with more than £3bn of government-backed debt, Sunak could have outlined initiatives to help firms climb this financial mountain. Could we adopt – for instance – a student loan type model to help independent firms grapple with this debt they don't deserve?
And though we saw efforts to help firms to retain jobs, we didn't see a bold enough plan to boost job creation by, for example, cutting employers national insurance contributions. With around 4,000 people's livelihoods dependent on the job retention scheme in every mainland Westminster constituency in Scotland, we'll need to tap the employment creating power of smaller firms sooner or later.
While we're looking to policymakers in Edinburgh to pull the finish line closer, more could be done by the UK Government to give local firms the strength for the race to recovery.
Andrew McRae is Scotland Policy Chair for the Federation of Small Businesses (FSB)