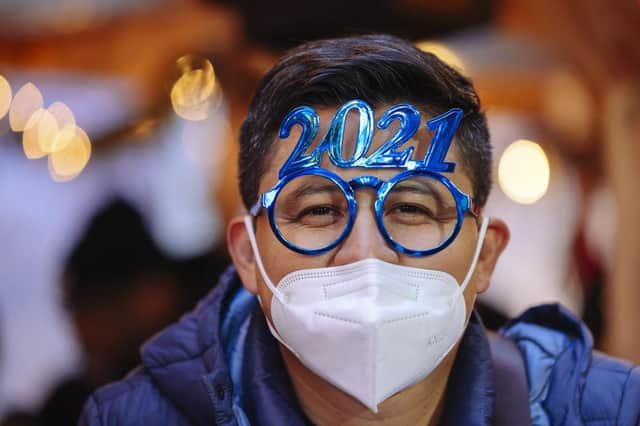 Really tough. We've all felt angry, deflated and frustrated at the longevity of the coronavirus pandemic and the restrictions imposed as a result of its spread. When we went into lockdown in March, it was with a hint of optimism that the virus wouldn't affect our lives for too long. There was no way of knowing that nine months later we would be in the same situation.
Yet, somehow, that's where we find ourselves. After a pretty much non-existent Christmas, we're stumbling through the January Blues in a perpetual state of wonder at how nearly a year has passed since an invisible enemy brought all our lives to a standstill.
The deadly virus has taken its toll, for sure; the deaths are tragic. But the deeper impact of Covid-19 remains to be seen. Imagine a tsunami, far out at sea, travelling silently for hundreds of miles before its full, devastating power is felt as it approaches land. Unfortunately, one pandemic has shone a light on another – the increasingly widespread problem of mental illness.
Research from 87%, a mental wellbeing platform, shows that the workforce has struggled with changing circumstances at work and pressures in our personal lives. The result? Our mental health has taken a serious knock. Data shows that the mental wellbeing scores of users of the 87 per cent app have dropped (demonstrating declining mental health) across a number of key metrics including anxiety, fatigue, isolation and work stress, by as much as 20 per cent since March.
The issues compound each other. Constantly changing rules, increased financial pressures – due to the suffering job market – and isolation from those closest to us only serve to fuel our growing anxiety. As people feel less stable, they feel tense, nervous or unable to relax; they worry more. This reduces our ability to focus and increases fatigue. Increased fatigue affects productivity, which impacts performance at work, which causes more stress... need I go on?
For 87%'s clinical director Dr Serra Pitts, the effects could be even more stark the longer the pandemic goes on for: "If feelings become long term for people, they can lead to further complications, such as hyperarousal, a symptom associated with post-traumatic stress disorder that can cause heightened anxiety."
So how can we build positive mental health now that 2020 – and surely the worst of things – is behind us?
By talking about our problems, for one. A major hurdle that those investing time and resources into mental health still face is the stigma surrounding the subject. Compare this to physical health. Social media is chock-a-block full of scantily-clad models showing off their six-packs, boasting about how many burpees they can do, or flogging the latest gymwear. We set ourself rigorous fitness goals and shout from the roof tops when we hit achievements.
Stigma
We too easily bandy about the term "mental health" when we really mean mental ill health. The result is a reluctance to talk about it and a sense of weakness if we feel inclined to do so. Yet we all need mental health – or more accurately mental fitness. It's what gets us through the challenges of day-to-day life; it's the voice in our head that tells us not to give up when things get hard.
Measurement is the other area where mental health is way behind its physical big brother. Whether it's Strava or one of the countless other fitness apps available, a myriad of technology allows us to track our physical health and progress made over time. Yet when it comes to our mental health, it's guesswork. We don't have a handle on how we're truly feeling. That's where a platform like 87 per cent can help businesses to understand how their staff are really being affected by challenges big and small.
Now more than ever it's crucial that we do more to avert the spread of mental illness. Unfortunately, that's a pandemic that a vaccine can't ward off.
Debbie Byers, founder, Speaker Buzz – a speaker agency specialising in mental health and wellbeing
A message from the Editor:
Thank you for reading this article. We're more reliant on your support than ever as the shift in consumer habits brought about by coronavirus impacts our advertisers.
If you haven't already, please consider supporting our trusted, fact-checked journalism by taking out a digital subscription.