The Worm Who Turned, Oran Mor, Glasgow ****
On the day in 2011 when Egypt's Tahrir Square revolution reached its height, I was in the Solidarity Museum in Gdansk, Poland, surrounded by banners and posters and fierce pieces of art produced during that brief 1980s moment when the Solidarity movement broke out from the shadows of Soviet repression. And given the news from Egypt, I couldn't help reflecting on these moments of youthful revolutionary ecstasy that seem to recur again and again in human history, and are so often followed by disillusion, disappointment and repression.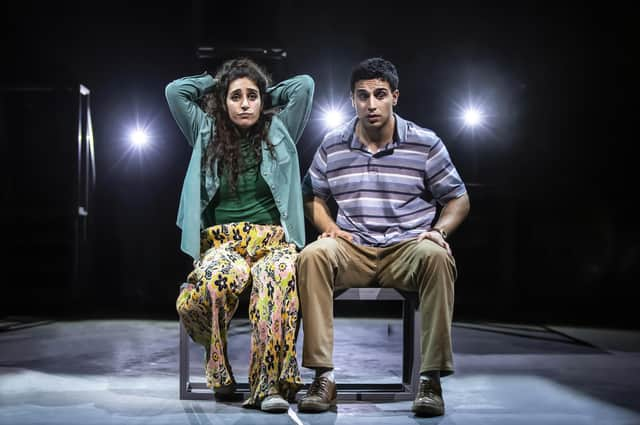 Of all those cycles, though, none in modern times has been more dramatic than the one endured by the Tahrir generation, who – over a period of two or three years – had to watch the ecstatic high hopes of February 2011 collapse into a military regime far more repressive than anything they had known before; and the British-based writer Ahlam's new play You Bury Me – now brought to the Lyceum by brilliant new play company Paines Plough – is an intense and moving 100-minute ensemble show about a group of young people once caught up in that moment, and now living with its bitter aftermath.
Directed with exquisite fast-moving fluidity by Paines Plough's Katie Posner, the show therefore introduces us to Osman, a young writer who can't let go of the revolutionary hopes of Tahrir, and his gay friend Rafik, who faces huge dangers under the military regime. We meet Osman's rebellious younger sister Maya, and her friend Lina, who gradually become lovers; and we meet Tamir and Alia, a young couple in love but divided by religion, who in the end resort to a desperate flight from Egypt, in the hope of being together.
The bantering, youthful dialogue of these characters, full of western cultural references, sometimes sounds a shade over-anxious to make itself "relatable", for a contemporary British audience. Yet as a strategy, this slight cultural assimilation finally works brilliantly, bringing the audience so close to the terrifying dilemmas faced by the characters that we can almost feel the panic in their bodies, along with their grief and incredulity at what they now face. And given a flawlessly generous and forceful ensemble performance by Posner's young company, You Bury Me emerges as a vital piece of 21st century theatre, exploring one of the great political tragedies of our time through the experience of a generation whose lives – if they still have them – have now been marked, reshaped and saddened by it, for good.
There's also a small personal revolution in the latest Play, Pie and Pint mini-musical The Worm Who Turned, written by Kim Millar, with powerful original songs by the remarkable Andy McGregor. The scene is an upmarket Glasgow allotment, where neglected wife Margie seeks consolation from her loveless marriage, but which is also the scene of garden-shed assignations between her husband Forbes and the glamorous allotments secretary Jane, who are plotting (sorry) to flog the allotments off to a property developer, and flee to the Cote d'Azur.
The show – brilliantly delivered by Helen Logan, Clare Waugh, and an irresistibly smug George Drennan – is probably at its strongest in the early scenes, where the situation has a hard edge of contemporary reality about it. It's still pretty enjoyable, though, even after it jumps the shark into pastiche theatre of cruelty, a vividly-coloured tale of "marrows, murder and mayhem" that has the audience cheering Maggie on to her revenge; and offers a joyous explosion of fun, satire and creativity, on a cold March lunchtime.
You Bury Me at is the Lyceum Theatre, Edinburgh, until 18 March. The Worm Who Turned is at Oran Mor, Glasgow until 11 March; the Lemon Tree, Aberdeen, 14-18 March; and Ayr Gaiety Theatre, 23-25 March.