An empty space, a circle of chairs, two actors, and an explosive, epic story about a pair of twins, daughters of a struggling single mother, from the moments in the womb just before their premature birth, to the day in adult life when they face one another once again.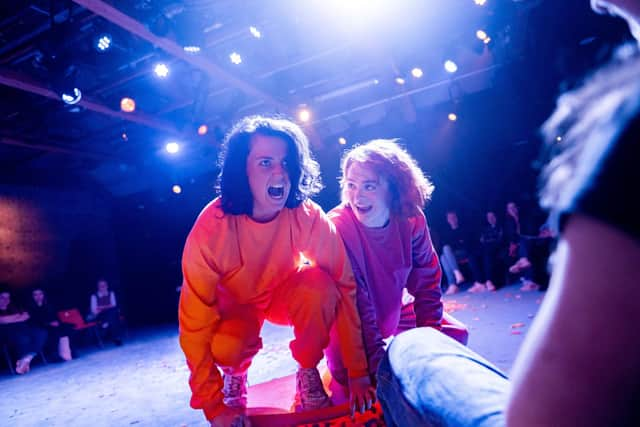 That's Wolfie, Bristol writer Ross Willis's acclaimed 2019 debut play, now given its Scottish professional premiere in an enthralling production, by Tron associate director Joanna Bowman, that offers the fullest possible scope to two of Scotland's most dazzling young actors, Leah Byrne and Anna Russell-Martin. A full two hours long plus interval, and written in heightened and stylised language full of edgy poetry, the play is inspired by the plight of care-experienced young people, and charts the story of the twins – called Z and A – from the moment of their birth and adoption, through their separation when their depressed adoptive mother cannot cope, to Z's loveless and neglected childhood in that adoptive household, and A's much more fantastical upbringing by wolves.
At every turn, though, both girls – and particularly A, who has been "in care" – are haunted by a patronising officialdom that offers them warm words but no real love or attention, starting with the woodpecker who comes to remove A from her forest family when she reaches puberty; while Z withers under her adoptive mother's depressed indifference.
What Wolfie offers, in other words, is a terrifying sustained portrait – imaginative, poetic and sometimes fantastical – of a society desperately failing its most vulnerable young people. Yet Wolfie is not a bleak show; in every scene, there are glimpses and glimmers of what the twins call "sparkle", the love they have for each other, and which they just occasionally encounter in others. The twin performances of Byrne and Russell-Martin are beyond praise, a dazzling whirlwind of energy, variety and heartbreaking sadness; and Bowman's production is a classic example of how to take a show built on words – perhaps, in the end, slightly too many words – and turn it into a spellbinding theatrical circus of thought and action, imagination and empathy.
There's also plenty of physical action in Hannah Lavery's Protest, a new show for older children co-commissioned by Imaginate, Northern Stage, and Fuel, and set to appear later this month at the Edinburgh International Children's Festival and on tour. Originally based on three intertwined monologues, Protest explores the lives of three girls of 11 or so living in a small Scottish town, each of whom has reason to protest. Alice is a gifted runner who keeps being passed over for school teams in favour of boys. Jade has Asian heritage, and is beginning to experience racist bullying at school; and Chloe has inherited a love of nature from her absentee Dad, and is deeply anxious about the state of the local woodlands.
Racing, diving and lounging around a colourful playground set – to a powerful musical score by Novasound – the three girls gradually find their way towards a more purposeful form of campaigning, and towards each other; and if the script – at around 65 minutes – is perhaps a little short, and could use more development of the girls' increasing recognition of each other's different struggles, Protest nonetheless emerges, in Natalie Ibu's production, as a vibrant show, lifted by three beautiful and poignant performances from Kirsty MacLaren, Tamara Fairbairn and Esme Kingdom.