Theatre reviews: We Will Hear the Angels | Bus Regulation: The Musical
Inspired by Chekhov, Katherine Mansfield and Hitchcock's Rear Window, Magnetic North's new production asks so many unanswered questions that it feels more like a complicated work in progress than a finished show, writes Joyce McMillan
We Will Hear The Angels, Fruitmarket, Edinburgh ***
Bus Regulation: The Musical, Platform, Glasgow ***
It was a strange and beautiful show about heartbreak, by Edinburgh theatre company Magnetic North, that attracted a small but packed audience to the Fuitmarket for only two shows this wintry weekend. We Will Hear The Angels is said to be inspired by Chekhov, Katherine Mansfield and Hitchcock's Rear Window but it's the profound melancholy of Chekhov that comes to the fore as five characters gather on stage but remain apart, each lost in his or her own misery.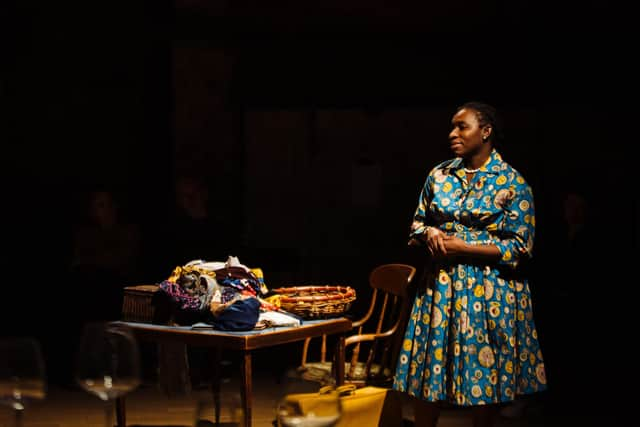 So composer and music director Daniel Padden stands at a high desk, occasionally chiming sounds out of different-sized glasses. Mia Scott has her violin and cuts old pictures out of one album to stick in another. Writer and co-director Nicholas Bone is a defeated Uncle Vanya figure, clutching a vase of purple paper tulips; cellist Greg Sinclair's desk features a boiled egg in a silver cup as he gazes out of his window at a young man for whom he longs. Apphia Campbell, the only black performer in the cast, arrives in a winter coat like an outsider, sorts and mends a pile of clothes, and becomes aware of her husband's affair with another woman. As the 50 minute performance evolves, the characters circle round to a place where music becomes the expression of their grief. Scott's Sonia sings a breathy version of Patsy Cline's Why Can't He Be You, Sinclair's Ian delivers a fine lyrical take on Orange Juice's Rip It Up and Campbell's Bea takes the show to its emotional climax with the blues classic I Would Rather Go Blind.
Then, in a distinctly unsettling conclusion, the four white performers gather as a string quartet under a spotlight, nodding and eyebrow raising to each other, while Campbell, once again in her coat, and now carrying a suitcase, moves round them in the dark, only joining the circle at the last moment. It's an image that certainly avoids any soothing assumption that all people and cultures are united in heartbreak; but it also asks so many unanswered questions that it leaves this more like a complicated work in progress than a finished show.
At the Platform, meanwhile, director Ellie Harrison and her team deal with a different kind of heartbreak, as Bus Regulation: The Musical charts the decades-long shift in UK politics which saw Glasgow's public transport decline from its world-beating Corporation tram system to the deregulated chaos of 1980s "bus wars", and the present patchwork of expensive and unreliable privatised services. The show started in Manchester in 2019 as part of a campaign that led to the city becoming the first in England to re-regulate its buses. This version hopes to achieve something similar for Glasgow.
The show itself is more illustrated lecture than musical, in which campaigner Katy Thomson, in the uniform of a 1950s clippie, talks us briskly through the history of Glasgow's bus industry, while a team of young performers swoop around on rollerskates, representing its buses in their ever-changing liveries. For those interested in the relationship between theatre and politics, though, it offers a powerful piece of agitprop, and an excellent campaigning tool; as Glasgow tries to find its way back to the fully integrated transport system it once almost had, and which it needs and deserves today, more than ever.