Unbecoming, Kinning Park Complex, Glasgow ****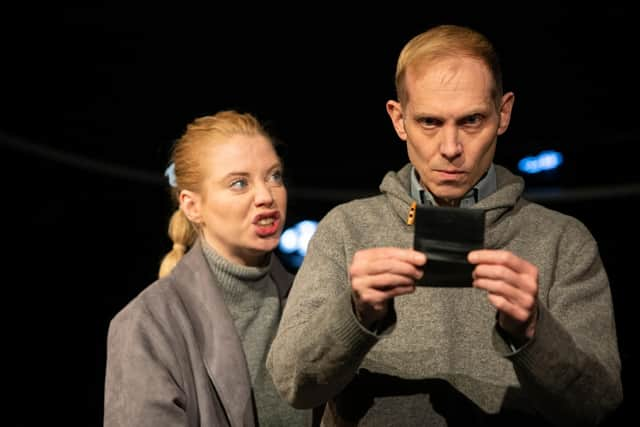 In our highly individualistic society, parenting is probably the toughest single task any human being can undertake, with its strange alternations of absolute joy, and almost unbearable levels of stress. Peter Arnott's new Play. Pie And Pint show, Variant, is a strange and haunting piece, in an enigmatic abstract style that recalls 20th century modernist masters like Sartre, Beckett, and Pirandello; but we gradually learn, nonetheless, that some terminal crisis of family life lies behind the grey-toned limbo the two characters inhabit, constantly repeating the same conversation, although with ever-intensifying variations.
It takes a while, though, for our understanding even to reach that point, as actors Meghan Tyler and Simon Donaldson, both dressed in the same soft greys, begin a conversation all too typical of many modern conversations about gender politics, full of criss-crossing patterns of accusation and incomprehension; at one point, she even draws in the whole audience, as some kind of judging panel. And eventually, shadows of real violence begin to appear; perhaps too horrible to recall.
Arnott's play conjures this strange, dream-like situation into 45 minutes of riveting and disturbing dialogue, directed by Kolbrun Bjort Sigfusdottir with a real sense of mystery and tragedy; and delivered by Tyler and Donaldson with such a pitch-perfect intensity, full of superficial calm and simmering horror, that it leaves a profound and unsettling impression, long after the actors have left the stage.
Anna Porubcansky's solo work Unbecoming, by contrast, deals much more directly with the experience of parenting and motherhood in our 21st century world; although she too avoids naturalism, offering a lyrical and often beautiful hour of meditation and imagery expressed through sound and light, monologue and movement. Presented by Porubcansky's much-admired physical theatre group Company of Wolves, Unbecoming has already been acclaimed for its brave and eloquent exposure of the extreme tensions of modern motherhood; and Porubcansky excels in capturing the sense of a female identity unravelling under these pressures, of the lost younger selves that mothers often silently mourn, and of the new self who stands with a fixed smile at the school gate, or simply becomes paralysed by a litany of fears for her beloved children. Nor is there any facile conclusion here; just the sounds of the ocean of life, sweeping through a woman's body and mind, and changing her in ways she could never have imagined, until now.
And meanwhile, at the Playhouse, Edinburgh receives another triumphant visit from Annie, that great and witty Depression-set musical about parents and orphans, poverty and wealth, politics and hope. This latest staging of the show, originally directed by Nikolai Foster, famously features a highly entertaining Paul O'Grady (or Elaine C Smith, in Aberdeen and Glasgow) in the role of little orphan Annie's horrifying orphanage boss Miss Hannigan, a money-grubbing drunk who hates little girls.
In truth, though, O'Grady's performance is only one element in a hugely successful ensemble show, which sang and danced its way through a terrific Edinburgh opening night despite the replacement, with excellent understudies, of two actors playing leading roles. And at the core of the show – supported by Joshua Griffiths' powerful eight-piece live orchestra – is its remarkable playlist of songs, from the orphans' anthem It's A Hard Knock Life, to Annie's wonderful theme tune Tomorrow; which not only lifts her little heart in sad times, but also – in this most clever and enjoyable of fairytales – succeeds in ending the Depression itself, almost before the final curtain.
Variant is at Oran Mor, Glasgow, until 25 March, and at the Traverse, Edinburgh, 28 March-1 April. Unbecoming is at Summerhall, Edinburgh, until 25 March, the Byre Theatre, St Andrews, 26 March, and Lyth Arts Centre, 29 March. Annie is at the Playhouse, Edinburgh, until 25 March, His Majesty's, Aberdeen, 23-27 May, and the King's Theatre, Glasgow, 29 May-3 June.