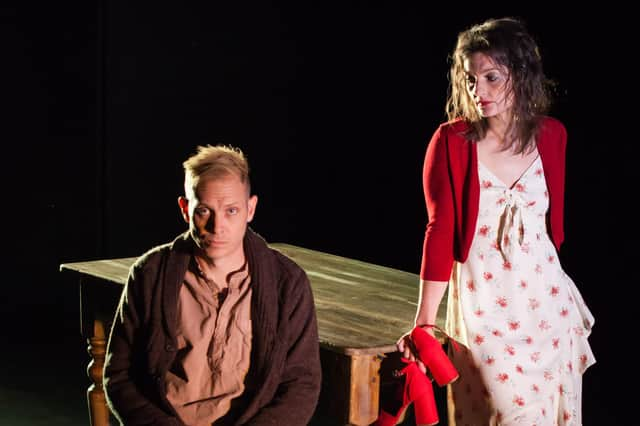 Ever since the start of Britain's lockdown, back in March, concerns have been expressed about the impact of the Covid-19 pandemic on mental health; although the anxiety, panic and depression currently felt by many often seems like a fairly normal response to crisis, in a society plagued by social fragmentation and economic insecurity. Mull Theatre's new double bill of online dramas, though - titled Emergence - is not here to argue about definitions of mental health. Instead, these two two-handed dramas, both performed by actors Ashley Smith and Simon Donaldson, zoom in on the moment when a human being in mental distress decides that he or she cannot go on; and on what it might mean to save someone's life, at that critical turning-point.
In Anita Vettesse's 34 minute play Undocumented (****), the action begins with a sharp-edged and - under current conditions - highly political encounter on an island beach. A woman arrives on a motor boat that roars away again as soon as she has been dropped off; and a man who has become part of a local home guard against infection tries to deal with this unwanted invasion, deploying his sanitiser and disposable gloves like weapons.
The political resonances of this scene are powerful, given the constant current imagery of desperate people crossing the channel, in the teeth of opposition from the UK authorities; and Vettesse fully recognises these echoes here, along with more specific issues to do with tourism, second home ownership and class in the Western Isles. Gradually, though, the play focusses down on the sheer distress of the woman who has arrived on the beach; and shades into a poignant exploration of how privilege does not guarantee happiness, or even a shred of real love.
Vettesse's drama is largely driven by a powerful monologue, beautifully delivered bye Ashley Smith, about the circumstances that have driven her to despair; but in the second play, Oliver Emanuel's 38-minute piece Strange Rocks (****), the exploration of lives in crisis is more evenly balanced between the two characters - in this case a male writer living a hermit-like existence on the island, and a drowned woman whose body he finds on the beach. Emanuel's play quickly abandons naturalism for a strange, dream-like state, with echoes of Shakespeare's Winter's Tale, in which the drowned woman is able to return to life not only to tell us her story, but to spend a night talking to the writer, and perhaps beginning to redeem him from the creative and emotional desert in which he has found himself.
In the end, I found myself wondering why, in both of these plays, the woman was cast as the suicidal victim, and the man as the rescuer. Men are around three times more likely to die by suicide than women, and it would have been interesting to see these two powerful actors reverse roles between plays. It might also have avoided the uneasy sense, in the second play, that the narrative is somehow not quite ironic enough about the fact that this dead woman seems to exist, for the fictional writer, mainly as a device to release his writer's block.
Both plays, though, are beautifully presented by Mull Theatre director Beth Morton and her team, filmed in a dark theatrical setting, but wrapped in powerful filmed images of Mull shores by Jamie Wardrop, with music and sound by Simon Liddell and Martin Low. And in both plays, Ashley Smith and Simon Donaldson achieve an intensity of performance that would make any theatre-lover ache for the moment when we can get back into the same room as the performers we love to watch; the place where we can feel their breath, and the warmth of their passion for the stories they tell.
After what feels like a brief virtual visit to the theatre, with the Mull team, it's almost a relief - or at any rate a shift in intensity - to return to a piece of online work that feels more definitively like a film. The Traverse's 20 minute film In Someone Else's Shoes: Edinburgh (****) is part of a project under the same title created by Theatre Uncut director Hannah Price and producer Wezi Mhura over the last 18 months; and here, five Edinburgh residents who were not born here - ranging from French-African delivery driver Raphael Nade, to Glasgow-born comedian Susan Morrison - walk or drive around Edinburgh reflecting on their adopted city, while young Edinburgh dancer Sienna Thomson, fleetingly glimpsed in the background of all their promenades, talks about what growing up in a Festival city has meant to her.
Politically, this film marks the Black Lives Matter moment in Edinburgh; three of the six voices here belong to black or Asian people who have lived experience of racism, here and elsewhere. It also, though, represents a powerful image - captured in 360 degree all-round photography - of a beautiful city half-silenced by Covid, and afraid that a vital part of its identity may have gone for good. Morrison, currently dealing with a cancer diagnosis, is adamant that the Fringe she loves will be back, with all guns blazing; but in the moment of stasis and reflection captured in this film, the truth is that all we have is hope and uncertainty - and if we are lucky, a little love, to keep us going.