Theatre reviews: Through the Mud | Dead Dad Dog
An updated version of Apphia Campbell's 2017 Fringe hit Woke feels even more urgently political than the original, writes Joyce McMillan
Through the Mud, Lyceum Theatre, Edinburgh ****
Times change; and the best shows – including Through The Mud – are those that know how to change with them. Apphia Campbell is a US-born and Glasgow-based singer, actor and writer; and her show Woke first appeared on the Edinburgh Fringe in 2017 as a solo performance, charting through music – particularly through some of the greatest songs in the black American canon – the political education of a young middle-class black American student called Ambrosia.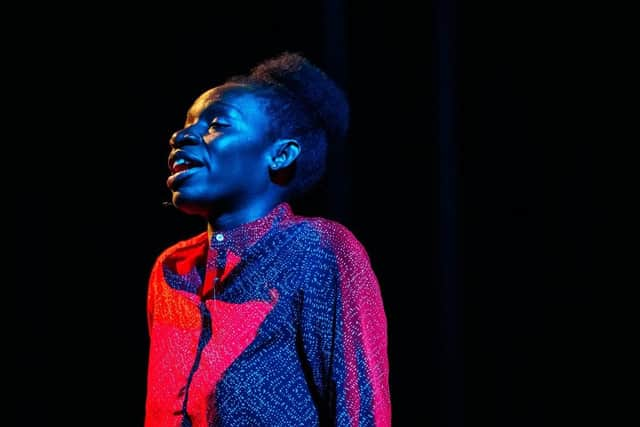 In autumn 2014, Ambrosia arrives at university in St Louis, Missouri, just as the town of Ferguson, in the city's suburbs, is exploding in rage over the shooting by police of unarmed black teenager Michael Brown. Within weeks, most of her comfortable assumptions about American justice, democracy and equality have been shattered by her experience of protesting for justice alongside the people of Ferguson.
In that sense, the show's story of a young woman coming alive to the reality of injustice and racism was perfectly summed up in Campbell's original title, Woke; the fact that it has now been changed in itself speaks volumes about the times in which we live.
Campbell's new version of the play – produced by the Lyceum with Stellar Quines, and powerfully directed by Caitlin Skinner – takes a very different tack from the original. It seems both more urgently political, and less uniquely focussed on Ambrosia's musical-political journey.
On stage with young Scots actor-singer Tinashe Warikandwa, who plays Ambrosia, Campbell plays the 1970s black panther activist Assata Shakur, whose autobiography inspires Ambrosia's new life; and Between them – and backed by video designer Ellie Thompson's vivid archive scene images – the two women conjure up an ever fiercer 70 minutes of music and protest, drawing frightening parallels between Ambrosia's increasingly shocking encounters with the Ferguson police and justice system, and Assata's 1970s conviction for a murder she did not commit.
And if it is depressing to recognise that so little has changed in 50 years, in the US and elsewhere, it is also difficult not to be energised and exhilarated by the storm of political and musical energy unleashed by Campbell and Warikandwa towards the end of this brave and remarkable show; which won standing ovations from audiences at the Lyceum over the weekend, and will surely soon return to the stage, in Scotland and beyond.
John McKay's 1988 comedy Dead Dad Dog, by contrast, is a show that rightly resists updating, but still has plenty to say about the subtle infantilising of Scotland that pervades our cultureeven now, and about the nation's apparently infinite capacity for self-sabotage.
Now revived by the Finborough in London, in a deft and heartfelt production by Liz Carruthers, Dead Dad Dog tells the tale of young Alexander, or Eck, a 1980s Scottish yuppie of lower middle-class origins, whose post-university life is on the move towards better things – a job interview at BBC Scotland, a date with the girl of his dreams – when he is suddenly interrupted by the ghost of his dead dad Wullie, a vision in a 1970s suit.
Wullie proceeds to wreck Eck's day with a chatty line in cheeky scepticism about his aspirations, and heavy emotional guilt-tripping – reinforced by cosmic electric shocks – whenever Eck tries to step too far away from him.
As a metaphor for instinctive Scottish small-c conservatism and caution, passed down through the ages, McKay's vision could hardly be bettered. And it's beautifully brought to life by a wonderfully elegiac Liam Brennan as Dad, and an appealing Angus Miller as Eck – who finally concludes, of course, like generations before him, that if he really wants fulfilling work, freedom and happiness, then there is no option but to hit the road to London.