The Stamping Ground, Festival Theatre, Edinburgh ****
The Merry Wives Of The Wyndford, Oran Mor, Glasgow ***
It's hard to know how to place the remarkable Runrig tribute musical The Stamping Ground, playing in Edinburgh this week as part of a new Scottish tour, following its world premier last year. In outline, it looks like any other "jukebox" musical that seeks to weave a story out of the songs it wants to celebrate; yet it's as if there's something about the songs themselves that defies the very idea of straightforward, upbeat celebration.
In a programme note, the show's writer Morna Young describes Runrig's lyrics as "poetry – elemental and deep"; and so it proves, in her story of Annie and Euan, a couple in their thirties who, with their teenage daughter Fiona, return from London to the Hebridean island where they grew up, only to find that their responses to their return are very different. Annie is energised and transformed by the campaign to save the local pub; while Euan suffers a psychological meltdown, becoming obsessed with a ridiculous vendetta against a young woman called Summer whose father caused the death of Euan's father in a road accident, some 15 years before.
The story, in other words, opens up huge Runrig themes to do with departure and return, with the beauty and meaning of the island landscape for those who live there, with the inevitability of change, the fragility of love, and the ultimate need to let the past go. In this bold production by Glasgow-based producers Raw Material and Eden Court in Inverness, the story is told with tremendous commitment and eloquence by a 13-strong cast of actors and musicians, including Jenny Hulse and Ali Watt as Annie and Euan, Annie Grace in superb form as Euan's mother Mary, Brian James O'Sullivan at the very heart of the community as Fergus who runs the pub, and Juliet Cadzow a joy as Mary's vodka-loving neighbour Maggie, funny, daft and wise.
And if the show could sometimes allow the songs a little more space to breathe – and the audience more time to celebrate them – that's only because its complex story demands a strong momentum from one scene to the next; in a vivid and thought-provoking musical that fits into few familiar categories, precisely because its scale and ambition have become so rare, in the cash-strapped world of Scotland's professional theatre-making.
There's very little emotional complexity, by contrast, in this week's Play, Pie and Pint lunchtime drama, The Merry Wives Of The Wyndford; but that's perhaps just as well, as the task of staging this updated Glasgow version of Shakespeare's Merry Wives of Windsor with a cast of only three involves so many farce-style disguises and concealments, and quick switches of hat and character, that the mere business of getting through the story is more than complex enough.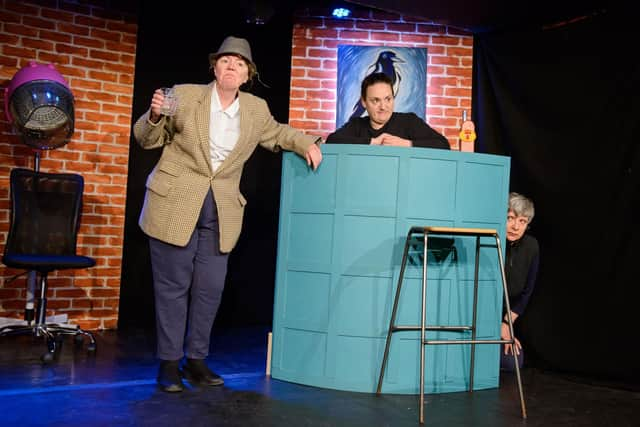 There's not much disagreement that The Merry Wives – while merry enough – is one of Shakespeare's weakest plays, a lightweight comedy designed to give audiences an extra glimpse of their favourite character, Sir John Falstaff; and Linda Duncan McLaughlin deftly updates Sir John's failed attempts at sexual hanky-panky with two faithful wives into the social-media-aware setting of a modern Glasgow cafe-bar, and nearby hair salon.
In the end, despite the best efforts of ace comedy director Ken Alexander, the stress of playing at least five characters with three actors slightly overwhelms the show. Yet Janette Foggo as Mistress Page, Giga Gray as the helpful feminist barmaid, and Linda Duncan McLaughlin herself as Mistress Ford, make a lively job of sending up a form of male vanity and folly that still seems oddly recognisable, a mere 425 years after The Merry Wives first took to the stage in London.
The Stamping Ground is at the Festival Theatre, Edinburgh, until 27 May, and on tour to Greenock, Aberdeen, Glasgow and Perth, until 24 June. The Merry Wives Of The Wyndford is at Oran Mor, Glasgow, until 27 May, and at the Macrobert Arts Centre, Stirling, 1-3 June.