Shall there be womanly times, or shall we die? It's exactly 40 years since the writer Ian McEwan first asked that question; yet still it lingers around our culture and politics, not only unanswered, but beset by doubts about whether it is right to ask it, in exactly that form.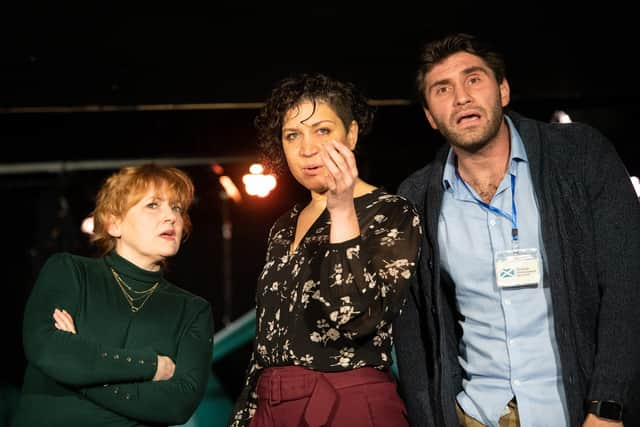 In Kathy McKean's The Spark, for example – a new Play, Pie and Pint show created by the team behind last summer's triumphant Medea at the Glasgow Botanics – the wonderful Nicole Cooper is a woman in politics, approaching the menopause, and suddenly full of rage. Her ministerial brief has something to do with climate change and the environment; and after years of disciplined striving to get her tone right, always to be moderate, never to be "too much" – as forceful women must – she finds herself no longer able to tolerate the patronising advice of her young speech writer James, and shocked to find that the white heat of her anger seems strong enough to produce effects at a distance – to boil the water in the office fish tank, explode a crumpled paper containing James's corrections to her latest speech, or floor a teenage boy at a bus stop harassing an isolated girl.
As dramatic premises go, this is a strong one; and there is arguably not much more to Kathy McKean's short play than that premise, which abruptly plays out to a conclusion that seems a little hard on the 24-year-old Scottish Parliament, hardly the UK's most obvious bastion of ancient patriarchal power. With Nicole Cooper in tremendous form as Robin, though – alongside Johnny Panchaud as James, and a superb Beth Marshall as Robin's harassed but brilliant GP – this is a play that raises limitless questions about the relationship between women, power, and the viable future of life on earth; including whether female anger needs to wait for the menopause (I think not), and whether that turning point in women's lives, now at last being more widely discussed and understood, can nonetheless become a force to help us make the fundamental change we need, before it is too late.
When it comes to exploring the relationship between humankind and nature, no piece of western literature is more iconic than Henry Thoreau's Walden. First published in 1854, this little book records Thoreau's experience, a decade earlier, of living for two years alone in a hut in the woods near Walden Pond, a few miles from Concord, Massachusetts; and in returning to his beautiful 2008 stage version of Thoreau's text, 15 years on, Nicholas Bone of Edinburgh's Magnetic North company makes two interesting changes. First, he has Thoreau's words performed by a female actor; and then he sets the show in the context of an installation by Harvey Dimond, with audio by Lisa Asivile Mpoposhe, which refers to landscape as experienced by enslaved people, including those freed slaves who once lived in the same Walden woods as Thoreau.
The result is a beautiful and challenging hour of theatre, which reminds us – through Shakara Rose Caine's gentle yet powerful performance – both of the depth and freshness of Thoreau's thought, and of the complexity of the context in which he wrote, in a United States soon to be plunged into civil war over the issue of slavery. To be at peace with nature, we humans will probably have to learn to be at peace with each other, and ourselves; and this remarkable show, set in an exquisite oval space designed by Sans Facon, offers us a rare glimpse of that peace, full of meditative intelligence, and quiet power.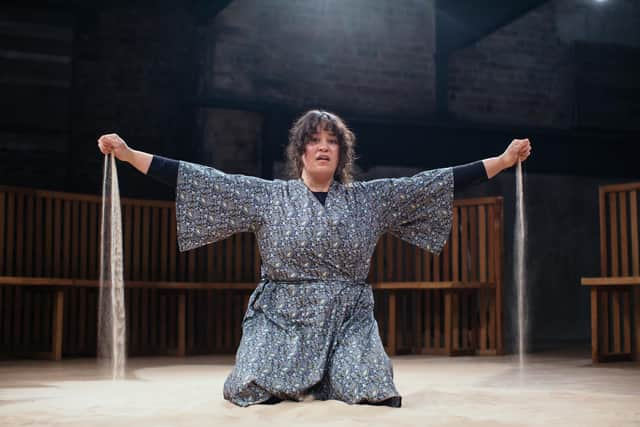 The Spark is at Oran Mor, Glasgow, until 1 April, and at the Traverse Theatre, Edinburgh, from 4-8 April. Walden is at the Fruitmarket, Edinburgh, until 1 April