Theatre reviews: The Sheriff of Kalamaki | One of Two | Woman Walking
Douglas Maxwell's two-hander, The Sheriff of Kalamaki, is as bold, searing and harshly poetic a tale of two brothers in confrontation as Scottish theatre has seen in many a year, writes Joyce McMillan
The Sheriff of Kalamaki, Oran Mor, Glasgow *****
Woman Walking, Perth Theatre ****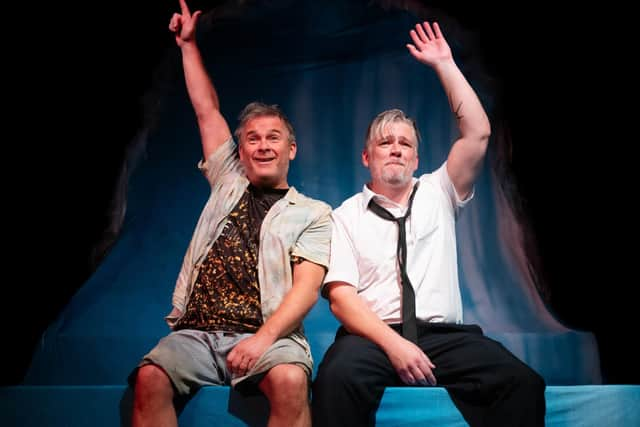 This autumn, Scottish theatre sometimes seems to be all about siblings; perhaps because tension between those born in the same family offers such a powerful metaphor for an increasingly divided society. Two brothers stand at the centre of Annie George's recent show Coast, and of Andy McGregor's Battery Park. And now, here comes leading Glasgow playwright Douglas Maxwell with The Sheriff of Kalamaki, as bold, searing and harshly poetic a tale of two brothers in confrontation as Scottish theatre has seen in many a year; and one played, into the bargain, by two actor brothers.
The play begins – well – oddly, as Paul McCole, as younger brother Dion (aka Derek), takes centre stage and delivers a monologue about his life in the Greek resort of Kalamaki. Still a Glasgow lad through and through, he recounts a tale of a strange expat life on the streets, including his notion of himself as the Sheriff of Kalamaki, looking out for all kinds of tourist trouble.
The story takes a sudden twist, though, with the arrival of Stephen McCole as Dion's brother Ally, a middle-class Scotsman at a crisis point in his life. If Dion represents feckless failure with an element of harmless delusion, Ally soon begins to seem like a much more dangerous quantity, a man wedded to a 21st century religious individualism that will ruthlessly exploit anyone and anything to protect its own position. Add to this hectic brew the fact that their confrontation takes place in the barely tolerable heat of 2020's Mediterranean summer and the scene is set for a mighty spew of poetry and thought about the toxic soup of dishonesty, delusion and danger through which we are trying to find a way forward; all handled with staggering force and commitment by both actors, and brought to a conclusion which reminds us, with a great and unsentimental clarity, that the only possible redemption lies in love.
And after that storm of brilliance, a brief nod also to Inverness writer Jack Hunter's award-winning 2022 Fringe show One of Two. Here, the sibling relationship is the vital one between writer-performer Jack and his twin sister Bec, former womb-mates now divided by the fact that although both have cerebral palsy, Bec's is more severe than Jack's. What follows is a memorably angry and loving call for more understanding of the nuances of disability, particularly from a school system that came close to failing Bec completely; all articulated with a charm, humour and light-touch use of film and visual images that mark Hunter's arrival as a major presence in Scottish theatre.
Sylvia Dow's new play Woman Walking, by contrast, deals with the experience of absolute solitude, as it follows a woman riven by grief and anger into the Cairngorms. She is an experienced lone walker; but somehow, on this journey, she is joined by the presence of Nan Shepherd, the great 20th-century poet and writer about the Cairngorms, and about the need for human beings to be at one with nature. The idea is a sentimental one, of course; but it is explored with such grace and discretion – in Dow's writing and in a fine performance by Fletcher Mathers as Nan, with Pauline Lockhart as the grieving Cath – that the show delivers a richly enjoyable hour of theatrical meditation on the very forces that can ease and prevent the nightmare Maxwell imagines in Kalamaki – given the time and space, of course, that this gentle and beautiful play allows.