The Shawshank Redemption, Festival Theatre, Edinburgh ***
Faye's Red Lines, Oran Mor, Glasgow ****
Adapting movie blockbusters for the stage has become a staple of commercial theatre in the last two decades, yielding plenty of rewards at the box office, but it's a brave adaptor who takes on The Shawshank Redemption. Frank Darabont's 1994 prison movie, based on a novella by Stephen King, was nominated for seven Oscars and has become a much-loved classic.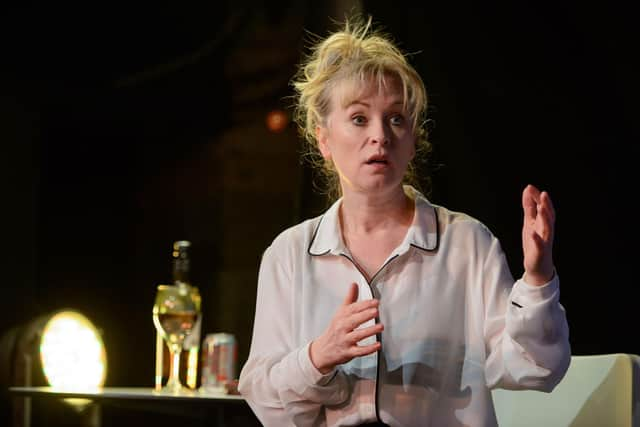 The story of New England banker Andy Dufresne, who finds himself wrongfully convicted of murder and fights to retain his humanity during a long jail term in the notorious Shawshank, was first brought to the stage in 2009, adapted by two stand-up comics, Owen O'Neill and Dave Johns.
Their version sticks as close as it reasonably can to the film, retaining most of its structure and much of the original dialogue. Some of the all-male cast in this production are dead ringers for their opposite numbers in the film: Kenneth Jay as Brooks, the prison librarian, Coulter Dittman as fresh-faced Tommy Williams, Mark Heenehan as Stammas, the dark-suited, baritone-voiced prison governor.
At times, it feels like the whole thing is trying a bit too hard to be like the film. Ben Onwukwe as Red expends a lot of energy channelling Morgan Freeman, and designer Gary McCann has retained the film's palette of browns and greys. As a play needs more words than a movie, there is a lot more explaining, which is often unnecessary. The central argument about the importance of holding on to hope is laid down a little too thickly.
However strong the production, it reminds us of the things film does better: the fight scenes are less than convincing, and it's a tough gig for Joe Absolom as Andy Dufresne, a character who tends to communicate his resistance by saying very little. Without the subtleties of close-up, he seems at times to disappear, surfacing in occasional overwrought outbursts.
That said, Shawshank is still a superb story, and packs an emotional punch, particularly in the second act. McCann's superb set, which shifts easily from exercise yard to mess hall to library, is a suitably claustrophobic container for the action, which can turn on a pin from joviality to menace, while the passing of Andy's decades inside is cleverly communicated through the snatches of music between the scenes.
Prisons come in many forms and Faye's "woman-cave between Kinning Park and Govan" in Ian Pattison's new play Faye's Red Lines for A Play, a Pie and a Pint is a kind of prison, albeit a self-made one. This is her solitary fortress where she lives, makes cold calls for a data firm and writes her diary ("the best therapy") while maintaining the strict boundaries of her existence. However, the younger man whose eye she catches in the local wine bar breaches her sanctuary, bringing with him a connection to her long buried past.
Gail Watson is a tour de force as Faye, frank and funny and completely without self-pity as she unfolds the story of her abusive childhood, violent father and manipulative mother. As garrulous as she is fragile, she has come to understand how her background has made her who she is, leading her to make a series of bad decisions.
Pattison's mastery of Glasgow working-class voices and Liz Carruthers' assured direction make Faye's rocky road to self discovery compelling viewing. Few people have been good to her in her life – and few are in the course of this play – but we're with her every step of the way as she finds in herself the capacity to do good to someone else.
Both shows run until 29 April