The Ocean At The End Of The Lane, Festival Theatre, Edinburgh ****
Welcome To Bannockburn, Oran Mor, Glasgow ***
It takes just a glance at the Festival Theatre audience, as they gather to watch The Ocean At The End Of The Lane, to confirm that this 2013 story by Neil Gaiman is something of a phenomenon. Essentially, the theatre is full – as it rarely is – of excited students and young twenty-somethings; and it's clear that Gaiman's story holds a special place in the imaginations of those who were entering their teens a decade ago.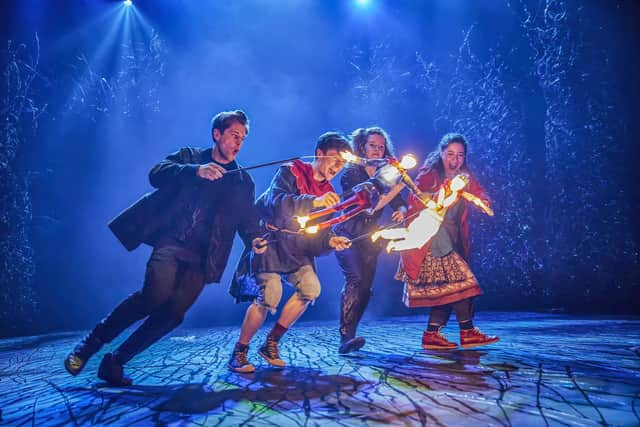 Like Harry Potter, The Ocean At The End Of The Lane is a coming-of-age story articulated through a confrontation with some terrifying supernatural forces, which our young hero – known only as Boy – encounters when he makes friends with Lettie Hempstock, the daughter of the family who work an ancient farm near his home. It soon emerges that the Hempstocks – Lettie, her mother, and her grandmother Old Mrs Hempstock – have a special role in keeping at bay certain dark and evil forces in the universe, and that their magic centres on a mysterious pond on the farm, which Lettie calls her "ocean"; and Boy soon finds himself locked in a titanic struggle against those forces, which find a way into his life, in the form of a classic wicked stepmother figure.
In Katy Rudd's thrilling production for the National Theatre in London, now on a UK tour, this whole fantastical tale – with its poignant strand of social realism, in the grief-stricken lives of the boy and his family – is brilliantly brought to life on Fly Davis's wonderful set of trees receding into darkness, with dazzling puppetry by Samuel Wyer, and movement by Steven Hoggett.
For those not enthralled by fantasy fiction, the wild and sensational twists in the story may eventually stretch the bounds of narrative plausibility, even in this magical world. The show's wonderful cast, though – led by Keir Ogilvy as Boy, and an astonishing Finty Williams as Old Mrs Hempstock – work brilliantly together to keep the story charged with humanity and meaning; in a spectacular family show that brings pure delight to Gaiman fans, and to everyone who loves a imaginative and well-crafted piece of theatre.
Lesley Hart's Welcome To Bannockburn at A Play, A Pie And A Pint, by contrast, is a play so firmly set in real-life Scotland, at this moment, that it almost hurts to watch it. We've become accustomed to theatre writers – for understandable reasons – studiously avoiding the current key division in Scottish politics; and it's therefore both thrilling and alarming to watch Lesley Hart charge straight into the maelstrom of contemporary Scottish nationalism, as patriotic Bannockburn tour guide Sandy, and his daughter Katie – working for a season with her Dad – suddenly find themselves caught up, with Sandy's former employee Molly, in a devastating family row about feminism, nationalism, patriarchy, harassment and violence – including the violence of the legendary battle itself.
In Julie Ellen's production, this fierce emotional switchback of a show is sustained at a fairly frantic pace by Paul McCole as Sandy, Madeline Grieve as Katie, and Nicola Jo Cully as Molly. And if the play finally seems to have bitten off a little more than it can chew in 55 minutes, in trying to deconstruct the whole business of identity politics from both a national and a feminist perspective, it nonetheless shows admirable courage in tackling the subject at all; and in pushing so far into that complex intersectional territory where battles are constantly fought, but often fail to produce an obvious winner.
The Ocean At The End Of The Lane is at the Festival Theatre, Edinburgh, until 22 April; His Majesty's, Aberdeen, 22-26 August; and the King's Theatre, Glasgow, 29 August until 2 September. Welcome To Bannockburn is at Oran Mor, Glasgow until 22 April, and the Macrobert Arts Centre, Stirling, 27-29 April.