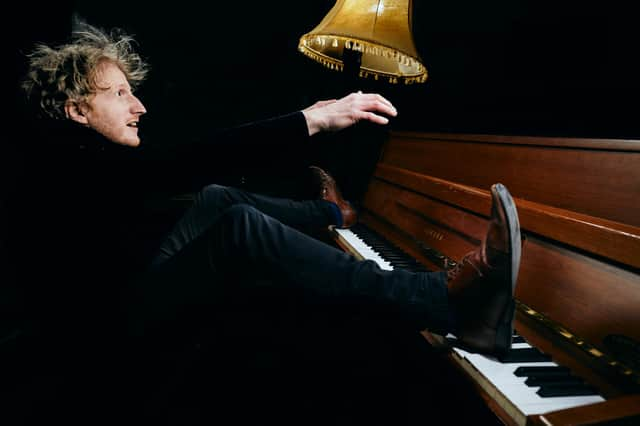 It's a year this week since theatre in Britain closed its doors; and in many ways, it seems we have lived whole lifetimes since then. Not normal lifetimes, though; but lifetimes unusually circumscribed by our own communities, the public spaces near our homes, and of course our homes themselves, now the centre of our lives, month after long month. For many people, it seems that that journey into inward, personal space has become even more intense, as stories emerge of friends experiencing unusually vivid lockdown dreams; and it's this night-time inner world of lockdown that composer and sound designer Michael John McCarthy sets out to explore, in his new audio series The Dream Frequencies (****), produced by the Traverse Theatre as part of their Cultural Community – Irish Theatre In Scotland series.
At one level, The Dream Frequencies – or at least the first of the three ten-minute episodes, which begins with the experience of falling asleep – has a slightly documentary feel, as a series of vivid, brilliantly-chosen voices begin to talk about the quality of their sleeping and dreaming in lockdown.
Yet at the deepest level, it's McCarthy's aural and musical response to the stories that really shapes our experience of The Dream Frequencies. Immersive, beautiful and responsive, his sounds wrap around the words and voices, and lead us deep into the world of our unconscious efforts to understand our changed lives; as writers Cathy Forde and Kirstin Innes, the journalist Peter Geoghegan, the poet Tawona Sithole, and theatre-makers and storytellers ranging from Mara Menzies and Mark Thomas, talk powerfully about the fears that inhabit their recurring dreams, and the strange and threatening animals some of them encounter there, as part of their inner response to the pandemic.
Audio work like The Dream Frequencies – and the Tron's Earwig season, now complete and available in full – has been a powerful part of theatre's survival strategy over the past year. Yet the effort to find ways of capturing the full theatrical experience for online audiences also continues; and the Beacon Arts Centre at Greenock, with Andy McGregor's Sleeping Warrior company, recently unveiled a brief but beautifully shaped piece of "online theatre" in the shape of McGregor's Ever Young (****), a filmed live performance from the stage of the Beacon's studio intercut with video flashback sequences, and topped and tailed with some powerful images of Greenock, a vivid and spectacular town that is also one of Scotland's most battle-scarred post-industrial communities.
In Ever Young, depressed 45-year-old Tommy is sitting in the deserted lounge of the local bowling club, half-watching the telly, when he is interrupted by youthful student Lucy, who, it seems, has an encyclopaedic knowledge of Tommy's 1990s rock band, Battery Park. The band broke up on the brink of major success when its gifted lead guitarist, Tommy's brother Ed, tragically failed to cope with the pressures of fame; but Lucy's connection with Tommy and his music runs deeper than first appears, and her belief in his songwriting talent arouses memories, and creative dreams, that Tommy has been trying to suppress for more than 20 years.
In some ways, this sense of yearning for a lost period of rock music is a familiar scenario in Scottish drama, not least in the work of John Byrne. Over 20 minutes, though, McGregor weaves this brief encounter into a powerful dialogue between youth and age, hope and despair, 1990s optimism and post-Brexit depression; and he's helped at every turn by a pair of beautiful, pitch-perfect performances from Andy Clark as Tommy and Rosie Graham as Lucy, in one of those moments of theatre that is both profoundly local in its inspiration, and absolutely universal in its concern with the deep sense of loss that can accompany middle age, and the matching power of a creative life to defy time, and fill every day with new beginnings.
At Perth Theatre, meanwhile, they're still striving for the nearest thing to live theatre the internet can possibly deliver; and last Saturday, that meant two real-time performances of musician and theatre-maker Will Pickvance's 2019 Fringe hit First Piano On The Moon (****), streamed from Pickvance's home studio to a live Perth Theatre audience watching him – and each other – via Zoom. First Piano On The Moon is a gorgeous 55-minute story about how Pickvance, himself something of an infant prodigy on the piano, was sent to Salzburg as a schoolboy to play at a festival marking Mozart's birthday.
In the world of Pickvance, though, truth and fantasy lose no time in colliding; and soon we're prowling the rooms of Mozart's birthplace at night, bumping into his piano, and encountering the spirit of the man himself, who struggles to believe what Pickvance tells him about his continuing fame, and the fact that astronauts have even played recordings of his music on the moon.
Like Ever Young, Pickvance's imaginary encounter with Mozart offers some serious food for thought about the power of music to transcend time, and about how real genius always welcomes the new; and this gorgeous online performance, beautifully orchestrated by Perth artistic director Lu Kemp, is given an extra dimension of magic both by Tim Vincent Smith's exquisite dream-like graphics, animated by Tim Reid, and by the sheer power of Pickvance's live piano playing, which brilliantly lifts and propels his storytelling, from here to the moon and back again.
A message from the Editor
Thank you for reading this article. We're more reliant on your support than ever as the shift in consumer habits brought about by coronavirus impacts our advertisers.