Theatre reviews: The Devil in the Belfry | The Devil Drinks Cava
Although based on an 1830s story by Edgar Allan Poe, Brassica Productions' The Devil in the Belfry has a strong 20th century edge to it, while The Devil Drinks Cava is an enjoyable summer comedy for our own complicated times, writes Joyce McMillan
The Devil in the Belfry, Pleasance, Edinburgh ****
The Devil Drinks Cava, Oran Mor, Glasgow ***
Have you ever met the Devil? No, me neither. Yet it's striking how often encounters with Old Nick feature in our fictional worlds; and here are two of those meetings, one touched with fairy-tale fantasy and allegory, the other very much of the here and now.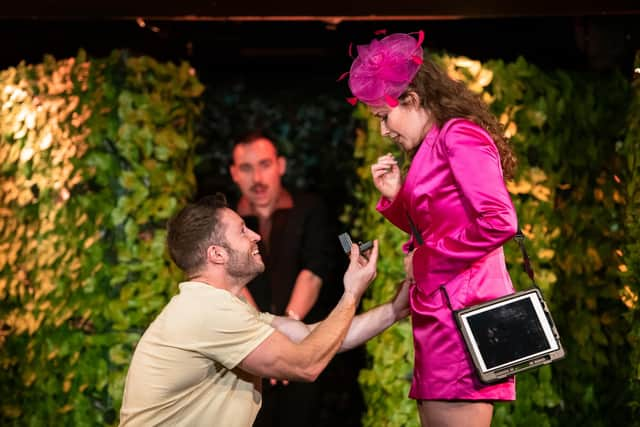 Brassica Productions' solo show The Devil In The Belfry – which appeared at this weekend's Cymera Festival of science fiction, fantasy and horror writing, in Edinburgh – is an expansive adaptation, by writer and performer David Robb, of an Edgar Allan Poe short story about a man called Handel Fledermaus, the dedicated watchman of a small and isolated mountain city-state somewhere in Europe. Handel's city is an extremely conservative place, where disrupting the habitual order of things is seen as criminal and unthinkable; however in Robb's version, Handel's well-ordered world begins to crumble when his best female friend announces that she is leaving with her baby son, and Handel agrees not to alert the city authorities.
That very night, on watchman duties, he catches his first glimpse of a demonic creature dancing round a fire on the mountainside; and from that moment, his life begins to spiral downward into a nightmare of chaos and scapegoating, as the creature invades the town, savages the guardian of the town's revered ancient clock, and makes the clock strike thirteen, to general terror and horror.
Poe's story was first published in 1839; but despite Robb's fairytale attire, all tricorn hat and breeches, his adaptation – beautifully performed in an almost-empty space, and skilfully directed by Flavia D'Avila – has a strong 20th century edge to it, as he links the town's extreme conservatism and terror of difference to some profound fascist impulses. So much so that by the end, when the banished Handel rallies the audience to join him in retaking the town, we're left wondering whether the Devil is not as much in Handel and the townsfolk as in the tormenting demon, who looks more and more like some vengeful flip-side of their own fiercely over-controlled culture.
In JD Stewart's latest Play, Pie and Pint drama, by contrast, we have some traditional elements devilish narrative – a garden, a tempter, a man vulnerable to temptation – rearranged in a play that's part social satire, part cheeky sex comedy. Stewart is famous for the Borders settings of his plays, and The Devil Drinks Cava is set in the maze at Traquair House, where a lavish gay wedding is under way elsewhere in the grounds. In the maze, we meet Nathan, who despite a faltering career as a disc-jockey, is planning how to propose to his gorgeous girlfriend Annie, who is off supervising the wedding as an assistant to Emile, the successful Glasgow gay wedding planner in overall charge of the event.
When Emile suddenly pops out of the hedge behind Nathan, though, it turns out that he has more than work on his mind, and is hoping for a quick gay hook-up he insists he has arranged online. Nathan at first denies all knowledge of the date, while Annie arrives in full wedding-guest gear, to add to the confusion; and soon the unhappy trio are seeking consolation in the few bottles of wedding cava that Emile has stashed in the maze, to liven up his Grindr date.
There are plenty of laughs here, well exploited in Liam Rees's production by Lawrence Boothman as a hyper-camp Emile, with Karen Fishwick and Joe Rising. There's also, though, a line of argument about the politics of bisexuality that sometimes involves shouty assertion, and is sometimes handled with great thoughtfulness and sensitivity; and if there's a sense of a big debate here, not yet quite processed into a dramatic form that fits, the result is still an enjoyable summer comedy, for complicated times.