The Beekeeper Of Aleppo, Theatre Royal, Glasgow ****
"You need to focus on the details of your story," a case worker tells Nuri, the Syrian refugee protagonist of Christy Lefteri's award-winning novel The Beekeeper Of Aleppo. But the story of Nuri and his wife Afra's journey from war-torn Syria to the UK is not crafted for the benefit of the Home Office, it's the kind of story we tell ourselves to make sense of our experience.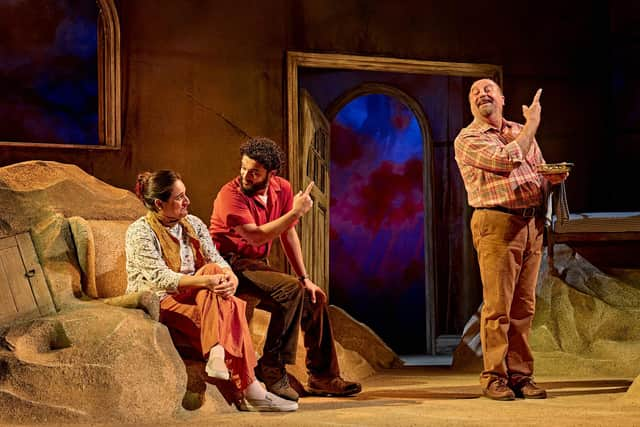 With a script by Matthew Spangler, who adapted The Kite Runner, and Nesrin Alrefaai, The Beekeeper is epic in ambition and human in scale. Inspired by Lefteri's experience of volunteering with refugees in Greece, it tells the story of one family's trek across Europe to find safety, while struggling to deal with the trauma they have experienced. As Nuri and Afra come within sight of their goal, will they be too damaged to make a new life?
Miranda Cromwell's fast-moving, inventive production boasts a strong ensemble cast led by Alfred Clay and Roxy Faridany. Ruby Pugh's ingenious set is equally effective as bee farm, refugee camp and shabby English bed & breakfast, and also becomes the backdrop for video projections of the ruins of Aleppo and the roiling ocean.
The rest of the cast take on multiple roles, from smugglers and aid workers to lost souls like Angeliki (Nadia Williams), a Somalian refugee unable to leave Athens as she waits for news of her lost child, and the streetwise Moroccan (the excellent Joseph Long, who also plays Mustafa) learning the lingo of England by reading "How To Be A Brit".
If the production is a little less assured when it comes to the book's strand of magic realism, it more than makes up for it in the compassionate portrayal of ordinary people pushed to their limits. The beehive metaphor – a society which works for the good of its members – is potent but not overused. Though Syria's war is now more than a decade old and the headlines are about Ukraine and Sudan, this harrowing and ultimately hopeful play is no less timely, and no less true.
Agatha Christie's The Mousetrap is the longest running play in the world, staged continuously from 1952 until the pandemic hit in 2020, and resuming immediately afterwards. A tour of more than 70 venues for its 70th anniversary offers more of us the chance to see what all the fuss is about.
The Mousetrap is the archetypal country house murder mystery. One winter night in the late 1940s, a strange array of guests arrive at Monkswell Manor, the hotel just opened by Mollie Ralston (Joelle Dyson) and her husband Giles (Laurence Pears). Snow blocks the roads; the lights flicker, the phone line is cut, and a detective arrives with news that a murderer is in their midst.
In this country scarred by war, old certainties like the class system are shaken. Fugitives take on new identities. There is no way of knowing who is a commoner, or a fraud, or possibly a murderer. After a slow first act in which all the key elements are laid down, the play hits its stride and the secrets start to spill. No-one, it seems, is above suspicion.
Christie's characters lend themselves to heightened performances rather than psychological realism, from hyperactive young architect Christopher Wren (Elliot Clay), to tight-lipped serial complainer Mrs Boyle (Gwyneth Strong). Todd Carty gives little away as moustachioed Major Metcalf, while Kieran Brown is silver-tongued as shifty Italian, Mr Paravicini.
With its colourful characters, frisson of danger, moments of high comedy and plot full of twists and turns, The Mousetrap has all the right ingredients for a solid piece of entertainment. Ground-breaking theatre it isn't, but its crowd-pleasing credentials are not in question, even after 70 years.
The Mousetrap is at the King's Theatre, Glasgow, May 1-6