Theatre reviews: Tally's Blood | Coast
Ann Marie Di Mambro's family drama Tally's Blood is the very essence of a rattling good yarn, writes Joyce McMillan
Tally's Blood, Perth Theatre ****
Coast, Oran Mor, Glasgow ****
It's now a full generation since Ann Marie Di Mambro's family drama Tally's Blood first appeared, at the Traverse Theatre in 1990; yet still, her raw and heartfelt drama about the lives of an Italian family in Scotland, between 1935 and 1950, offers a moving insight into a 20th century story that remains too often untold.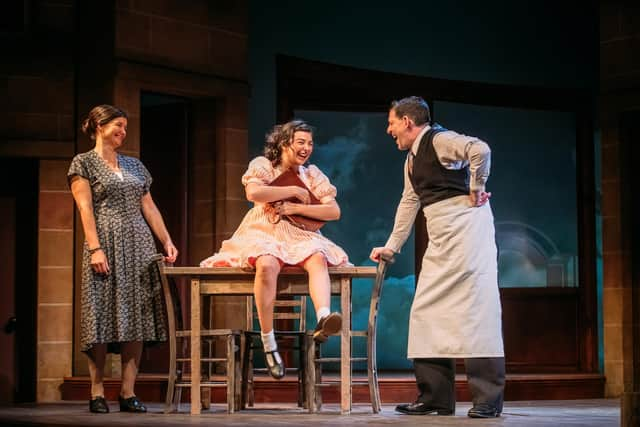 As the play opens, young Lucia is enjoying – or mostly enjoying – her Scottish childhood with her Uncle Massimo and Auntie Rosinella, who like many Scots-Italians of their generation own an ice-cream shop and cafe in a small Scottish town. Massimo and Rosinella are childless, and Lucia – the daughter of Rosinella's late sister – is their slightly spoiled darling, from whose minor tantrums Di Mambro extracts plenty of domestic comedy.
As the Second World War approaches, though, the political world Rosinella likes to ignore begins to impinge frighteningly on their lives. First Massimo's much-loved younger brother Franco, born in Scotland, signs up to the British army, leaving his girlfriend Bridget to deal with Rosinella's implacable anti-Irish prejudice. Then, after Italy joins the war, there are mob attacks on Italian shops and businesses, the arrest and detention of all Italian-born men in Britain as enemy aliens, and the tragic death of 800 of them, when the Arandora Star, a British ship carrying them to forced labour in Canada, was sunk by a German torpedo.
How Lucia and Rosinella survive this ordeal, the bereavements they suffer and the lessons they learn, is the essential stuff of Di Mambro's two-and-three-quarter hour play (including interval), which often seems more like a three-part television mini-series or family saga than a stage play, full of short but telling scenes.
It is, though, the very essence of a rattling good yarn, full of fine mid-20th century music, laughter, tears, romance, and even some dance; and Ken Alexander's new production – co-produced by Perth Theatre with Ayr Gaiety and Cumbernauld Theatre – is continuously gripping even in its most sentimental moments. Andy Clark and Carmen Pieraccini deliver a fine double act as Massimo and Rosinella, with terrific support from Paul J Corrigan as Franco, and a moving Dani Heron as Bridget; and if the play's cheery insistence that love conquers all seems a little over-optimistic in the changed world of the 2020s, it still makes for an epic and heartwarming evening of theatre, delivered with huge commitment and love.
Family also looms large in Annie George's short two-hander Coast, which continues the autumn Play, Pie And Pint season at Oran Mor and the Traverse; in this case a family disrupted by divorce, cautiously trying to find some sort of reconnection. Hamzah Aftab plays Jay, a young Manchester guy with an Asian dad and a white mum, who has been on a work trip to Glasgow, and is offered a lift back home by his older half-brother Kay, whom he barely knows, and who hasn't spoken to their Dad since he left Kay's mother 25 years ago.
Almost inevitably, given the scenario, Kay's car breaks down near Blackpool, on a Lancashire coast that played a part in both of their childhoods; and the two, stuck with each other through a long night, are forced both to confront some truths about their own lives, and to learn more about each other. Bereavement, loss, the lifelong rage and pain of childhood trauma, and the brothers' shared fear of commitment and fatherhood, all emerge as major themes; in a strong and thoughtful dialogue that embraces both the comedy and tragedy of the brothers' situation, not least through Beruce Khan's powerful performance as Kay, a joker whose life is also laced with pain.
Tally's Blood is at Perth Theatre until 30 September, and on tour to Kirkcaldy, Cumbernauld, Giffnock, Stirling, Dumfries and Ayr, until 4 November. Coast is at the Traverse Theatre, Edinburgh, 26-30 September.