Theatre reviews: Sister Act | Stay | Farm Hall
Bill Buckhurst's exuberant production of Sister Act features an excellent performance from Landi Oshinowo as Deloris Van Cartier, a night club singer forced to hide out in a convent, and a superbly comic turn from Lesley Joseph as the raging Mother Superior. Review by Joyce McMillan
Sister Act, Festival Theatre, Edinburgh ****
Farm Hall, Perth Theatre ***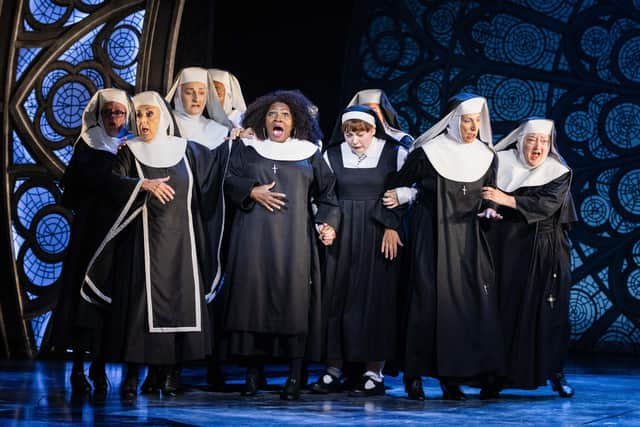 Everyone loves a musical, so they say; and the Scottish stage is certainly full of them this autumn, from lunchtime mini-musicals to major UK touring shows. Just why musicals are so popular, of course, remains an open question; particularly given the reaction this week of the London audience of Les Miserables, a show ostensibly about protest and revolution, when the performance was interrupted by modern-day protesters.
If the West End and Broadway musical format sometimes takes the edge off serious political themes, though, it also sometimes finds a story that draws real strength from the musical format; and the 2009 stage musical version of Sister Act – based on the 1992 film, and featuring songs by Alan Menken and Glenn Slater – is one of those shows. In the current UK touring version, the excellent Landi Oshinowo plays the leading role of 1970s Philadelphia night club singer Deloris Van Cartier, who witnesses a murder committed by her no-good gangster boyfriend, and has to be taken into witness protection among the nuns in the cash-strapped local convent, where in no time, Deloris transforms the convent's choir into a smash-hit money-spinning soul music act.
Alongside Landi Oshinowo, Bill Buckhurst's exuberant production features a superbly comic and apparently indestructible Lesley Joseph as the raging Mother Superior, alongside a brilliant 20-strong supporting cast and chorus, and an excellent eight-piece orchestra. And on a grey autumn evening, this Sister Act leaves its audience fairly buzzing with exhilaration; perhaps because it is – in its light-hearted way – a vital story about the joy of music, and its power to transform lives for the better, even in the most improbable situations.
This week's Play, Pie and Pint show Stay is also a musical, in lunchtime miniature form. Set in the time-honoured location of a Glasgow park bench, and co-written by Glasgow-based duo Jonathan O'Neill and Isaac Savage, Stay is an almost-sung-through musical in the style of Stephen Sondheim, about bereavement in particularly painful circumstances, and the process of grieving. Rowan is clutching an urn of ashes, Kit (his former fiancee) is in attendance; but a sudden darkening of the music eventually makes it clear that this meeting is not quite what it seems. The theme is a familiar one, in current theatre, and the songs slightly trapped between the irritatingly jokey and the highly emotional; but Daisy Ann Fletcher as Kit, and a deeply touching Craig Hunter as Rowan, deliver a heartwarming and heartbreaking pair of performances, that bring many in the audience to tears of recognition and fellow-feeling.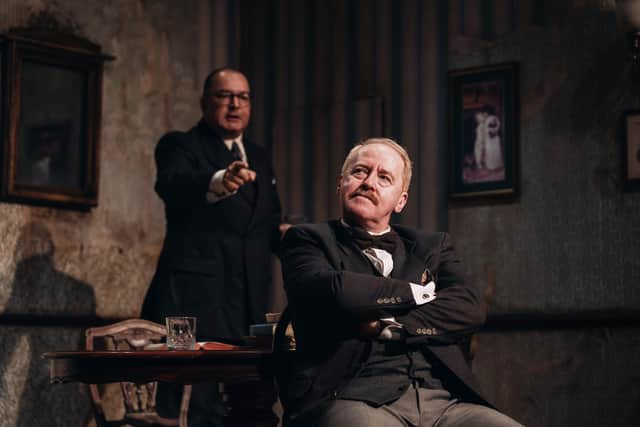 There's very little music, by contrast, in Katherine Moar's debut play Farm Hall, which pays a fleeting visit to Scotland this week in a production from Jermyn Street Theatre in London. The year is 1945; and six eminent German physicists find themselves interned in a Cambridgeshire country house, where they hear the news that the Allies have developed an atomic bomb, and used it on Hiroshima.
Farm Hall is a memorably "talky" and conventional play about that critical moment in human history, a little like Michael Frayn's Copenhagen without its elements of formal inventiveness and visionary poetry. It is, though, an undeniably fascinating story, as the men argue and jibe over their different strategies for survival under the Nazis. And among a distinguished six-strong cast, it benefits from two memorable performances from Forbes Masson as Hahn, the guilt-stricken father of nuclear fission, and an excellent Alan Cox as Heisenberg, the man of whom we will never know whether he failed to make a nuclear bomb for Hitler's Germany, or deliberately chose not to make one, in a moral decision with consequences beyond calculation.
Sister Act is at the Festival Theatre, Edinburgh, until 7 October, and the King's Theatre, Glasgow, 29 April-4 May 2024. Stay is at Oran Mor, Glasgow, until 7 October, and the Traverse Theatre, Edinburgh, 10-14 October. Farm Hall is at Perth Theatre until 7 October