Theatre reviews: Shine On! | Rapunzel | The Price of a Fish Supper
As Scotland's theatre community finds ever-more innovative ways of presenting its work online, Joyce McMillan wonders if the relationship between performers and audience might have changed for good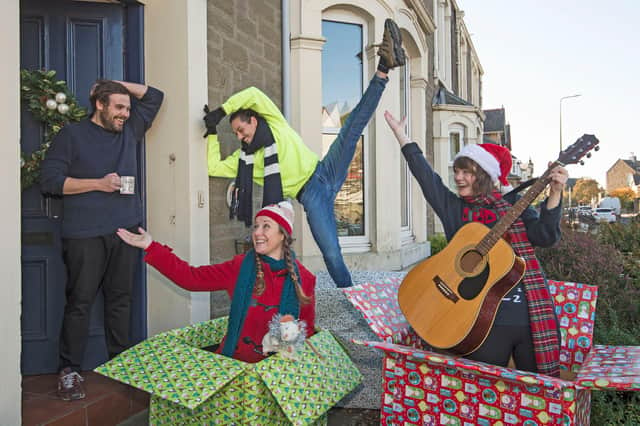 For their combined Christmas offering, PRESENT, Dundee Rep and Scottish Dance Theatre staged special, socially distanced private performances for some very deserving Dundonians. Here, actors Emily Winter and Leah Byrne from Dundee Rep Ensemble are joined by dancer Oscar Perez of Scottish Dance Theatre as they make a surprise appearance on a doorstep in Broughty Ferry. PIC: Neil Hanna
With another lockdown in full force, and no end to the pandemic in sight, it's perhaps time to recognise that what Scotland's theatre companies are doing, in these changed times, is not so much producing an alternative to live theatre, as creating a whole new infrastructure of short-form online drama and performance, some of it transient and viewed only by a few, but some of it so popular that it seems likely to survive the pandemic in some form, and to change the way theatre companies think about their work and its potential audience. Some of the most successful of the National Theatre of Scotland's Scenes For Survival, for example – including Janey Godley's Alone, now featuring two more episodes available free on the NTS website – have been viewed more than a million times.
Dundee Rep's Shine On! programme, devised for the Christmas season after plans for an outdoor promenade performance had to be abandoned, looks at first glance like an exception to that rule; it contains three strands, only one of which takes place entirely online. Present was a gorgeous pre-Christmas project which involved taking 15 minute live outdoor performances to a few individual Dundee citizens nominated by members of their community; and Windows involved the creation – by designer Karen Tennant and lighting designer Emma Jones – of a luscious series of theatrical Christmas images in the glass frontage of the Rep building.
Yet search for these events online, and you'll find both of them fully documented and present on YouTube, along with a 30-minute documentary about the making of the Shine On! programme (****). And you'll also find all 24 episodes of the company's Advent series, devised as an online Advent Calendar, with tiny delicious bites of dance or theatre for every day of December. Each film lasts barely a minute or two, and the ones that lean most heavily on some truly brilliant writing probably work best; there's no denying the power of Ewan Donald's short glimpse of the dialogue about the meaning of Christmas between Dickens's Scrooge and his nephew Fred, or Irene Macdougall's heart-stopping evocation of a phantom Christmas kiss from long ago, in Walter de la Mare's The Mistletoe. Yet every one is a beautifully made little film, whirling towards us from the still-magical space of the Rep stage; and shot through with a deep physical sense of the Rep building as a vital hub of creativity and storytelling in Dundee, even at a time when the building has been dark for almost a year.
Now sadly fading from our screens, after all too short a midwinter run, is the National Theatre of Scotland's gorgeous Christmas panto Rapunzel (****), a pantomime story told in a series of lush monologues by an almost absurdly talented cast, including dames Johnny McKnight and Darren Brownlie, daft but kindly Queen Julie Wilson Nimmo, and gorgeous Princess Punzie, Amber Sylvia Edwards.
As in Perth Theatre's live monologue panto, every characters gets to tell a part of the story, and sing a song; but in this entirely filmed work, the power of theatre-as-installation comes to the fore, with each monologue scene set and costumed within a gorgeous inch of its life by designer Kenny Miller, lighting designer Lizzie Powell, and creative collaborator Shona Reppe. With writing talents like Stef Smith, Meghan Tyler, Morna Pearson and Uma Nada-Rajah on board, a fine, radical retelling of the Rapunzel tale for the age of woman-power is all but guaranteed. And once you've seen Darren Brownlie in all his flowery finery as the kindly Rose Petal, and a sensationally polka-dotted Johnny McKnight rolling out the double-entendres as the narrator-Dame, those sights are likely to remain engraved on your mind; at least until next year's panto season, and possibly for much longer.
And finally, as the New Year dawns, there are signs of new life in the south-west, as Barry Robertson rolls out the programme of his new Ayrshire-based company The Grey Hill, founded last year to enable people to "enjoy theatre, no matter where you are." What's on offer is theatre only in the same sense as the old BBC Saturday Night Theatre, of course. Robertson's productions are essentially radio plays available in the form of audio books; and there are already four short Scottish plays in the collection, of which the most substantial – in terms of its length and theatre history – is Catherine Czerkawska's very fine monologue The Price Of A Fish Supper (****), first seen at A Play, A Pie, And A Pint in 2005.
In one sense, The Price Of A Fish Supper is a familiar kind of elegy for a dying industry, and for one more once-busy industrial setting now gentrified into meaninglessness. Yet it is also a beautifully-written working-class life-story, of an ex-fisherman called Robert driven almost to self-destruction by a combination of unrequited love, and his own toxic ideas of male pride and identity. In this new recording directed by Barry Robertson, Ken O'Hara gives a beautiful solo performance as Robert, catching every nuance of Czerkawska's powerful text; so much so that even the hint of redemption at the end is played softly, and with a full awareness of all the tragedy that still lies beneath the surface of the story, and may yet drag Robert down, beyond recovery.
Dundee Rep's Shine On! programme is available via YouTube. NTS Rapunzel's run ended on 4 January. The Price Of A Fish Supper is available at https://www.thegreyhill.com/thepriceofafishsupper, via various audiobook platforms.
A message from the Editor
Thank you for reading this article. We're more reliant on your support than ever as the shift in consumer habits brought about by coronavirus impacts our advertisers.
Joy Yates, Editorial Director