The Other Side Of The River, Tannahill Centre, Paisley ****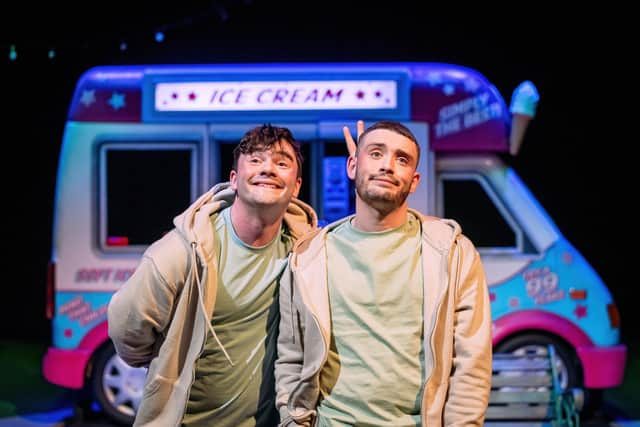 Just staying alive is a tough job for millions across the UK, in the current cost of living crisis, and here are two shows, premiering in Scotland this past weekend, that draw huge energy from the need to face the reality of that struggle.
In Laurie Motherwell's two-hander Sean and Daro Flake It 'Til They Make It, premiering at the Traverse, the two characters are working-class Glasgow lads who meet up again at Sean's mother funeral, after Sean has been away at university. Sean seems lost and grief-stricken but ever-cheerful Daro has a plan to buy an ice cream van that happens to be going spare, and launch a nice little business, with a nostalgic streak.
In no time, Sean and Daro are out on the road, enjoying the thrill, after years of poverty, unemployment and aimless study, of being independent small businessmen, making their own living. Needless to say, though, the picture soon darkens; costs soar, and attempts to liven up the business attract the attention of Glasgow's heavy mob. There's a vicious falling-out between the pair and, after driving towards that crisis with tremendous dramatic energy and wit, the play drifts into a long and sometimes mumbled series of conclusions, ranging from the sentimental to the entertainingly surreal.
What remains unchanging throughout, though, is the magnificent rapport between Sean Connor as Sean and Cameron Fulton as Daro, bouncing dialogue off one another with unforgettable love and brutality. Karen Tennant's ice-cream van set is magical, and in Robert Softley Gale's production, every detail comes together to create a little 80-minute gem of a show, full of belly laughs and tears, and also the underlying anger of a generation who have to fight so hard for the employment and dignity that should be their birthright.
The cost of living crisis is also the backdrop to The Other Side Of The River, commissioned from In Motion Theatre by Renfrewshire's arts company OneRen, and created through what writer-director Lisa Nicoll calls a "slow rehearsal process" over many months.
The story centres on Jo, whose passion is to provide good, nourishing free meals for a community – like Ferguslie Park, where the show was created – where too many people struggle to feed themselves properly. She has a brother, Andy the taxi driver, and a niece and nephew, Meg and Dan, and she also has a journalist on her trail in ambitious young Beth, who is writing a story about communities coping with poverty. What she lacks, though, is the essential community van, which has broken down, and Beth finds herself increasingly drawn into the life of the community, as they struggle to raise money to fix it.
What's striking about Nicoll's play is the depth and originality of the characters she and her five-strong cast have created, from widowed Jo and ever-cheerful Andy to Dan, a bright and thoughtful teenage boy discarded by the system, and Beth the journalist, not quite the heartless purveyor of "poverty porn" she seems. There's also a lovely set by Jessica Brettle, along with bingo and karaoke sessions, and a recurring theme song, Find Your Way To The River. We are what we eat, after all, and in this imperfect but powerful show about community, nourishment and hope, Nicoll not only celebrates the human bonds that help keep people alive, but reminds us that without that connection to the earth and its rivers, we have no life at all.
Sean And Daro Flake It 'Til They Make It at the Traverse Theatre, Edinburgh, until 23 April. The Other Side Of The River on tour until 8 May