Theatre reviews: Sally | Bugsy Malone
James Ley's clever and troubling new play Sally asks asks whether shows about fascism and its dangers really help to prevent its rise, or in some way only make us feel that far-right politics is manageable, writes Joyce McMillan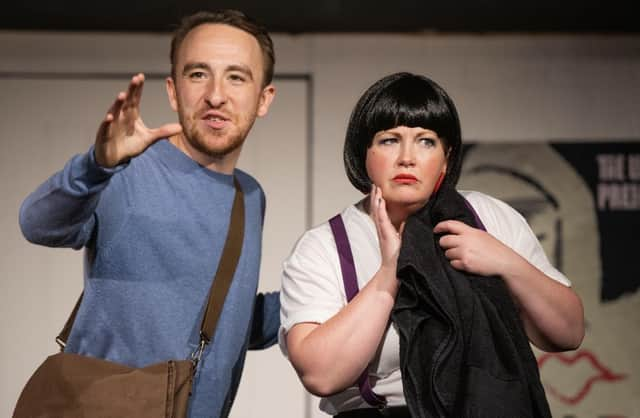 After the roaring Fringe success of his rampant gay love stories Wilf and Ode To Joy, the Edinburgh-based playwright James Ley fairly explodes into Scottish theatre's autumn season with a fascinating and unsettling show for our times about the uneasy interface between politics and show business. Sally is set in the dressing-rooms (various) of Sally, a run-of-the-mill Scottish actress who has suddenly shot to fame on the back of a tribute show called Sally Bowles's Cabaret, in which she sings songs from the musical, channels both Sally Bowles herself and Liza Minnelli (who played her in the mighty 1972 film version) and – in a twist that has proved startlingly popular – abuses her audience for their right-wing attitudes, while belting out classics like Mein Herr.
The play begins at the point where Sally's ambitious new producers send an assistant called Tyler to look after her, and – it seems – to cajole her show into a slightly less risky format. As her success goes global, though, Sally becomes ever more uneasy about the right-wing politicians and apolitical celebrities who pour in to enjoy their evening of abuse; and to wonder whether the success of her show is somehow connected to the political rise of right-wing populism and fascism.
At this point, Ley's play runs into a slight problem, in that neither Sally nor Tyler has much political insight into their situation. Sally is baffled, drunk and friendless, while Tyler only identifies with Cabaret's master of ceremonies, who just wants to the show to go on, Nazis in the audience or no. Throughout, though, Sally Reid as Sally (yes, that's three layers of Sallies) and Sam Stopford as Tyler deliver a sizzling pair of performances, in a clever and troubling play that asks whether shows about fascism and its dangers really help to prevent its rise, or in some way only make us feel that far-right politics is manageable, and maybe even kinda cute.
If Kander & Ebb's film version of Cabaret is celebrating its 50th anniversary this year, then Alan Parker's Bugsy Malone is not far behind it. Made in 1976, Parker's film – based on his own script – famously takes a classic gangster plot and setting, in 1920s New York, and has the roles of the mobsters and their lady friends played by children aged around 8-14; and the current UK touring version – originally directed by Sean Holmes for the Lyric, Hammersmith – remains as faithful to the format as a live show can.
The show therefore uses a 16-strong adult chorus to deliver some stunning song-and-dance numbers, but has each of the leading characters played by rotating teams of three young actors, all of them – to judge by the performance I saw – not only stunningly capable as singers and dancers, but also full of wit and understanding, as they conjure up the plight of a basically decent character, Bugsy himself, trying to earn a buck in lawless times.
What we learn, from a show that turns gangster violence into a child's game, is that everyone was an innocent kid once, and that the shocking death rate among gangsters and victims is too horrible to be shared with children as a full-blown reality; but along the way, there's some superb music from Connagh Tonkinson and his seven-piece band in the pit, stunning choreography by Drew McConie brilliantly delivered by the whole cast, and a final curtain-call to die for – if the gangsters with the splurge guns haven't got you first.
Sally is at Oran Mor, Glasgow, until 10 September; at the Lemon Tree, Aberdeen, 13-17 September, and at the Traverse Theatre, Edinburgh, 20-24 September. Bugsy Malone is at the Theatre Royal, Glasgow until 10 September, and at the Playhouse, Edinburgh, 15-20 November.