Theatre reviews: Plinth | Meetings with the Monk
Al Seed's wordless journey through human ways and history is delivered with a precision, artistry, and intensity that is often breathtaking, writes Joyce McMillan
Plinth, Beacon Arts Centre, Greenock *****
Meetings with the Monk, Oran Mor, Glasgow ****
The show is inspired – so we're told – by the legend of the minotaur; a beast half man and half bull, born because of human arrogance and folly, and used and abused by human beings throughout his life, until his violent death at the hands of the "hero" Theseus. In truth, though, anyone who watches Al Seed's remarkable new touring show Plinth with an open mind and attentive heart will find a hundred possible meanings in this 50-minute epic of solo theatre, co-produced by Al Seed Productions and Glasgow-based international theatre-makers Vanishing Point.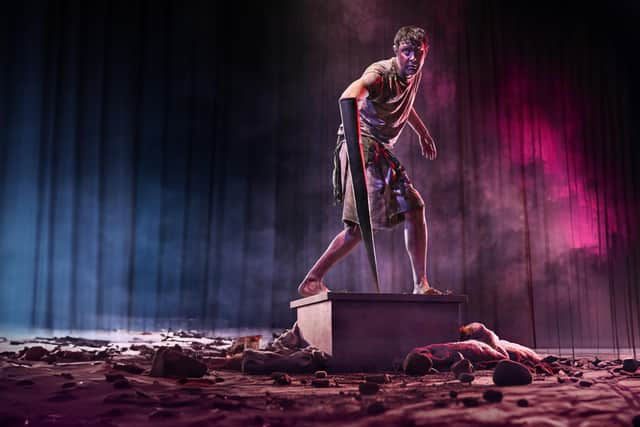 Its set, by Kai Fischer, looks like a cross between Neolithic settlement and a First World War bunker, a rough wood doorway with a platform on top shored up by piles of sandbags, and superbly lit in dusty red-gold by Alberto Santos Bellido; its soundscape, by Guy Veale, is almost literally stunning, a torrent of fierce, filmic noise that seems to belong to our time and no time, a distant past and a frightening future. And in this space, Seed creates a momentous male character; part beast trapped by its own nature and fighting for survival, part human undergoing a frightening transformation from humble worshipper at the feet of nature – there is a little white goddess statue to which he bows – to presumptive master of all he surveys.
In telling this story, or evoking these images, Seed deploys an extraordinary range of wordless movement and performance, seizing his horn-like weapon to fight, drinking from a ritual cup and seeming to babble like a modern executive in a wine bar, borrowing a hugely destructive Promethean fire in the shape of a small mirror, and veiling himself in a cloth that might be a disguise, a form of armour, or a symbol of power.
At every moment, though, this wordless journey through human ways and history, and through our deep relationship with the animal in ourselves, is delivered with a precision, artistry, and intensity that is often breathtaking. Seed has been one of Scotland's leading solo theatre makers for almost 20 years; and although Plinth is a show that offers no easy meanings, and is designed to disturb and challenge rather than to entertain, it does so with a richness and authority that is a joy to experience.
Brian James O'Sullivan, by contrast, is a Glasgow-based performer, musician and writer who loves to communicate in the most accessible way possible – down to earth, chatty and humorous. In his new Play, Pie And Pint solo show Meetings with the Monk, though, he tackles the unsettling story of a recent experience of deep depression, and of how some conversations with a monk at an ancient Scottish abbey helped him to deal with it; and therefore also boldly sets out to destabilise some of our familiar assumptions about theatrical storytelling, constantly stepping out of the frame of his performance to remind us that the Brian of the story is not necessarily the Brian performing the show, and that the tale he tells may take many different directions.
Some aspects of this experiment work a little better than others; the monk with whom Brian talks, for instance, is represented by a series of sound recordings which apparently vary from show to show, in an odd disembodiment of one of the story's main characters. Overall, though, Meetings with the Monk offers a hugely thoughtful and eloquent response to one of the major health crises of our time, delivered with impressive skill and courage; and the huge warmth of the audience response at Oran Mor looks set to be repeated, as the show travels on to the Traverse next week.
Plinth is on tour across Scotland until 10 February 2024; details at https://vanishing-point.org/plinth. Meetings With The Monk is at Oran Mor, Glasgow, until 14 October, and at the Traverse Theatre, Edinburgh, 17-21 October.