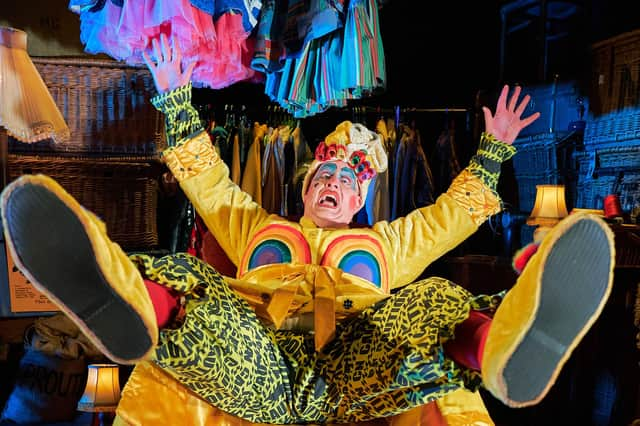 Barrie Hunter in Oh Yes We Are! at Perth Theatre PIC: Fraser Band
Oh Yes We Are!, Perth Theatre *****
Mammy Goose And the Missing Christmas, Botanic Garden, Glasgow ****
Lyceum Christmas Tales, Lyceum Theatre, Edinburgh ****
Mara Menzies in Nyanya and the Mighty Whizz! by Mara Menzies. Picture: Aly Wight
A Gambler's Guide To Dying, Traverse, Edinburgh ****
The week before Christmas, and for once – in this strange pandemic year – it feels as though the Scottish panto season is only just getting under way. Treats like the National Theatre of Scotland's Rapunzel and Paisley Arts Centre's Lost In Pantoland have yet to shimmer onto our screens; and many others can be glimpsed only briefly, vanishing by Christmas Eve.
There is Christmas magic to be found, though, in Scotland's online pantosphere; and nowhere does it sparkle more brightly than at Perth Theatre, where writer, director and Dame Barrie Hunter, and an inspired cast and creative team, have created the nearest thing to a live panto experience it's possible to imagine, without actually visiting a theatre. Oh Yes We Are! is a live show, with each performance delivered at the advertised time to a specific live audience; and best of all, we in the audience can actually see and sometimes hear one another, sitting on our sofas at home, joining in the fun with familiar panto choruses of "oh no you won't!" and "it's behind you!"
As the show begins, a little elf greets us in rhyme, and starts to lead us through the corridors of the splendidly-refurbished Perth Theatre to a deep and dingy dungeon, where we find the villainess Corrupta (the inimitable Helen Logan) plotting her escape into a world already darkened by the "Doomy Gloom" she has unleashed. There is rhyme, there is song, and there's a brisk transition to a cluttered and cosy attic wardrobe department, where Hunter's irresistible Dame Heidi Hoall (geddit?) awaits, ready to begin the quest for "lost light and laughter" hinted at in the show's subtitle.
Tam Dean Burn in Miracle in Muirhouse PIC: Aly Wight
Add to the mix her useless son Duggie Hoall, a sprightly female hero called Hero, and a 90-minute format that moves gradually from carefully co-ordinated monologues to a distanced finale in Perth's lovely main auditorium, and you have a brave, clever and innovative show that soon begins to look a lot like panto, and to feel like it, too. In her big introductory number, to the tune of I Will Survive, Dame Heidi tells us all that when the Doomy Gloom hit, "At first I was afraid, I was petrified / That I would have to spend my life pure stuck inside…" After the year of Covid, we all know how she feels; and it's wonderful to be able to share a panto laugh about it, even on Zoom.
Those seeking a shorter dose of panto fun might also enjoy Mammy Goose And The Missing Christmas, a brief burst of meta-pantomime co-produced by Bard In the Botanics and the Byre Theatre, St Andrews to remind panto-starved fans of their happy Christmas collaboration over recent years. Filmed In the paths and byways of Glasgow's Botanic Garden, and in the majestic Kibble Palace, this Mammy Goose – with riffs from The Snow Queen – lasts only 13 minutes. For all that, though, it's remarkably effective in conjuring up some cheeky panto jollity in short form; thanks in no small measure to Dame Alan Steele, and a lovely closing sequence in which the Snow Queen is "pure" melted away by an avalanche of affectionate Zoom greetings from audience members in St Andrews, who can't wait for next year.
The Lyceum Theatre's Christmas Tales perhaps represent the most ambitious online Christmas show around this year, in terms of scale; 12 stories, 12 writers, 12 actor-storytellers, two musician-composers, three directors of photography, two designers (Tom Piper and his associate Anna Orton), and two different formats, since eight of the stories have been filmed in spaces around the Lyceum and are available free online, while another four are presented as a 90-minute live performance, for which the audience at home can buy tickets.
The stories are of course immensely varied, ranging from Mara Menzies' gorgeous African children's story Nyanya And The Mighty Whizz to Tony Cownie's beautiful and touching Miracle In Muirhouse, performed in the Lyceum stalls bar by the magnificent Tam Dean Burn. Some are ghost stories, some are origin myths, some are suitably sentimental Christmas tales; but what they have in common is the sheer beauty of their presentation, with the Lyceum spaces designed and lit to perfection, and each filmed tale introduced by the same gorgeously-shaped opening sequence, in which a performer emerges from the quiet Covid city, walks beaming along Grindlay Street, dons a mask, checks into the theatre, and takes his or her place for performance. The live tales perhaps seem to feel the lack of an audience more acutely than the beautifully shaped little films; but both formats certainly spread their share of Christmas magic, and of sheer storytelling power.
Gary McNair in A Gamblers Guide to Dying
Finally, those with fond memories of Gary McNair's 2015 Traverse Festival hit A Gambler's Guide To Dying, as well as those who missed it first time round, will surely revel in the Traverse's gorgeous 55 minute Christmas version of the tale, now available online. Specially created for this festive season by Gary McNair and director Gareth Nicholls, this film tells the story of McNair's boyhood relationship with his eccentric old compulsive gambler of a grandad, and of the strange life lessons he learned from it. It's not a Christmas story, exactly; but it is the best of fireside tales, told by one of Scotland's finest writer-storytellers – heart-warming, human, searching, and just a touch mysterious, as only the best of stories can be.
A message from the Editor:
Thank you for reading this story on our website. While I have your attention, I also have an important request to make of you.
The dramatic events of 2020 are having a major impact on many of our advertisers - and consequently the revenue we receive. We are now more reliant than ever on you taking out a digital subscription to support our journalism.
Joy Yates, Editorial Director