Theatre reviews: Nae Expectations | Treason the Musical | Act of Union
Andy Arnold's take on Great Expectations at the Tron pulls absolutely no political punches, writes Joyce McMillan
Nae Expectations, Tron, Glasgow ****
Treason The Musical, Festival Theatre, Edinburgh ***
An Act Of Union, Oran Mor, Glasgow ****
Victorian Britain was notorious both for its glaring contrasts of great wealth and terrible poverty, and for the conflict between those who blamed the poor for their own plight, and those who took a more humane view. That social conflict has now become sadly familiar again; and in his 1861 novel Great Expectations, its great chronicler Charles Dickens excelled himself by dealing not only with wealth and poverty, but also with the politics of class – and how it not only divides a nation, but can also divide the self.
It's therefore good to report that Gary McNair's new stage version of the story, Nae Expectations – Andy Arnold's final production as artistic director of the Tron Theatre – pulls absolutely no political punches in retelling the tragic-comic story of Pip, the young hero apprenticed to his kindly blacksmith brother-in-law Joe, who is propelled into another world by an anonymous bequest that makes him "a gentleman".
In a fast-moving theatrical journey through the tale, Nae Expectations sometimes seems surprisingly faithful to both the 19th century English setting and the basic structure of the novel. Its voice, though, is almost entirely Scottish; and what begins to emerge through this Scots version is a sense of deep respect, even love, for quiet working men like Joe, and for that old-fashioned thing, the profound dignity of skilled manual labour.
All of this is brilliantly conveyed by a splendidly high-powered Andy Arnold company, which includes Karen Dunbar as mad Miss Havisham. At its heart, though, stands a magnificent performance from Gavin Jon Wright as Pip; tormented by dreams of a different life with the beautiful and aristocratic Estelle, and irrevocably changed by his dizzying journey through the the British class system, with all that it can give, and all it can take away.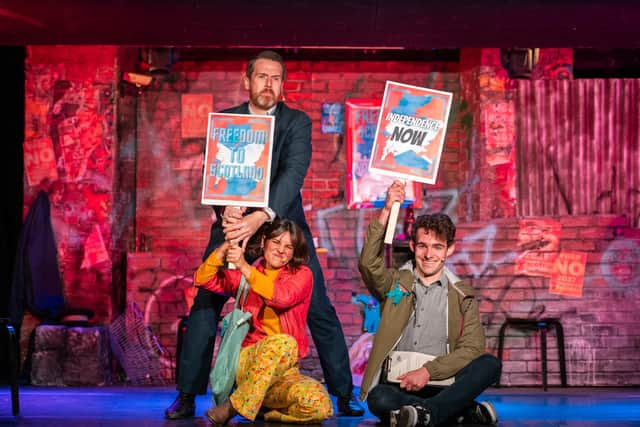 Elsewhere, meanwhile, the quest for the great new Scottish musical continues unabated. Treason The Musical, which received its world premiere at the Festival Theatre this week, is a strong effort by composer and lyricist Ricky Allan, with writer Charlie Eglinton and others, to create a "British Hamilton" based on the story of the 1605 Gunpowder Plot, in which a group of dissident Catholics tried to blow up the Houses of Parliament.
The show's problem, if it has one, is that it never seems quite comfortable with the task of applying the highly individualistic aesthetic of a Boublil and Schoenberg-style musical to an age with very different values and motives Yet it remains an intense, spectacular and vivid affair, that features two terrific leading female performances from Nicole Raquel Dennis and Emilie Louise Israel. And with the songs hitting emotional fever-pitch right from the opening scene, it would be an unwise critic who would write off the chance of Treason becoming a West End sensation, as it continues on its way to Sheffield, and then London.
As for An Act Of Union, prolific musical-writer Andy McGregor's latest Play Pie and Pint show – well, like Treason, it imagines a young man so maddened by personal grief that he is prepared to commit an ultimate act of violence. Here, though, the place is Scotland in the 2030s; and the target is Pacific Quay, headquarters of BBC Scotland.
Our hero Hector is an aimless young man who has been drawn into an extremist pro-independence group through his love for beautiful activist Sylvia. And although the whole scenario often seems a little raw and unprocessed, Rory Forbes-Mackenzie as Hector, Hannah Visocchi as Sylvia, and a frightening Matthew McKenna as movement leader David deliver some powerful songs with terrific fervour; in a setting where Hector's reaction to searing personal betrayal seems all too credible, if almost too close to home to handle.
Nae Expectations is at the Tron Theatre, Glasgow, until 4 November. Treason The Musical at the Festival Theatre, Edinburgh and An Act Of Union at Oran Mor, Glasgow, both run until 28 October.