Theatre reviews: Macbeth (An Undoing) | Moonset | The Man in the Submarine
In Zinnie Harris's feminist response to Macbeth, Nicole Cooper's performance as Lady Macbeth grows deeper, richer and more fascinating with every passing scene, writes Joyce McMillan
Macbeth (An Undoing), Lyceum Theatre, Edinburgh ****
Moonset, Tron Theatre, Glasgow ****
The Man In The Submarine, Byre Theatre, St Andrews ***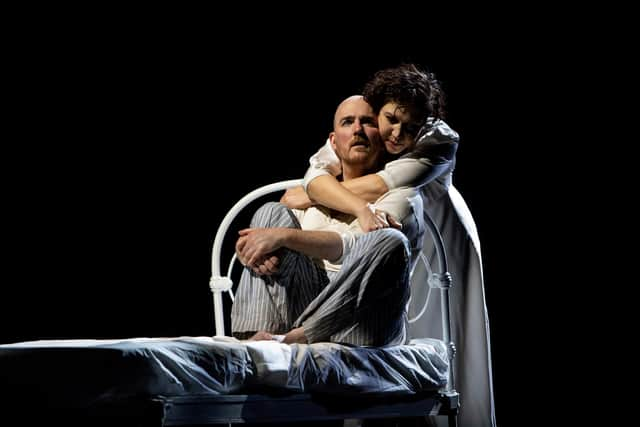 As the play begins – and the beginning is perhaps the most familiar in the whole theatre canon – writer and director Zinnie Harris sets out on a breathtakingly risky path, like a terrifying high-wire act between brilliance an bathos.
The opening of Macbeth is here, all right; the battlefield, the bloody man, the victory, the weird sisters. Yet in Macbeth (An Undoing) there are also, from the outset, additions and rewritings both bold and absurd, as Liz Kettle's astonishing Carlin – chief witch, ever-present housekeeper and chorus – makes bitter prognostications about how "the story will be told, the way it has always been told"; and Adam Best's Macbeth greets the news of his new thanehood by yelling "F***ing Cawdor?", in the kind of deliberate incongruity that wins wild audience laughter. And so it continues through a fairly brisk and disconcerting first half, to the point where Macbeth's new regime begins to collapse, after his disastrous mental breakdown during the banquet scene.
It's in the longer second half of the evening, though, that Harris's stunning vision begins to evolve into a response to Shakespeare with the power to challenge this greatest of classics on almost equal terms. In recent years, Harris has won acclaim for her great feminist reworkings of classics including The Oresteia and The Duchess Of Malfi; and here, with the magnificent Nicole Cooper of Bard In The Botanics as a complicated and commanding Lady Macbeth, Harris begins to build on the narrative of her great strength, instead of accepting her rapid decline into madness.
So here, it is Macbeth himself who collapses, taking to a darkened room, sleepwalking and scrubbing the blood from his hands, while Lady Macbeth tries to hold together their shared project for the better governance of Scotland, defying both the increasingly rebellious lords and lackeys, and the witches who try to blackmail her with their secret knowledge of her despair over the infant deaths of all her children. In one fascinating scene of gender confusion, she even finds that the lords can no longer see her as a woman, so complete is her dominance; and Nicole Cooper's performance grows deeper, richer and more fascinating with every passing scene, as she holds fast to her sanity through every horror she commits and encounters.
At a full three hours, Macbeth (An Undoing) is hardly a flawless piece of work, and arguably takes too long to reach the heart of its thrilling response to Shakespeare's tragedy. Yet Harris's play and production is brilliantly supported here by Tom Piper's bare yet deeply haunted set, Lizzie Powell's lighting, and some superb supporting performances, notably from Jade Ogugwa as a glowingly pregnant Lady Macduff; as it whirls to a conclusion, or series of conclusions, both almost unwatchable in their cruel inevitability, and defiantly uplifting, to the last.
In any other week, meanwhile, Maryam Hamidi's Moonset – a brand new play produced by the Citizens' Theatre at the Tron, and set to travel on to the Traverse – would be dominating the Scottish theatre scene, with its brilliantly theatrical full-length vision of the lives of four teenage girls in Paisley now, trying to find the sense of power they need to carry them into a meaningful future. Like Harris's Macbeth, Moonset turns to witchcraft as an ancient source of female power now being re-examined, and differently understood; and the lure of it brings together four very different characters, in Hamidi's leading character Roxy – desperate for the power to cure her mother Shideh's terminal cancer – and her friends bookish and hard-working Bushra, posh and pretty Joanne, and brilliantly rebellious motor-mouth Gina.
The energy generated by these four – under Joanna Bowman's direction, with terrific design by Jen McGinley and movement by Vicki Manderston – seems almost supernatural in itself, as the play explodes into life; and if it struggles slightly to find an ending as powerful as its brilliant first half, it nonetheless offers two hours of utterly gripping drama, born of the very moment we live in, and featuring five dazzling performances from Zahra Brown as Shideh, Leah Byrne, Hannah Visocchi, Cindy Awor, and Layla Kirk as Roxy, the girl on fire whose passion ignites the whole blazing and beautiful show.
The experience of dementia, meanwhile, is a massively significant theme in current British theatre; and Welsh playwright Laila Noble adds a beautiful and thoughtful new play to the genre with her 65-minute drama The Man In The Submarine, the winner of this year's inaugural St Andrews Playwriting Award, offered jointly by the Byre Theatre, Perth Theatre, and the Scottish Playwrights' Studio. The play – written in English with powerful fragments of Welsh – revolves around the image of three characters trapped in a leaky old iron submarine a thousand feet down in the Irish Sea, and offers occasional surreal images of talking jellyfish and grinning sea-anemones, alongside the more familiar spectacle of two older characters – Brendan Charleson's brusque ex-railway worker William, and Anne Lacey's distressed and grief-stricken Annie – living with their growing dementia, while a powerful Laura Dalgleish plays both their care worker, and William's visiting daughter.
The drama revolves, though, around the character of The Man, played by Dyfan Dwyfor, a much younger figure who talks in fiercely lyrical terms about the sea, about his efforts to stop it from overwhelming the submarine, and also about his love for it and its dissolving power, to which he eventually surrenders. He is, in a sense, the younger self of any older person experiencing the dissolution of dementia; and although the metaphor sometimes seems exaggerated and slightly forced – particularly since it is very solidly embodied in Karen Tennant's submarine set – this fine cast, thoughtfully directed by Lu Kemp and Chris Stuart Wilson, nonetheless deliver a bold and moving and hour of theatre, that launches the new St Andrews award in style, and signals the arrival of another major talent on the Scottish playwriting scene.
Macbeth (An Undoing) is at the Lyceum until 25 February; Moonset is at the Tron until 11 February, and at the Traverse Theatre, Edinburgh, 16-18 February; The Man In The Submarine is now at Perth Theatre, until 11 February.