Love the Sinner, Tron, Glasgow *****
Clunk, Cumbernauld Theatre ****
Poetry's the thing, this month at the Tron. Ross Willis's sensational two-hander Wolfie has just completed its too-short run in the Changing House; and now here comes Imogen Stirling's magnificent solo show Love the Sinner, flooding the main theatre with a mighty rush of verbal brilliance and emotional and intellectual energy.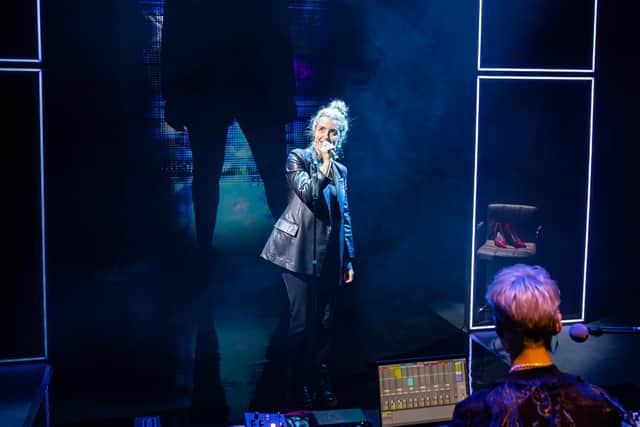 First published last year by Verve Press as Imogen Stirling's second poetry collection, Love the Sinner offers a vision of the seven deadly sins set in 21st-century Glasgow, in a cityscape on the brink of transformation or destruction that Alasdair Gray fans might recognise.
During an apocalyptic rainstorm, Stirling's central character Sloth – a young woman sunk in apathy and social media addiction, and often barely able to leave her room – sets out to attend a party at Gluttony's riverside flat. Along the way she encounters modern incarnations of all the classic sins: Envy forever posting on social media, Greed so wedded to her executive lifestyle that she can barely acknowledge her own family, Lust sending late-night dick pics on his mobile phone, Pride obsessively building both his career and his muscles, and Wrath, a furious young woman whose epic rage against centuries of patriarchy somehow helps save the city from annihilation.
All of this is transformed into a riveting piece of theatre in Matthew Lenton's new stage version for Vanishing Point, a 70-minute ecstasy of words, sounds, light and brilliant design which sets Stirling's slender blonde figure centre stage, performing her poem with tremendous range and authority; then surrounds her with shifting visions of the city her poem inhabits, brilliantly co-ordinated by designers Alisa Kalyanova and Ellie Thompson, and lighting man Simon Wilkinson.
The musical score by Sarah Carton – with additional music and live performance by Sonia Killman – is superb, always present and powerful, never overwhelming the words; and the overall impact of the show is unforgettable, as the searchlight of Stirling's huge poetic intelligence sweeps across the often dystopian landscape of our world, and imagines – with a rare mix of compassion and relentlessness – a terminal crisis that might once again allow humanity, in its Glasgow incarnation, to wash away its sins and make a new beginning.
There's less poetry but an equally compelling narrative in Martin McCormick's short solo play Clunk! for older primary school children, now on tour in a fine and sensitive production by Visible Fictions of Glasgow. In a story set in the 1980s, Ewan Somers plays Andy, who lives with his gran above her video shop and shares her passion for 18-certificate adventure movies, particularly The Terminator.
All is not well in Andy's life, though. His primary seven classmates think he's weird and mock him for his devotion to the dying business of video rentals; and when a strange hard object falls out of his ear in class, and he later overhears his gran arguing with his absentee mum Hailey about something they don't want him to know, he leaps to the conclusion that he's really a robot, just like his hero.
In fact, the crisis that is about to overwhelm Andy is a much more human one than that; and Somers leads us through it in riveting style, buoyed by the sheer humanity and poignancy of the sharply observed script. Clunk! is billed as a children's show, of course. Yet its combination of powerful narrative and deeply felt 1980s nostalgia makes it a compelling piece of work for adults as well; and a story well worth catching if you can, as it completes its tour this week.
Love the Sinner is at the Traverse Theatre, Edinburgh, 16-17 May. Clunk! is on tour to Tornaveen Village Hall, Banchory, 19 May, and the Music Hall, Aberdeen, 20 May.