Theatre reviews: I... Er... Me | The Problem With Pink | Bully Bully | Somewhere Else
Reflecting our troubled times, the shows in this year's Edinburgh International Children's Festival address themes of war, bullying and mental health. Reviews by Joyce McMillan
The Problem With Pink, Gordon Aikman Lecture Theatre, Edinburgh ****
Bully Bully, Traverse Theatre, Edinburgh ****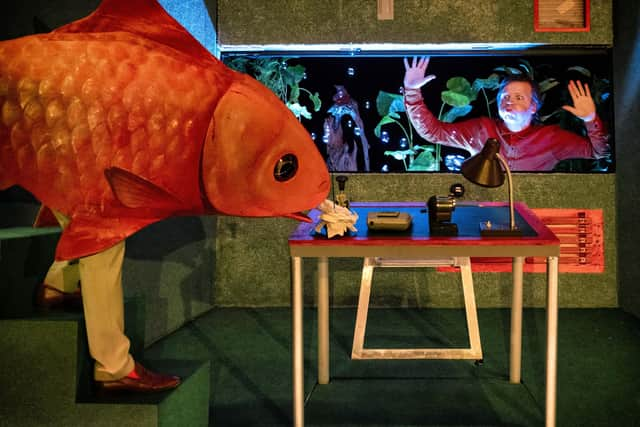 Somewhere Else, Traverse Theatre, Edinburgh ****
The Edinburgh International Children's Festival, 2023; and to judge by many of the shows on offer, the kids are thoroughly stressed out. They certainly seem to empathise with the troubled adult hero of I…Er… Me, a superb piece of scenic and psychological magic for teenagers and older primary school children, co-created by Het Houten Huis of the Netherlands, and Nordland Visual Theatre of Norway.
The show essentially has two stars: the actor (and composer) Martin Franke, who delivers a flawlessly poignant performance as the ever-more-baffled central character, and the show's extraordinary set, an up-ended room-sized half-sphere which rotates on stage, magically transporting us from one room to another of his house, while our compulsively tidy hero gradually loses control of his life, his thoughts, and even the fish in his aquarium.
At heart, I.. Er.. Me is a show about loneliness, and about how we need to nurture and care for ourselves and the natural world, rather than becoming slaves to routine. It's rare, though, to find a show which combines such profound human understanding with such a massive visual wow-factor; as its fascinating set – created and driven by a dedicated team of designers and technicians – becomes a landscape of dream, nightmare and new possibilities, in the most familiar domestic setting.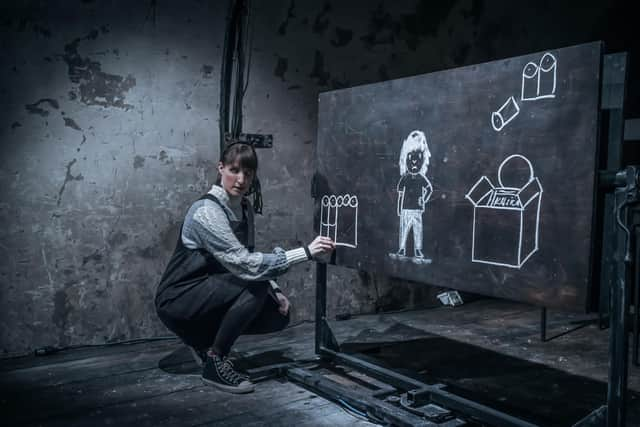 There's also plenty of stress in the Canadian and French show The Problem With Pink. Here, four children (three boys, one girl, all played by adults) love to roll around and enjoy themselves on their gorgeous pink carpet, complete with pink flowers; but one day, an unseen group of people arrive and let them know, in menacing terms, that pink is a colour for girls.
Like a bite from the apple of knowledge, this piece of information – or disinformation – drives them out of their little pink Eden. There is conflict and division, and a journey into an underworld where they have to re-learn the meaning of friendship; and although some of the six to 12 year-old audience might prefer a pacier narrative, and slightly fewer extended dance sequences, there's no doubt about the strength of their differing reactions to the raw, divisive, and sometimes painfully honest gender politics of the piece.
Toxic machismo also features in Maas Theater of the Netherlands' brilliantly vivid two-hander Bully Bully, aimed at three to seven year olds. Staged in the most lurid pink and green, the show is a no-holds-barred 40-minute musical about two neighbouring rulers who provoke one another to ever greater conflict, until they end up wreaking serious destruction on each other's territory. Some of the politics – national anthems, photo opportunities, monuments – seems to pass younger audience members by; but when conflict broke out, with the two leaders indulging in the usual playground games of insult escalating to violence, the children in the audience understand instantly what's going on, and how it will end – so much so that some of them can be heard yelling "stop it – before it's too late!"
And if a further reminder were needed that war is never really a game, it comes in the Ljubljana Puppet Theatre's heart-breaking short show Somewhere Else, in which actor Asja Kahrimanovic Babnik, in a school pinafore, tells us from the relative safety of her new classroom in a different country about what happened to her younger self, and to her beloved little dog.
As she speaks, she draws; and magically, her chalk sketches on the blackboard come to life, making the story of the destruction of her city, and the final decision to flee, so vivid and poignant as to be almost unbearable. It's a short story and a simple one; but its weight is beyond doubt, and its superb animated graphics simply beyond forgetting.