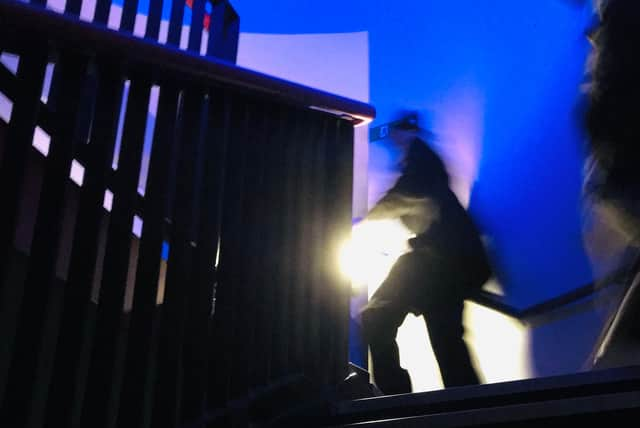 A scene from high man pen meander, the Tron Theatre Company's tribute to Edwin Morgan PIC: Ruth Darling
high man pen meander, Tron Theatre, Glasgow *****
The Assumption, Tramway, Glasgow ****
Until The Flood, Traverse, Edinburgh ****
A scene from The Assumption PIC: Robert McFadzean
A huge wave of online Christmas entertainment is about to break over Scotland's burgeoning online theatre scene; from the Highlands to Ayr, and beyond, theatres have plans for delivering a touch of mid-pandemic panto magic, despite being drastically distanced from the audiences whose roars of "it's behind you" and "oh no you won't" usually form such a vital part of the event. Yet for those not yet in the Christmas mood, there is still some powerful online theatre around, this week, on non-festive themes; including a dazzling new piece of work from the Tron Theatre in the shape of high man pen meander, a gorgeous 32-minute filmed tribute to the poetry and genius of Scotland's first Makar Edwin Morgan – devised and directed by the Tron's artistic director Andy Arnold – that somehow succeeds in celebrating the spirit of live theatre, even though film is its medium.
Until now, the Tron has been one of Scotland's quieter theatres in lockdown, preferring to support artists in developing their work, and to hold out for the moment when they can reopen their doors for full-blooded live performance. Now, though, they have taken the plunge into film in magnificent style, as Andy Arnold appears before us in top hat and tails, like an old-fashioned master of ceremonies, beckoning us through one of the back doors of the Tron into the maze of corridors, kitchens, dressing rooms and sudden theatre spaces, where a series of performers commune with, and reinterpret, some of Morgan's best-loved poems – including a culinary extract from his Scots version of Cyrano De Bergerac, performed with some flair, in the Tron restaurant kitchens, by actor and director Gerry Mulgrew.
The range of Morgan's work is truly stunning, embracing everything from his famous "nonsense" poem The Loch Ness Monster's Song (interpreted here in a suitably absurdist dance sequence by Jess Haygarth and Inogen Smith), through his evocation of the death of Marilyn Monroe, vividly delivered by Jocelyn Losole, to the near-documentary realism of the porter's monologue from his poem Stobhill, about an illegal abortion, beautifully performed by Joe Proctor. One of his most beautiful love poems, One Cigarette, appears twice, as if haunting the silent Tron building with a memory of physical intimacy. Every shot is beautifully composed, designed, lit and soundtracked – in a style both macabre and romantic – by designer Ruth Darling, lighting man Dave Shea, and sound designer Andy Stuart, among others; and the result is a gorgeous and vibrantly dramatic short film, that celebrates both the poetry of Morgan and the art of theatre, in a way that the great Makar himself would surely have loved.
One of Morgan's striking qualities as a poet is his acute 20th century awareness of both the beauty and ugliness of life, including its underlying violence; and that violence is the theme of Douglas Maxwell's new play The Assumption, written for the Royal Conservatoire of Scotland and Solar Bear, and designed for performance by the RCS's current graduating class of BSL and D/deaf students. The process of creating the play has been hugely disrupted by the pandemic crisis; but the end result – recorded live at the Tramway, and directed by Solar Bear's Jonathan Lloyd – is a riveting piece of film, set during the Second World War in a remote Highland house requisitioned by the government for war work which remains unnamed and mysterious.
Dael Orlandersmith in Until the Flood PIC: Robert Altman
Around this story, Maxwell has created an astonishingly vivid range of characters, now forced by distancing regulations to communicate with us mainly through monologues; from the two damaged twenty-something sisters who live in the house, and the brutalised girl – barely more than a child – who is brought to the house for interrogation, to the house's two maidservants, key players in the drama. Some of the actors speak, some use BSL; but the film is so beautifully put together, with subtitles throughout, and the the acting is so strong, that the two means of communication soon blend into an irresistible narrative, that both foreshadows and reflects the millions of acts of violence – from countless unseen murders to the dropping of the Hiroshima bomb itself – on which our "peaceful" postwar world was founded.
This pandemic year has been a time of reckoning, too, around the history and continuing presence of racial violence, in the USA and beyond; and there is a no finer piece of theatre reflecting on that violence and its human consequences than New York writer and performer Dael Orlandersmith's monologue Until The Flood, a 2019 Scotsman Fringe First-winning show now available free online at Traverse 3, alongside other material inspired by the Black Lives Matter movement. Created from a series of interviews with people in Ferguson, Missouri conducted after the 2015 riots there that followed the police shooting of a young black man, Michael Brown, Orlandersmith's show offers a glimpses of a range of characters, from retired black schoolteacher to chillingly ordinary white supremacist, who together embody most of the tensions that flared again so bitterly this year, after the killing of George Floyd in Minneapolis; yet are always portrayed with a humanity, and a profound insight, that offers hope almost despite itself, in the most troubled of times.
A message from the Editor:
Thank you for reading this story on our website. While I have your attention, I also have an important request to make of you.
The dramatic events of 2020 are having a major impact on many of our advertisers - and consequently the revenue we receive. We are now more reliant than ever on you taking out a digital subscription to support our journalism.
Joy Yates, Editorial Director