Theatre reviews: Gypsy | Too Close to the Sun
Led by a hauntingly powerful performance from Shona White, Pitlochry Festival Theatre's new production of Gypsy is one to remember, writes Joyce McMillan
Too Close to the Sun, Macrobert Arts Centre, Stirling ****
Flying too close to the sun is always dangerous; and in the acclaimed 1959 musical Gypsy, there's one fireball of energy risking serious damage to everyone in her orbit, and that's the show's astonishing central character, Mama Rose.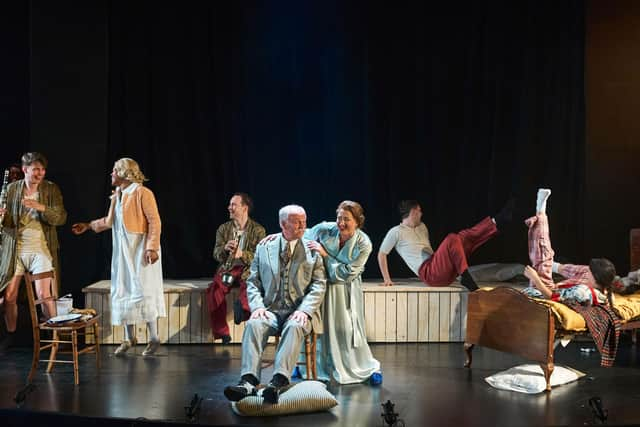 From the moment when Ethel Merman stepped out to play the role on Broadway, Rose was recognised as the ultimate American showbiz mother: a woman frustrated in her own ambitions, but dazzled by the bright lights of showbusiness, and determined to make a star of her pretty elder daughter, June. Dragging her girls and their troupe round a dying 1930s vaudeville circuit, and relentlessly pretending that her fast-maturing daughters are still cutesy child stars, Rose picks up a genuine and loving admirer in reluctant agent Herbie, and briefly glimpses the possibility of a more normal family life.
At heart, though, Rose wants no such thing; and even when grown-up June finally runs off with a male dancer, she persists – until younger daughter Louise suddenly achieves unexpectedbig-bucks stardom as Gypsy Rose Lee, the most elegant stripper to emerge from the sleazy-burlesque remnants of America's live vaudeville tradition.
It's a sensational story, and largely a true one, based on Gypsy Rose Lee's 1957 memoir, and transformed into a terrific musical in 1959 by Jule Styne, Stephen Sondheim and Arthur Laurents. It's brilliantly handled, in the opening production of this year's Pitlochry summer season, by a 13-strong cast, directed by Pitlochry associate Ben Occhipinti, and led by a hauntingly powerful Shona White as Rose, with the exquisitely talented Blythe Jandoo as Louise.
The only regret, at the end of the evening, is that the pressures of the story leave almost no space for us to see Jandoo and the rest of the company dancing for real, to the top of their ability, rather than in Rose's terrible routines. The music and singing are magnificent, though, accompanied by an ever-shifting onstage band made up of ensemble members, and directed by Rob Hiley. With classic numbers like Let Me Entertain You and Everything's Coming Up Roses driving the show to ever more complex emotional heights, this staging of Gypsy emerges as a show to remember, and a dazzling start to what looks like a rich and interesting summer season at Pitlochry.
Barrowland Ballet's beautiful new show Too Close To The Sun – set to arrive in the capital as part of the Edinburgh International Children's Festival this week – also reflects on a story of overweening ambition; but here, it's a retelling of the original myth of Icarus, interwoven with imagery that takes us to the heart of young people's anxiety about what humankind has done to the planet.
To a superb score by Davey Anderson – and on a fine set of three perforated towers by Fred Pommerehn, deftly lit by Alberto Santos Bellido – the show's three female dancers (credited as co-choreographers alongside Natasha Gilmore) lead us in dance with an exquisite edge of balletic poetry through the 50-minute tale of a girl who seems haunted by the Icarus story, and who lives beside a shifting, threatening sea of plastic that makes her long for escape.
In three powerful performances by Molly Danter, Ilona Gumowska and Charlotte McLean, it ends in a quietly thrilling vision of a humanity whose broken relationship with nature is somehow redeemed by a reborn connection among themselves – a new way of living which can both honour what we have lost, and hold out some flickering hope for the future.
Gypsy is in repertoire at Pitlochry until 30 September; Too Close To The Sun is at the Traverse Theatre, Edinburgh, 31 May-3 June.