Theatre reviews: Group Portrait In A Summer Landscape | To The Bone
Peter Arnott's new play paints a vivid portrait of a family destroyed by grief, but fails to link this to the wider theme of Scottish independence, writes Joyce McMillan
To The Bone, Pitlochry Festival Theatre ***
Peter Arnott has billed his new play for Pitlochry Festival Theatre and the Lyceum as "Scottish Chekhov"; and although there's not a samovar in sight, this brief 100 minute drama – more like the first act of a Chekhov play than the full drama – certainly fits the bill. Group Portrait In A Summer Landscape features an upper-middle-class family gathering at their country place in Highland Perthshire, in the summer of 2014, for a dinner to celebrate the retirement of the father of the family, George Rennie, a distinguished Glasgow University professor.
Also present are George's disaffected wife Edie, and his daughter Emma, now a visual arts curator in London fascinated by the world of Russian painter Valentin Serov, portraitist to the very class Chekhov liked to dramatise. Their guests include Rennie's now middle-aged former students Frank and Charlie, both once involved with Emma, and their respective new partners; and Edie's gay best friend Jimmy Moon, an ageing actor played in brilliant style by Benny Young. And the stage is haunted throughout by the ghost of George and Edie's teenage son Will, beautifully and poignantly played by Robbie Scott, who – 15 years before – died suddenly of a massive brain aneurysm, on a summer day like this one.
The scene is therefore set for a vivid group portrait of a family utterly destroyed by grief, and unable to move into the future. Where the play essentially fails, though, is in trying to link the demise of the Rennies to the questions raised by the Scottish independence referendum of that summer, which are not central to the drama at all. Chekhov somehow imbued his personal stories of ennui and alienation with a deep poetic sense of the apocalyptic change towards which Russian society was moving; but Arnott allows himself only a few brief political allusions in the general conversation, and one chilling speech combining extreme climate pessimism with outright fascism, delivered with unnerving brilliance by Matthew Trevannion as Charlie.
What the play therefore offers, in the end – in David Greig's elegant and heartfelt production – is a feast of fine acting, not least from John Michie, Deirdre Davis and Sally Reid as the Rennies, that remains slightly robbed of any sense of wider purpose. And perhaps there is also a residual sense that the question of Scottish independence is not the kind of earth-shaking historic shift that supports tragi-comedy on a Chekhovian scale; but rather a small but vital judgment call for one nation in a turbulent world, that has yet to find the dramatic form that might do it justice.
In Pitlochry's fine new studio theatre, meanwhile, the brilliant young playwright Isla Cowan offers a new one-hour play also set in the Perthshire countryside, and against a backdrop of huge unresolved grief over the death of a child. To The Bone is an intense drama for three characters, in which a woman called Beth returns from her new life in Glasgow to confront her former partner Alf, and to tell him that she wants to sell his damp old farmhouse home, which they still jointly own.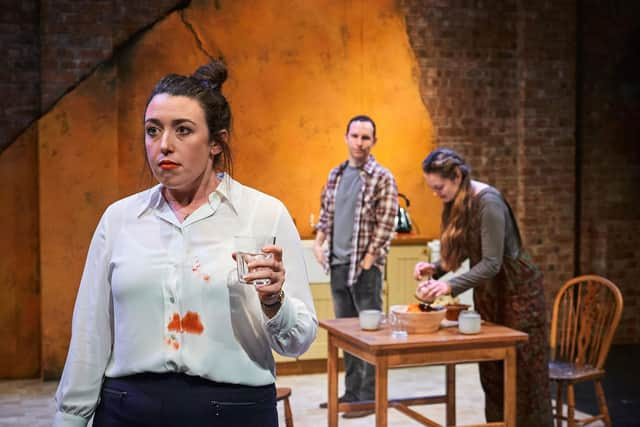 It's a powerful scenario; but it seems difficult, in the end, to feel much more than exasperation for a couple so devastated by the tragedy they once shared that both, in different ways, increasingly behave like monsters, not least to Alf's fragile new partner, Vee. And director Sam Hardie's valiant cast finally struggle to make more than a passing melodrama out of this tale of two unpleasant people just not coping, with the basic stuff of human love and loss.
Group Portrait In A Summer Landscape is in repertoire at Pitlochry Festival Theatre until 28 September, and at the Lyceum Theatre, Edinburgh, 4-14 October. To The Bone is in repertoire at Pitlochry until 29 September.