Theatre reviews: FLIP! | Playthrough
In Racheal Ofori's new play FLIP!, two successful online influencers fall victim to the insidious temptations of social media, writes Joyce McMillan
To say that the current online landscape is complicated is a colossal understatement. At one level, it's a mess, with attempts to regulate its content collapsing almost before they are set up. At another, it is so rich, varied and ever-expanding that even "digital natives" aged under 25 struggle to map or comprehend it. And in any case, the word "landscape" hardly applies at all; since the technologies involved are developing at such a pace that its tectonic plates keep shifting and bubbling, under our virtual feet.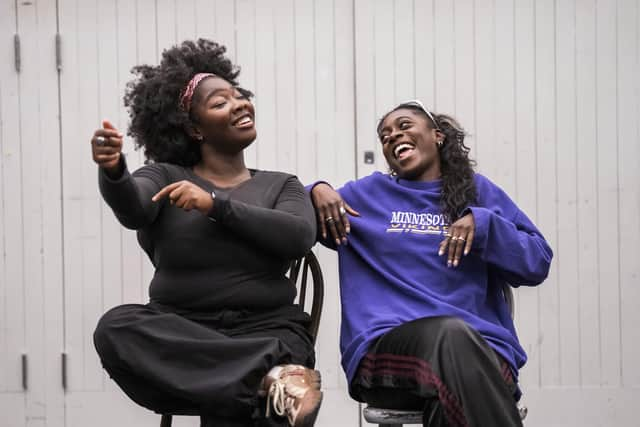 Yet nonetheless, bold theatre writers are beginning to plunge into that landscape; and here are two shows that raise all the right questions about our virtual future, while both also offering a vivid hour of pure theatrical fun. In Racheal Ofori's FLIP! – produced by Kate McGrath's London-based Fuel company, with Alphabetti Theatre of Newcastle – Carleen and Crystal are two hip young Londoners keen to develop their joint career as online influencers, firing out witty podcasts about their young lives and the unsatisfactory men in them.
As their fame grows, though, they begin to fall victim to all the insidious temptations of social media, including the lure of noisy controversy and hate speech. In no time, and for no real reason, Crystal is being bullied and damned online as the source of all their problems, while Carleen's fame and popularity soars to new heights; but her lush transatlantic contract with a huge internet content company brings new issues, as they start using AI images of her – rather than her real presence – to create ever more vacuous material, while paying her huge sums.
In Emily Aboud's fine and fast-moving production – vividly designed in shades of pink by Anna Robinson – Leah St Luce and Jadesola Odunjo deliver two terrific performances as Carleen and Crystal, buzzing with energy and excitement. In the end, though, we feel those tectonic plates shifting again, as we realise the technology can now create virtual versions of both characters; and we're not sure, as they bid each other a final farewell, whether the two figures on stage are really Carleen and Crystal any longer, or just their AI doppelgängers, submitting to the online reality that now pervades our lives.
Kenny Boyle's Playthrough at Oran Mor, by contrast, celebrates the Hallowe'en season by taking a spooky deep dive into the world of online gaming, already – it seems – riddled with its own folklore, and with deep nostalgia for its early pioneering days, back in the 1990s.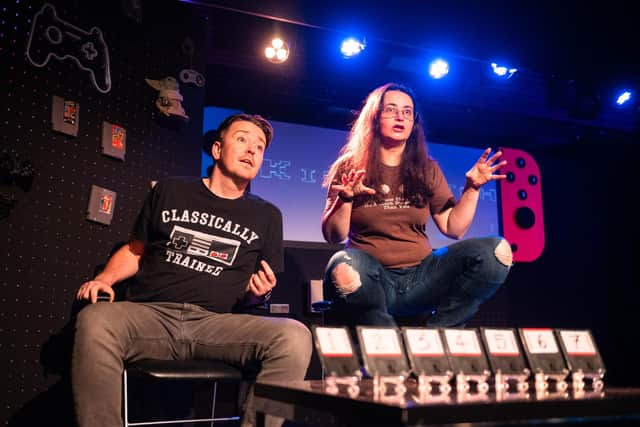 Biggs, played by Boyle himself, and Wedge – a sardonic Karen Bartke – are former friends who fell out some years ago, but have come back together to tackle a game that Biggs is finding impossibly difficult. They tell us the weird mythical story of the game, and both have a go at playing it, despite repeated encounters with a chilling screen message that says "You've met with a terrible fate, haven't you?"
In the meantime, though, the two also exchange banter – illustrated by ever-changing screen images behind them – about supposedly weird incidents involving haunted games, with unexplained characters or features that keep reappearing despite all attempts to delete them. It's a rambling narrative structure that often drifts off into anecdote, losing pace and energy in the process; there's also the added complication of the suggestion that the show is partly improvised, playing off a different version of the game every day.
Yet the show is fascinating both for the gaming world it explores, and for its rich relationship with the weird language and vocabulary that world has spawned; as well as for its haunting sense of human beings caught up in a new reality which they cannot control, and which sometimes threatens – almost literally – to frighten them to death.
FLIP! at Summerhall, Edinburgh, and Playthrough at Oran Mor, Glasgow, both run until 4 November. FLIP! is also at the Soho Theatre, London, 7-25 November.