Theatre reviews: Fleg | Pretty Woman The Musical
Fleg is a bold and relentless absurdist comedy about one Northern Irish loyalist's extreme devotion to the Union Jack, writes Joyce McMillan
In the post-Brexit 2020s, the UK's Union flag is an increasingly pervasive and debatable presence in our culture; and nowhere more so than in Northern Ireland, where it has long been an object of veneration for fervent loyalists, and of contempt and hatred for committed Irish nationalists.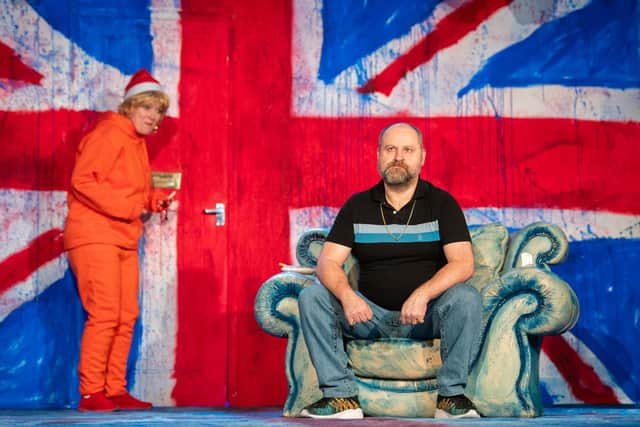 No better time, therefore, for a bold and relentless absurdist comedy about extreme devotion to the "fleg", and where it may lead; and Meghan Tyler – a brilliant Norther Irish writer and actor now based in Glasgow – is the very playwright to provide it, in their latest Play, Pie and Pint lunchtime drama. Directed to perfection by the Citizens' Dominic Hill, Fleg revolves around the character of Bobby, a staunch Northern Irish Protestant played with no-holds-barred aggressive energy by Harry Ward, who begins to lose the plot when a Council employee is spotted in his street, lowering Union flags to half mast following the death of the Queen.
Bobby immediately flies to the conclusion that the said employee – played in magnificent style by Fran Hess – is a Catholic bent on insulting his heritage; and his growing obsession with the insulted flag soon takes a surreal turn, with Hess reappearing as the very embodiment of the flag, a gorgeous blonde sado-seductress in a sparkly Union Jack mini-dress who pole-dances her way straight to the heart of Bobby's erotic fantasy life.
All of this is observed by Bobby's equally staunch wife Caroline, played in an orange tracksuit with a touch of Benidorm glamour by a brilliant Beth Marshall; but when she finally gets talking to Tierna from the Council, she begins to realise that things are not what they seem, and that her husband (who thinks the new king is a Catholic fifth-columnist on the throne) has finally lost touch with reality. All of this is brilliantly set up and played out, in a style both hilarious and horrifying; and if Tyler seems slightly at a loss as to how to bring their remarkable pitch-dark comedy to an end, it's perhaps only fitting that their play seems as hard to conclude, once and for all, as the Northern Ireland impasse itself.
If Fleg offers a pleasingly surreal take on harsh realities, the new UK touring version of Pretty Woman – the stage musical based on Garry Marshall's smash-hit 1990 film starring Richard Gere and Julia Roberts – is exactly the opposite; a show that briefly acknowledges tough realities, before taking flight into a world of fantasy romance, where a young woman called Vivien, working as a prostitute in Hollywood because she has run out of other options, ends up marrying her fantastically rich and handsome client, one Edward Lewis.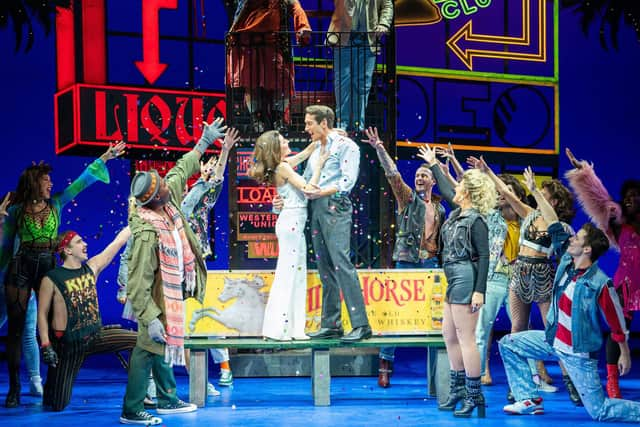 As musical dramas go, Pretty Woman lacks the underlying feminist bite and economic radicalism of shows like 9 to 5 and Legally Blonde, which it resembles in style; and it also lacks the vivid spectacle and memorably sad ending of Bodyguard, which shares its appeal to traditional female rescue fantasies.
Within those limitations, though – and with a playlist of a dozen new songs by Bryan Adams and Jim Vallance – Pretty Woman emerges as a good-hearted and enjoyable show, with plenty of exhilarating song and dance, which does its best to portray Vivian as a feminist hero, and makes the most of the subplot in which she influences Edward to abandon his asset-stripping model of capitalism for something more constructive and humane. Amber Davies is a lovely, awkward but gorgeous Vivien; and Strictly star Ore Oduba, as hotel maitre d' Mr Thompson among other roles, turns in a stellar performance that attracts a packed crowd to the Theatre Royal, at the start of what will surely be a successful year-long tour across the UK and Ireland.
Fleg is at Oran Mor, Glasgow, until 18 November. Pretty Woman is at Theatre Royal, Glasgow, until 25 November; His Majesty's Theatre, Aberdeen, 15-20 January; and the Playhouse, Edinburgh, 2-13 April.