Don Quixote: Man Of Clackmannanshire, Dundee Rep ****
The Perth Theatre website calls it a "coming-of-old-age play"; and it's a near perfect description of this new co-production between Perth Theatre and Dundee Rep, written by Ben Lewis, and directed Lu Kemp. Based on Cervantes's great novel of the Spanish golden age, the play is titled Don Quixote: Man Of Clackmannanshire; and it seeks to view Cervantes' story of an eccentric and sometimes deluded old knight, and his loyal squire Sancho Panza, through the prism of our 21st century understanding of old age, and of the huge issues involved in giving a growing population of older people the care they need, while continuing to respect their dignity, their humanity, and their wish for freedom and independence.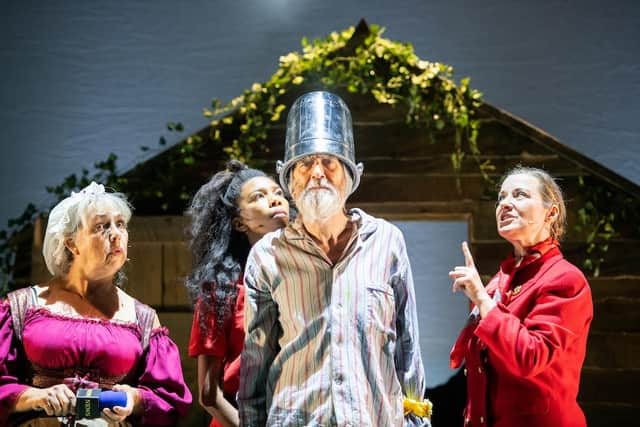 Ben Lewis therefore conjures up the figure of an old man called Don, magnificently played by Benny Young, who lives in his own large house somewhere in Clackmannanshire. Don has a harassed forty-something niece who is his next of kin, and an even more harassed carer, Kirsty, who drops in twice a day. Dons's behaviour is becoming steadily more eccentric, as he plays with his cherished collection of old weapons and armour, and dreams of going on a campaign to save the 21st century world from itself; and when his care arrangements briefly break down, and his young nephew Sandy steps into the breach, the scene is set for Dons's great escape on his mobility scooter, accompanied by the loyal Sandy.
That the two don't get very far goes without saying; but along the way, they encounter an astonishing range of strong female characters, most of them played by the mighty Irene Macdougall, and have a good old tilt at the local wind-farm, as well as achieving the instant media fame that only 21st century social media make possible. Lu Kemp's production rises beautifully to the challenge of staging Dons's journey, offering exquisite live onstage guitar music from Paddy Anderson and Pablo Dominguez, and a series of stunning performances, not only from Young and Macdougall, but also from Emily Winter, Sean Connor and Nicole Sawyer. And what emerges, in the end, is not only a vital meditation on the great frustrations and passions of old age, but a memorable portrait of a stressed-out society trying to express its love for the old folks in its care; but under so much pressure that it often feels close to breaking-point.
There's a much more sanguine view of old age in Deborah Moggach's charming old yarn The Best Exotic Marigold Hotel, based on her novel These Foolish Things, and transformed in 2011 into a hugely successful film featuring a galaxy of stars, including Maggie Smith and Judi Dench. And to the delight of theatre audiences, there are also glittering stars to be found in the current UK touring version of the story, which features Hayley Mills and Rula Lenska in terrific form, as they take on Moggach's tale of a group of elderly British people who find themselves packed off to a crumbling residential hotel in Bangalore, which has the great advantage of being cheap.
The story is fairly romantic and implausible, of course; but every one of the dozen main characters is beautifully realised, in Lucy Bailey's sensitive and good-looking production. And with Retha John-Cheriyan and Nishad More acting up a storm as the mother and son who run the hotel, the play moves gently through a few false endings to an all-singing, all-dancing conclusion that warms the heart, as surely the Indian sun warms old bones, and banishes arthritis for good.
Don Quixote is at Dundee Rep until 15 October, and at Perth Theatre, from 25 October until 5 November. The Best Exotic Marigold Hotel is at the Theatre Royal, Glasgow, until 1 October, His Majesty's, Aberdeen, 4-8 April 2023, and the Festival Theatre, Edinburgh, 30 May until 3 June 2023