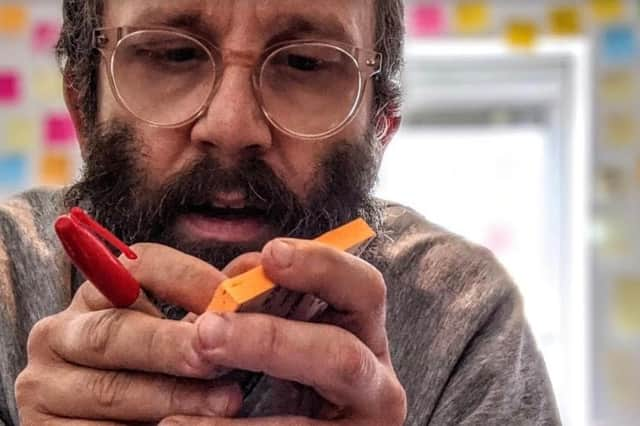 The total shutdown of live theatre during the pandemic has mainly – and rightly – been discussed in terms of its devastating impact on the livelihoods of those who work in the industry, and of the support they need to survive this emergency. Yet beyond that primary concern, it's also true that theatre-lovers have desperately missed the theatre spaces themselves, like dear old friends suddenly removed from our lives; and so there was plenty of quiet joy around, over two evenings last weekend, as 280 lucky ticket-holders per night gathered, via their laptops, to watch the inimitable solo writer-performer Daniel Kitson premier his new show Dot.Dot.Dot (****), live on the beautiful, newly raised and extended stage of the Lyceum Theatre in Edinburgh.
Designed for online performance from empty theatres across Britain, Dot.Dot.Dot. is essentially the 90-minute tale of Kitson's lockdown, told with the help of a tableful of post-it notes that sometimes act as a prompt for the next part of the story, but also – as Kitson holds them to the camera, his familiar bearded face glowing against the magnificent red plush backdrop of the auditorium – sometimes refer unsettlingly to events or anxieties about which the story remains silent. On his website, Kitson introduces his story with a series of negatives, emphasising that in his lockdown, he has not really done anything much at all except get through the days, mostly at his house in London.
It's the very ordinariness of Kitson's lockdown, though – the changing relationship with the kids in the street, the sudden discovery of previously unknown local woodlands, the fleeting contacts with friends, the joys and perils of living through lockdown alone – that makes it so instantly recognisable and moving, particularly as Kitson weaves his magical way with language around it, dwelling on ordinary words and phrases until they somehow acquire the power of poetry, and creating a chronicle of this strange time that will bring a huge sense of comfort and fellow feeling to audiences across Britain, in this autumn of new lockdowns, and uncertain futures.
Meanwhile, out in the theatre-scape, this late autumn has brought a rush of experimentation in new ways to deliver live performance while theatres remain shut. Kate McGrath's Fuel Theatre, for example – together with partners including Eden Court – has curated a truly magnificent series of 12-minute short stories under the title Signal Fires (*****), which are delivered to your home via telephone calls direct from the actors who perform them. Like McGrath's We Are Here programme at the 2019 Edinburgh International Festival, Signal Fires focuses on silenced minorities the world over, and particularly on the fate of indigenous peoples, whose stories we now so urgently need to hear.
So Ngwino Ubeho's Come To Life mourns the Rwandan genocide of 25 years ago, Sara Sharaawi's We Don't Talk About That reflects on the recent tumultuous history of women in Egypt, Kim Scott's Kurt Talker – memorably performed from Australia by Francis Firebrace – sketches the life of an aboriginal tradition-bearer in modern suburban Australia, and Will Power's chilling Natdia 20-20 invokes the haunting of a modern Californian by a little Native American girl. Taken together, the stories offer a rich and intense evening, with powerful variations of tone; choose at least three, and prepare to be shaken and stirred, in the most gentle and human of ways.
Brite Theater's Deliverance (***), created by Kolbrun Bjort Sigfusdottir, is also delivered straight to your home; but this show comes in the form of a script delivered to your doorstep, to be performed by yourself for yourself, with the help of a single phone call half way through. The format is superb and even transformative, a brilliant way of changing your perspective on yourself and the familiar spaces you inhabit for a couple of hours, or forever. The content, though – as enshrined in the little script booklet – is marred by occasional outbursts of empty psychobabble, and baseless reassurances about how brilliant we are at being ourselves, that tend to grate and irritate; in what is otherwise a hugely interesting experiment, featuring a completely original form of live performance.
Finally, Petrichor (****) is a powerful filmed piece of virtual reality theatre for pandemic times, being delivered this week through the website of the Tron Theatre, as part of a UK tour gone virtual. Created by a brilliant team from the Manchester-based ThickSkin company, Petrichor offers a 34 minute movement-based VR experience with echoes of a Brave New World narrative, where two main characters – brilliantly played and danced by Dominic Coffey and Ayesha Fazal – find themselves chosen to start new lives in a strictly-controlled world that offers perfect security and certainty, but in return for a complete loss of freedom.
In the end, our heroes manage to liberate themselves through the sheer magic of human connection and desire; and if the scenario is familiar, the story is told with such a dazzling array of effects and artwork – placing the viewer at the centre of the action, with 360 degree vision – that it never fails to fascinate and terrify, throughout its short but mind-blowingly vivid length.
A message from the Editor:
Thank you for reading this story on our website. While I have your attention, I also have an important request to make of you.
The dramatic events of 2020 are having a major impact on many of our advertisers - and consequently the revenue we receive. We are now more reliant than ever on you taking out a digital subscription to support our journalism.
Joy Yates, Editorial Director