Theatre reviews: Cyprus Avenue | Burning Bright
It may have premiered back in 2016, but in the light of the way "alternative truths" have flourished since then, David Ireland's play Cyprus Avenue could hardly feel more timely, writes Joyce McMillan
Burning Bright. Oran Mor, Glasgow ****
There's a moment, in David Ireland's astonishing play Cyprus Avenue, when the central character, an ageing Ulster Loyalist called Eric, is explaining to his daughter Julie his theory that her newborn baby, his granddaughter, is in fact Gerry Adams, the president of Sinn Fein, trying to infiltrate and destroy his family.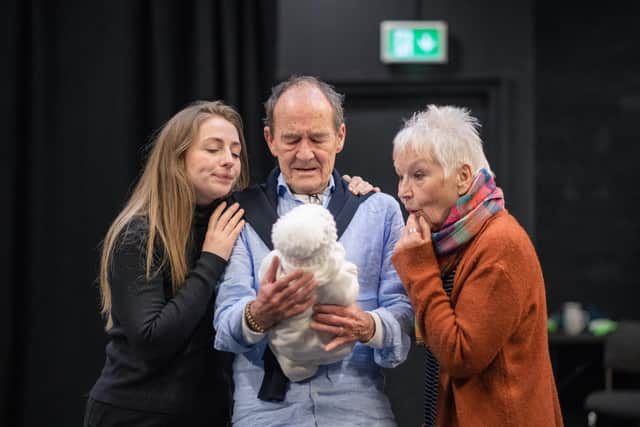 "She's not, Dad!" protests a distraught Julie. "Mary-May is not Gerry Adams!"; and when Eric replies, his words have a weirdly familiar ring. "I realise we have a difference of opinion on this, Julie," he says calmly, "but I think you should respect my point of view"; and the audience simply roars in recognition, in the last and biggest laugh of an evening that is about to swerve from black comedy to grotesque tragedy, in unforgettable style.
In the light of all that has happened since – the rise of Brexit and Trumpism, the florid growth in conspiracy theories, and the emergence of a world in which people can share the same family dinner table while apparently inhabiting different mental universes – it is difficult to believe that Ireland's play was first conceived more than a decade ago, and opened in Dublin and London early in 2016, before any of these events took place.
Yet once again, in Cyprus Avenue, the Northern Ireland conflict proves to be not a throwback, but a precursor of things to come, in an increasingly unhinged 21st century; as Eric's desperate need to cling to the Loyalist identity that has sustained him over a lifetime leads him towards a florid psychotic breakdown – one that can be hilarious, in its alternations between pithy Belfast realism, paranoid delusion, and vague longing for an Irish sense of belonging forever closed to him, but that as David Ireland implacably shows, is no less lethal for its darkly comic aspects.
Andy Arnold's superb Scottish premier production at the Tron gives Ireland's magnificent 90-minute play its full weight and brilliance, as veteran Scottish actor David Hayman steps up to the role of Eric, leading us through every complex twist and turn of the character, from intense vulnerability and crystal-clear moments of self-knowledge, to raging patriarchal madness.
Alongside him, Saskia Ashdown as his psychiatrist, Ann Louise Ross as his wife, and Sinead Sharkey as Julie, are all in pitch-perfect form, with Shaun Blaney stunningly sharp and funny as Slim, the masked gunman who emerges as Eric's foil and nemesis. And in the end, the audience needs just a moment to catch its breath, before the roar of applause that greets a great production of a great play – one that speaks straight to the frightening times we live in, with a courage and wit that lifts the soul.
At Oran Mor, meanwhile, the spring Play, Pie And Pint season continues with Aine King's Burning Bright, winner of the 2023 David MacLennan Award. King's play offers three fine intertwined climate crisis monologues: a woman TV journalist in a part of Australia ravaged by wildfires, a young boy driven from his homeland by floods and now living as a refugee in Scotland, and the third a young woman afloat in the Arctic, trying to scatter the ashes of the lost and beloved partner with whom she started up a see-it-before-it's-too-late polar cruise business.
In a sense, what these monologues have to say about our burning world is familiar. Yet the quality of King's writing, the vividness of the characters, and the extraordinary quality of hope they embody, driven by a deep sense of the power of love, makes Burning Bright a richly rewarding experience; with actors Suzanne Magowan, Adam Buksh, and the wonderful Hannah Jarrett-Scott all doing the play more than justice, in Roxana Haines's perfectly-paced production.
Cyprus Avenue is at the Tron Theatre, Glasgow, until 25 March; Burning Bright is at the Traverse Theatre, Edinburgh, 7-11 March.