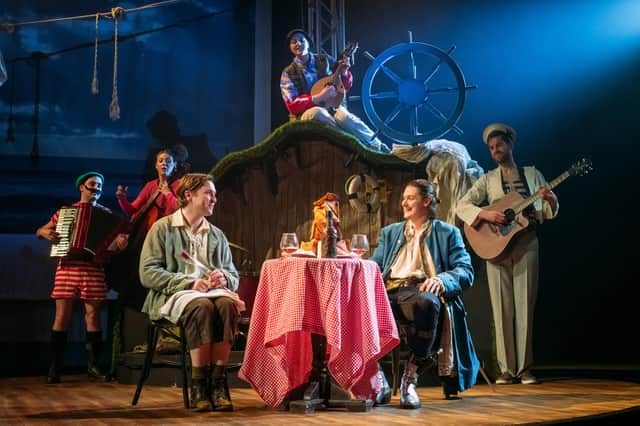 Kidnapped, Beacon, Greenock ****
Conceived a decade ago, and delayed for three years by the pandemic, Castle Lennox is a show to be treasured, both in itself and also for what it represents, in terms of combining the drive towards inclusion (Lung Ha is one of Europe's leading companies working with adults with learning difficulties) with truly brilliant theatre-making.
At the centre of the show's success is playwright Linda McLean's exquisite, beautifully paced script, which leads us with a rare mix of beauty, economy and hard-edged realism through the 80-minute story of 16-year-old Annis, whose stepmother deposits her one day in 1969 at the gates of Lennox Castle outside Glasgow, once Scotland's largest institution for adults with learning difficulties or other perceived mental health problems.
Magnificently played by brilliant and courageous Lung Ha star Emma McCaffrey, Annis is a clever, funny young woman with autism who instantly infuriates the staff with her quickfire, honest answers to rhetorical questions; and McLean is unflinching in demonstrating how the institution conspires to break her remarkable spirit, without ever quite succeeding.
Castle Lennox is no gritty small-cast drama, though – it is a musical for a cast of 20, punctuated by brilliant and often very funny songs co-written with composer Michael John McCarthy. Around Annis, we meet a whole gallery of other patients played by the Lung Ha company, some of whom offer Annis the love and support she so desperately needs.
The mood of the show, therefore, has something of the texture of life itself; often brutal and heartbreaking, but also funny, beautiful, and sometimes downright magical. The design, lighting, musical direction are all impossible to fault, as is Maria Oller's infinitely sensitive direction; and when the wonderful Lung Ha company gather to sing their final song – of hope, and struggle, and the astonishing resilience of the the human spirit – the audience rises as one, to celebrate a mighty show that needs and deserves to be seen again soon, if it can somehow be made possible.
The creative resources brought to bear on the National Theatre of Scotland's new version of Robert Louis Stevenson's magnificent story Kidnapped – billed as a "swashbuckling rom-com adventure" – are at least as impressive as those involved in Castle Lennox; but this time around, the mood is one of light-hearted entertainment, with very few deeper resonances.
The basic elements of Stevenson's classic story are all present and correct, in Isobel McArthur's new version; but unlike McArthur's mighty smash hit Pride and Prejudice* (*Sort Of), this Kidnapped comes across less as a brilliant 21st-century reworking of a classic novel, and more as a jolly spoof, full of comic anachronisms and random absurdities.
There are some beautiful touches in McArthur's version, co-directed by the Traverse's Gareth Nicholls, including the introduction of wonderful singer-narrator Kim Ismay as Stevenson's remarkable American wife Fanny Osborne; and both Malcolm Cumming as Alan Breck Stewart, and Ryan J MacKay as Davie Balfour, deliver fine and sometimes moving performances, as McArthur's version of the story turns their friendship into a tentative gay romance.
If you're looking for a version of Stevenson's story that captures the full weight of the novel, in other words, and its deep understanding of Scotland and its history, you may be disappointed. If you fancy a fine, funny and vibrant stage adventure, though, staged with panache, and featuring plenty of good tunes, then this Kidnapped may be just the show for you, at the end of a long and gloomy winter.