Anna Karenina, Lyceum Theatre, Edinburgh ****
Leopards Ate My Face, Oran Mor, Glasgow ****
Perhaps extreme times demand extreme theatre; and this week's new shows at the Lyceum and Oran Mor fairly blaze with a theatrical energy that puts extreme emotion at the heart of the drama, and makes it a visible, living presence.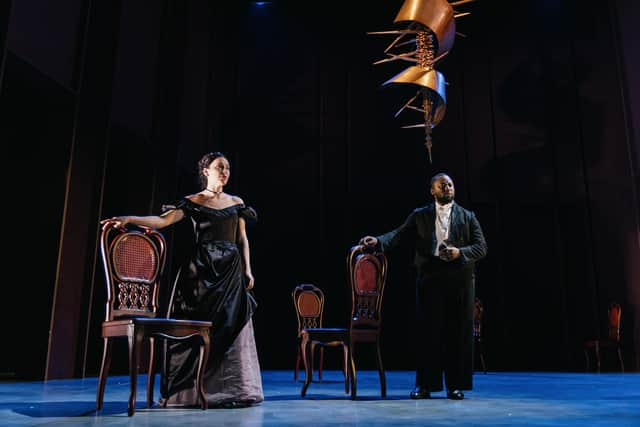 At the Lyceum, Scottish writer and actor Lesley Hart's new version of Anna Karenina, co-created with director Polina Kalinina, strips Tolstoy's great story down to its essence, and re-writes it with a modern Scots inflexion that transforms Tolstoy's women into a group of mouthy and furious #MeToo rebels, who – while still trapped in a highly restrictive 19th century world – swear like troopers at the useless men in their lives, give them hell, and dominate the narrative like a series of vivid human storm-centres, whirling across designer Emma Bailey's gloriously open stage in their jewel-coloured dresses.
It's not, in other words, a version of Anna Karenina designed to please purists. For admirers of the story itself, though – the huge erotic energy of the attraction to Count Vronsky that blows Anna's conventional married life apart, the counterpoint of her faithless brother Stiva's troubled marriage to Dolly, and the ups and downs of the love story between Stiva's friend Levin and Dolly's little sister Kitty – it offers a thrilling new perspective on the narrative, delivered with breathtaking pace and ferocity.
Above the stage hangs a great spike wreathed in twisted metal, that descends menacingly in moments of danger and risk. As each act begins, the characters are frozen in superbly vivid dinner-table tableaux of laughter and longing, agony and abandon; and between these moments, movement director Vicky Manderson drives and dances them around the stage in a fierce kinetic display of emotion.
Among the themes that crash through most strongly is Tolstoy's extraordinary insight into parenthood, and its often random successes and failures, with Anna's beautiful bond with her little son Seryozha perfectly captured by an inspired Lindsey Campbell and (on press night) a remarkable Robbie Scott. And from the opening tableau to the moment when Anna's great rebellion finally crashes and burns, this glorious spectacle of fierce social comedy, poised on the edge of true tragedy, is beautifully sustained by Campbell as Anna, Jamie Marie Leary as Dolly, and Tallulah Greive as Kitty, with notably strong support from Angus Miller's Stiva, and Ray Sesay's hapless and fascinating Levin.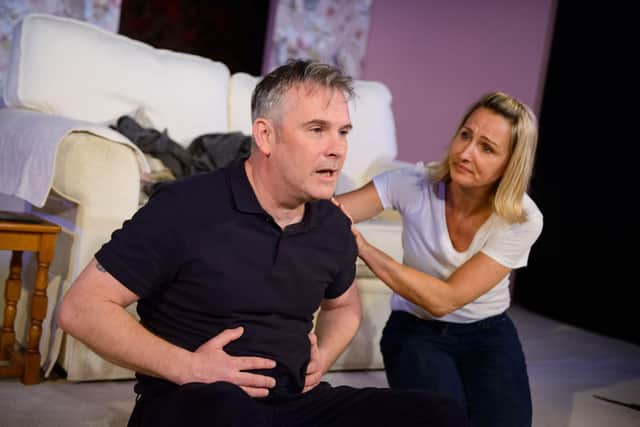 At first glance, Leopards Ate My Face at Oran Mor – the latest play by actor and playwright Grant O'Rourke – looks like a much more conventional affair, with a well-stuffed sofa centre stage, and a setting in the suburbs. From the moment when middle-aged Derek (brilliantly played by Paul McCole) steps up to his living room window, though, and stares out at us with a faintly deranged glint in his eye, we have a sense that some pitch-black comedy is in prospect; and in no time the troubled Derek – redundant, and with far too much time on his hands – has concocted an entire internet-style conspiracy theory involving his new neighbour, and said neighbour's non-existent dog.
Derek's wife Helen, meanwhile – an excellent Claire Dargo – is a raging torrent of middle-aged hormones, unable to provide much of a voice of common sense; and the household's main link to reality therefore comes through down-to-earth teenage daughter Jo, perfectly played by Caroline McKeown in a notable Play, Pie and Pint debut. The story can't and doesn't end well, as Derek's delusions get the better of him, and Helen is sucked into his madness. Yet as a sharp 21st century study of how the most murderous beliefs and attitudes can take root in the most familiar settings, Leopards Ate My Face is something of a riot; and also a very wise play indeed.
Anna Karenina is at the Lyceum Theatre, Edinburgh, until 3 June. Leopards Ate My Face is at Oran Mor, Glasgow until 20 May, and at Dumfries & Galloway Arts Festival from 22-27 May, with dates in Dumfries, Stranraer and Moffat.